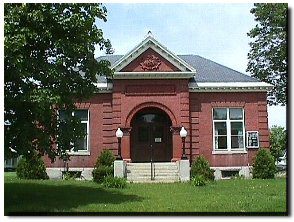 Thompson Free Library
The Thompson Free Library in Dover-Foxcroft
Calendar of events
Friday, June 12
DOVER-FOXCROFT: The Piscataquis County Soil & Water Conservation District is holding its monthly board meeting from 9-11 a.m. If interested in attending, please contact info@piscataquisswcd.org for the ZOOM meeting number and password.
Saturday, June 13
DOVER-FOXCROFT: A volunteer work day at the PCSWCD Law Farm takes place from 9 a.m.-noon. To register call 207-564-2321 ext. 3.
DOVER-FOXCROFT: The Slightly Off-Center Players will hold auditions for "Born in a Small Town" today and tomorrow from 1-4 p.m. at the Center Theatre. To register go to centertheatre.org/born-in-a-smal-town.
Tuesday, June 16
BROWNVILLE: The Brownville-Brownville Junction Historical Society annual meeting (postponed from May) will be held at 7 p.m. at the Parish House Museum. All are welcome.
DOVER-FOXCROFT: Brooke Isham, from Land of Milk and Honey Farmstead in Sangerville, will host Soap Making 101 via Zoom at 1:30 p.m. on Tuesday, June 16 through the Thompson Free Library. FMI go to thompson.lib.me.us.
Wednesday, June 17
The NAMI education program "PTSD Lived-Experience" with speaker Nicole Foster, JD takes place at 1 p.m. via Zoom. For the Zoom link, email nami.piscataquis@gmail.com indicating your name, phone and email address.
Thursday, June 18
DOVER-FOXCROFT: At 6 p.m. via Zoom author Mark Allen Leslie presents "Maine Burning: The Ku Klux Klan Invasion" as part of the Thompson Free Library's Maine Bicentennial Speaker Series. FMI go to thompson.lib.me.us.