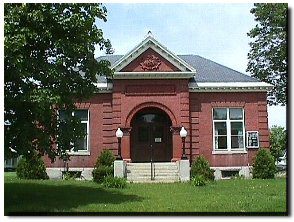 Thompson Free Library
The Thompson Free Library in Dover-Foxcroft
Thompson Free Library presents 'Maine Burning: The Ku Klux Klan Invasion'
DOVER-FOXCROFT — The State of Maine and the Ku Klux Klan. It's an improbable antithesis, but not only did the KKK take root in Maine in the 1920s, the group's first daylight parade in America was held Sept. 3, 1923, in nearby Milo. The parade made newspaper headlines across the country, heralding the possibility of "klaverns" across the Northern states.
This astonishing time in Maine's history, left out of textbooks for nearly 100 years, will be explored by author Mark Alan Leslie as part of the Thompson Free Library's Maine Bicentennial Speaker Series at 6 p.m. Thursday, June 18, live via Zoom.
"Milo, Dexter, Newport and Bangor-Brewer were hotbeds of KKK activity in the 1920s," Leslie said. "I'm certain that when the Klan held its first state conclave in a forest outside Waterville in 1923, some from this area were among the 15,000 who attended."
Indeed, the Klan reached such heights that it helped elect Gov. Ralph Owen Brewster, the mayors of Rockland, Saco, Bath and Westbrook, the speaker of the Maine House and a number of other political and law enforcement leaders.
An estimated 19% of the state's population supported the Southern-based secret society, Leslie said, adding, "While few African-Americans lived in Maine at that time, the KKK's targets were French-Canadians, Catholics and Irish and Polish immigrants as well as Jews."
Leslie will tell the tale of the extraordinary rise and fall of this organization which, now and again, still makes headlines in Maine today.
The Monmouth resident's fictional novel "The Crossing" is a sweeping — and ultimately uplifting — look at the KKK's impact on a small western Maine town in 1923.
The AFA Journal called Leslie "a seasoned wordsmith … in the class of John Grisham" and the Midwest Book Review termed his insights into world politics and culture "staggering and frighteningly realistic."
Leslie earned Featured Book status from Publishers Weekly for his 2015 book "True North: Tice's Story," a novel about the Underground Railroad in Maine.
This event is free and open to the public. Please contact the library at 207-564-3350,  email thompsonfreelibrary@gmail.com or visit thompson.lib.me.us for information about how to participate.