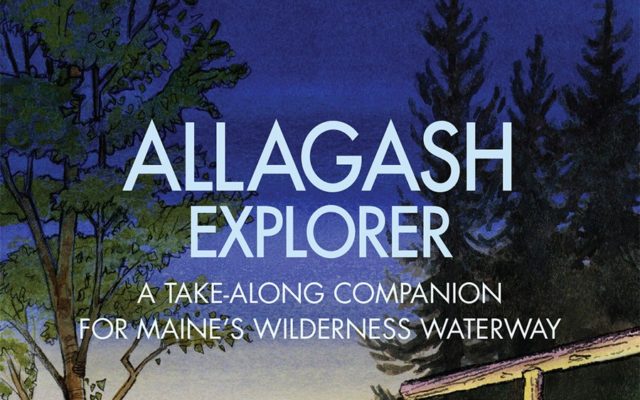 New pocket guide for Allagash explorers
AUGUSTA – The Allagash Wilderness Waterway Foundation and the Department of Agriculture, Conservation and Forestry's Bureau of Parks and Lands released "Allagash Explorer: A Take-Along Companion for Maine's Wilderness Waterway." A pocket guide designed to inspire, inform and educate travelers about the waterway, copies are available at Sherman's Maine Coast Book Stores, the Northern Forest Canoe Trail, New England Outdoor Center, Gulf of Maine Books, LL Bean bike, boat & ski, Epic Sports, Bogan Books and North Maine Woods gates to the Allagash.
"This splendid little book differs from other guides offering paddling and camping tips; its purpose is to enhance and deepen connections between the user and the extraordinary resources of the Allagash," said Richard Barringer, foundation board member and project leader. "We are very excited to release 'Allagash Explorer' at the start of the canoeing season in Maine, and as the Waterway celebrates the 50th anniversary of its designation as a National Wild & Scenic River."
Barringer is a former member of the Governor's Working Group on the Allagash Wilderness Waterway and chairman of the New England Governors' Conference Blue-ribbon Commission on Land Conservation.
Contributing artists and writers include interpretive writer Julia Gray of Orland, editor Bruce Jacobson of Bar Harbor, copy editor Jane Crosen of Penobscot, graphic designer Karen Zimmerman of Bar Harbor, illustrator Alison Carver of Newcastle and mapmaker Jon Luoma of Alna, Head Tide. "Their great skill, talent, and devotion to tasks are reflected in the pocket guide's outstanding content, quality, and appearance," noted Bob McIntosh, AWWF president.
The Allagash Wilderness Waterway was established by the people of Maine in 1966 and designated in 1970 as the nation's first state-administered unit of the National Wild and Scenic River System. The 92-mile Wilderness Waterway in northern Maine is considered one of the Northeast's most iconic rivers. Learn more at maine.gov/allagash.
The Allagash Wilderness Waterway Foundation was created in 2012 to build a community of support for this exceptional and remote public resource, and to raise funds to supplement its State funding. Its focus areas of interest include youth access to the Waterway, resource interpretation and education, protection of important adjacent lands, and capital projects to enhance the experience of the Waterway.
A Natural Resource Inventory and Assessment of the Waterway is the next project to be undertaken by the foundation in collaboration with the bureau. Work on the multi-year project is planned to begin this summer under the general direction of noted ecologist Janet McMahon, and the overall supervision of board members Paul Johnson and Alec Giffen.  Learn more at awwf.org or on Facebook.