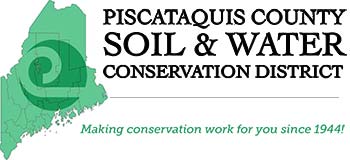 Enjoy a story walk at the Law Farm
DOVER-FOXCROFT — The Thompson Free Library is collaborating with the Piscataquis County Soil and Water Conservation District (PCSWCD) and will be setting up a story walk at the Law Farm. What is a story walk, you ask? A story walk is a series of signs featuring sequential spreads from a children's picture book. Those signs or pages are spread throughout an outdoor space, in this case the Law Farm nature trails, allowing a reader to follow along with a story by walking.
The story featured will be "Because of an Acorn" written by Lola and Adam Schaefer and illustrated by Frann Preston-Gannin, and featured at the Law Farm starting on Saturday, June 6 through Aug. 3. As the reader walks from spread to spread, there will be questions to consider, related sights to take in and more. The Law Farm story walk will be a great opportunity for children and families to experience the outdoors in a creative way and will encourage folks to get outdoors and explore the Law Farm. When you are out enjoying the story walk, use the hashtag #D-Fstorywalk2020 to share your experience.
The Law Farm is a public land owned and maintained by the PCSWCD. It is located off the Lee Cemetery Road in Dover-Foxcroft and is open to the public from dawn until dusk. Directions and information about the story walk can be found at the kiosk at the Law Farm. They will also be posted on the Law Farm page at piscataquisswcd.org/home-version-7/the-law-farm/.
Thompson Free Library and PCSWCD will also have a "Story walk at the Law Farm" Facebook event connected to both pages. This will serve to both promote this offering and also offer a chance for families to share photos and reactions from their story walk, so be sure to like both pages on Facebook to follow along.
For more information on the story walk, please contact the Piscataquis County Soil and Water Conservation District at info@piscataquisswcd.org. You can also contact Miss Michelle at Thompson Free Library at mfagan534@gmail.com or 207-564-3350.