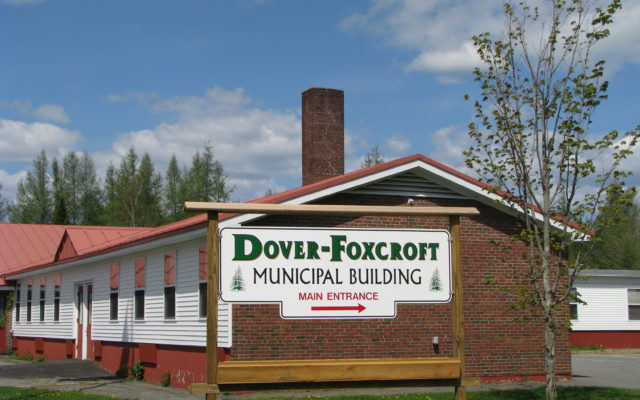 Morton Avenue
The Morton Avenue Municipal Building in Dover-Foxcroft
Morton Avenue Municipal Building reopening to the public on Monday 
DOVER-FOXCROFT — Since the middle of March the Morton Avenue Municipal Building has been closed to the public due to the COVID-19 pandemic. Starting on Monday, June 1 the town office will be reopening for business with provision in place to help make the facility as safe as possible for the public and staff, as a plan was approved by the selectmen during a May 26 meeting conducted via Zoom.
Town Manager Jack Clukey said he and Finance Director Dave Johnson spoke with town office employees, including those who work directly with the public, and "came up with a plan I think would allow us to open within the guidelines."
Some of the provisions include requiring those entering the Morton Avenue Municipal Building to wear masks (municipal employees would also have masks on), telephone/curbside services for those unable to wear the protective facewear, one-way foot traffic and limits to the number of people in the lobby at one time.
"We would actually be open a little more to the public than before, 4:30 instead of 4," Clukey said. He explained the one-way foot traffic would have everyone exiting through the side door "so people won't be passing each other within a foot or two."
Signage for the various procedures will be posted and this information will also tell customers what they need — such as all the documentation required to register a vehicle — to help avoid unnecessary waits in line. 
"I think we have a workable plan," Clukey said. "The water district will be online with our plan," he said about a building tenant.
"We are going to have somebody cleaning the entire time people are here and the bathrooms, it will be one person at a time," Johnson said.
"We talked about this at our (administrative) committee meeting, all the bases are covered," Select Vice Chair Cindy Freeman Cyr said. "I think Jack and David did a great job."
The town manager said they tried to think of everything, including cups of pens with the writing implements to be sterilized after a single use. "What we're going to do is have a clean pen container and a used pen container,"he said. "Another way to avoid this is for people to bring their own pens."
Selectman Steve Grammont wondered about someone coming in to Morton Avenue who does not want to comply with the mask requirement, "It's probably something that will come up."
Clukey said there will be a learning curve and the reopening plan likely will evolve as needed. He said the curbside service can be utilized to hopefully cut down on those who cannot or prefer not to wear a mask from coming inside.
The town manager said the Morton Avenue Gymnasium is not included in the approved reopening plan, but the selectmen passed a motion to allow building tenants to use the space.
He said Calvary Chapel Maine Highlands has been conducting drive-in worship services but the congregation would like to use the gym with this being permitted at the start of next month. "I would be comfortable to opening it up for tenants with permission and basically the permission says the tenant will do it within the guidelines," Clukey said.
The town manager said his preference would be to have the gym closed for other public events as a result of the unknown of how such activities would be conducted. "We won't book any private events, we will have the July 14 election there," Clukey said.
The board also agreed to open the municipal beach on Sebec Lake as of June 1 with signage indicating risk of exposure to COVID19  — use facility at one's own risk — and limiting the number of people on the sand and in the water to 50. Earlier in the month the selectmen opted to close the beach for the remainder of May.
Clukey said playgrounds are also being opened for June. "There's an associated risk but let people make that judgement," he said.
"The committee realized we can't ask police to sit at the beach all summer and enforce guidelines for social distancing," Freeman Cyr said. "It's perhaps better to open with a cautionary sign rather than just close it."
"If nobody's observing the guidelines we could revisit it," Select Chair Elwood Edgerly said. He suggested a photo be taken should many beach-goers not be staying six feet apart.
"The overall feeling of the public is frustration," Police Chief Ryan Reardon said about the municipal beach. "Diplomacy's wearing thin, the half jokes are becoming barbs."
"Almost every day I have heard something about it," he added, mentioning he agrees with Edgerly's photo idea to monitor the beach area.
In other business, the board approved a $1,000 grant for the Charles A. Chase Memorial Airport on Pine Street through the CARES Act.
"The CARES Act that came out a few weeks ago has an airport provision," Clukey said. "It basically can be expended for operating expenses over several years. I think it's five years but obviously $1,000 wouldn't take that long."
In his report Clukey said he wanted to mention a pair of upcoming meetings. "A week from tomorrow, June 3, is our public hearing on the budget," he said. The 6:30 p.m. hearing will be conducted via Zoom with the link to be posted on the town website.
"On Tuesday, June 9 will be the public hearing on the traffic study," Clukey said. This meeting will also start at 6:30 p.m. and be held over Zoom, and a link to the traffic study is posted at dover-foxcroft.org.
At the end of the meeting Clukey was asked when the selectmen might start meeting at Morton Avenue again. "We really haven't talked about it," he responded.
The board will be meeting on Monday June 8 and June 22 in June but will only have a single meeting — unless otherwise needed — in July and August on July 20 and Aug. 17.