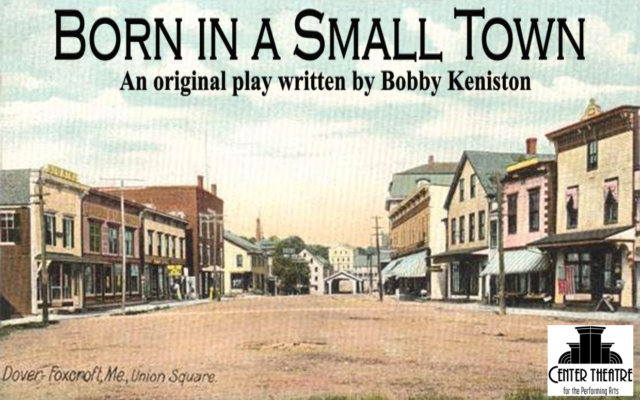 Center Theatre announces auditions for summer show 
DOVER-FOXCROFT — The Center Theatre announced that its community theater group, the Slightly Off-Center Players, will be holding open auditions for their summer production of "Born in a Small Town," a new play written and directed by Bobby Keniston. The auditions, which will take place on June 13-14 from 1-4 p.m. at the Center Theatre, 20 East Main Street.
Because of the ongoing need for distancing and to protect the health of all involved, those wishing to audition should pre-register for the auditions at centertheatre.org/born-in-a-small-town. When they register, they will complete an online form and choose what time to audition to avoid large crowds at any one time. Once registered for the auditions, participants will receive an excerpt of the script to review and some guidelines for the auditions themselves. The play is written for actors in their teens to older adults, but unfortunately there are no children's parts. 
The Theater is currently planning for outdoor performances of "Born in a Small Town" for late August. Patrick Myers, the Center Theatre's executive director, said this will be their first major outside production, "Given the uncertainty about large indoor gatherings, we felt it was best to go ahead and plan to hold the performances outside. We're going to be looking at several options in the area in the coming weeks. Regardless of what is happening in the world come August, we hope that having the production outside will ensure that we will be able to bring 'Born in a Small Town' to the community."
Myers said the play, which has been endorsed by the Maine Bicentennial Commision, is an original work by local playwright Bobby Keniston. The production was commissioned by the Theatre two years ago to celebrate the 80th anniversary of the construction of the Center Theatre. The play focuses on several generations of a fictional family living in Dover-Foxcroft and brings the area's history to life in an engaging and entertaining way. 
The play is sponsored by Dave's World, Northern Light Mayo Hospital and Moosehead Cottage Resorts. It was also made possible with support from the Maine Arts Commision, Maine Humanities Council, and the Maine Community Foundation. For more information on "Born in A Small Town" or any of the other programs and activities of the Center Theatre go to www.CenterTheatre.org or call 207-564-8943. The Center Theatre is a 501(c)3 non-profit organization with a mission to make arts, education, and entertainment accessible to our rural communities to engage and inspire.