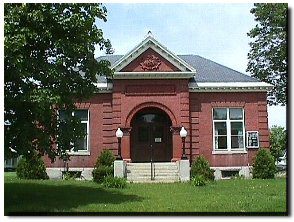 Thompson Free Library
The Thompson Free Library in Dover-Foxcroft
Thompson Free Library hosts Bicentennial talk on Franco-American communities
DOVER-FOXCROFT – The Thompson Free Library will host Susan Pinette, professor of modern languages and literatures and director of Franco American programs at the University of Maine, live via Zoom at 6 p.m. on Thursday, May 28. This online presentation is part of an ongoing Bicentennial series sponsored by a Maine Bicentennial Community Grant.
Dr. Pinette's talk "The French People of Maine: Who are they and how did they get here?" will provide an overview of Franco American communities in Maine. She will present the history of their migrations to New England, their settlement and discuss some of the current issues they face.
Dr. Pinette was born and raised in Maine. She received her doctorate in French at the University of California, Irvine. Her research examines contemporary Franco American literature, where she shows its significance to the broader arenas of North American Francophone communities and American studies. 
This event is free and open to the public, and can be attended by phone or online. Please visit the Thompson Free Library website thompson.lib.me.us or email thompsonfreelibrary@gmail.com for information about how to participate.