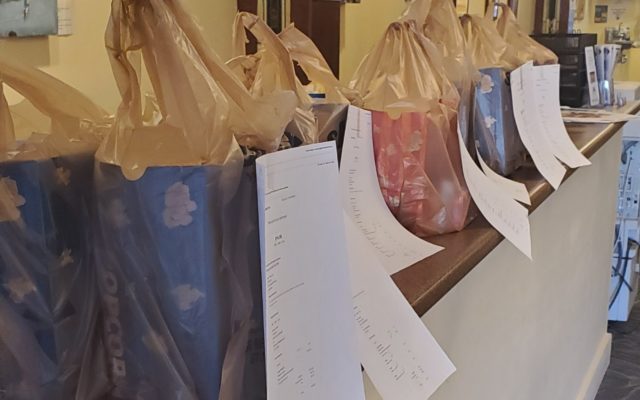 PO-theatrecurbside-21-20
Photo courtesy of Center Theatre HOME THEATRE CONCESSIONS -- The Center Theatre has begun a program to sell theater concessions for people to enjoy at their home for movie night. After a successful debut last Saturday, the Theatre will be offering curbside pickup both Friday and Saturdays from 6-7 p.m. Orders must be made and paid for in advance at centertheatre.org.
Center Theatre selling curbside concessions 
DOVER-FOXCROFT — The Center Theatre has begun selling theater concessions online for curbside pickup. Pickup is available on Friday and Saturday nights between 6 and 7 p.m. and all orders must be placed in advance online at CenterTheatre.org.
Patrick Myers, the Center Theatre executive director, said that the program grew out of multiple needs. "We have heard from folks who are missing our popcorn," Myers said. "We're also in fairly urgent need for earned income while we are shut down because of the COVID-19 pandemic. This seemed like a great way to meet both needs and make the Theatre lobby smell like popcorn again. While people can't come to the Center Theatre for movies, we're happy to help them take their home movie night to the next level."
Orders need to be made in advance at CenterTheatre.org. At checkout, customers can decide whether they want to pick up the order on Friday or Saturday between 6-7 p.m. Each night, someone from the Theatre will be waiting outside the lobby. Customers can drive up or walk up and give their name. Theatre staff will go inside, grab the order and bring it outside. Theatre staff will, of course, do everything they can to ensure the safety of both their customers and staff.
For questions about curbside concessions, or any other programs of the Center Theatre go to centertheatre.org, call the Theatre at 207-564-8943 or email info@centertheatre.org.
The Center Theatre is a 501(c)3 non-profit organization with a mission to make arts, education and entertainment accessible to our rural communities to engage and inspire.