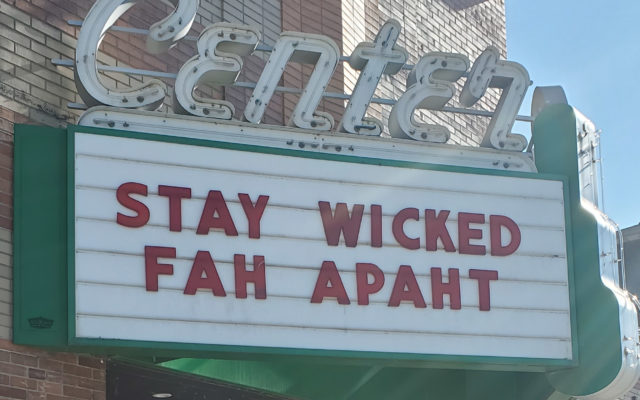 PO-theatreFA-20-20
Photo courtesy of Center Theatre SENIOR SALUTE -- The Center Theatre has been posting messages from the community on the marquee for a donation since mid March. Now, to help celebrate the Foxcroft Academy Class of 2020, the Theatre is offering free 1-hour slots for FA graduates to have their name on the marquee. Slots can be reserved at Centertheatre.org by clicking on the "Keep in Touch Campaign: Graduates on the Marquee" event. The service is free, but donations are gratefully accepted.
Center Theatre gives marquee to Foxcroft Academy grads  
DOVER-FOXCROFT — The Center Theatre announced that it will be giving one side of the marquee over to congratulatory messages to Foxcroft Academy graduating seniors starting on Sunday, June 21. One hour slots can be reserved from 8 a.m. to 6 p.m. Sunday the 21st through Friday the 26th. During that slot, the graduate's name will be on the marquee celebrating the Class of 2020. Graduates are encouraged to come stand below the marquee for pictures and invite friends and family to watch via the Center Theatre webcam.
"Graduating from high school is one of those milestone moments for many people," said Patrick Myers, the executive director of the Center Theatre. "With large gatherings likely to be prohibited, we wanted to do something to help the class of 2020 celebrate and to recognize their accomplishments. While it will be a busy week for marquee changes, it is the least we can do for the seniors."
In order to reserve a slot, graduates or their family should visit CenterTheatre.org and click on the 'Keep in Touch Campaign: Graduates on the Marquee' event. The service is completely free, but donations to support the Center Theatre while they are closed due to the pandemic will be gratefully accepted.
For more information on this or any program at the Center Theatre, visit centertheatre.org or call the Theatre at 207-564-8943. The Center Theatre is a 501(c)3 non-profit organization with a mission to make arts, education and entertainment accessible to our rural communities to engage and inspire.