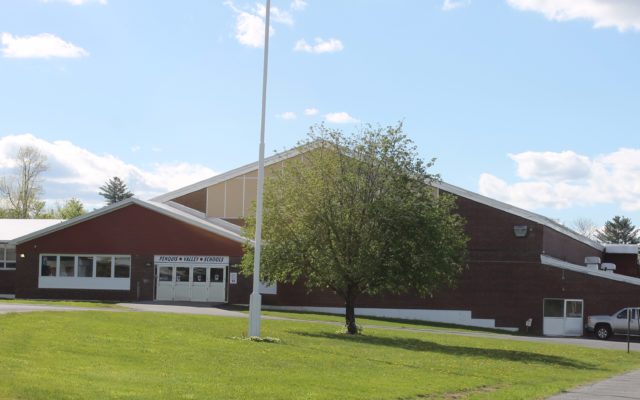 Penquis Valley School
The Penquis Valley School in Milo
SAD 41 receives $200K grant for Penquis Valley heating system
MILO — The school district's near $745,000 share of a $2.4 million funding package to upgrade the heating system at the Penquis Valley School will be $200,000 less than anticipated thanks to a grant from the East Millinocket-based Gloria C. MacKenzie Foundation, which through its mission and vision hopes to improve economic growth and enhance the quality of life for the people of Maine.
During a Nov. 6 school board meeting at Penquis Valley Superintendent Michael Wright said the district has applied for funding from the Gloria C. MacKenzie Foundation for various projects over the years but until just recently the applications were never successful.
"We never had been approved and this year we received initial approval in August and last month we were notified of a grant for $200,000," Wright said, with him being able to make the news public at the school board meeting. He said the grant "will help defray the cost of the new heating system at the school so that would be a big help to us."
"So that's good news, $200,000 would certainly be welcome," Wright said. District officials will determine how the funds will be utilized for the project and how the funding will be worked in with Gloria C. MacKenzie Foundation guidelines.
Earlier this year SAD 41 voters overwhelmingly approved — 152-25 — a $2.4 million funding package to upgrade the heating system.
The Penquis Valley project has three objectives. The first is to update the steam heating system infrastructure that is beyond its useful life, to improve reliability, comfort, indoor air quality and safety. The other objectives are to reduce annual energy and operating costs and reduce future building repair costs.
The gross projected project cost is $2,414,923, with a little more than $2.1 million for the steam to hot water system conversion, another $190,000 is for LED lighting upgrades and an additional is for $34,700 for building weatherization improvements.
The project is being financed under a 20-year bond through the Maine Municipal Bond Bank. The estimated annual bond cost, fixed for two decades starting with the 2020-21 fiscal year, is $177,694 but there would be various measures in place to reduce the costs.
SAD 41 would have a little more than $19,000 in existing budget savings for energy usage and another $40,000 in operating budget capital contributions. The Honeywell service contract would be reduced by $25,000, the maintenance budget could decrease by $2,500 and for the first year there would be a one-time Efficiency Maine rebate of $29,195.
The first year $61,953 cost is part of the 2019-20 academic year budget. SAD 41's estimated total net cost, after the various savings measures such as reduced energy expenditures and a reduction in the Honeywell contract, over 20 years would be $744,143. The annual portion of the $744,143 to be paid by the district would vary year by year.
The loan and contract with Honeywell were both executed in late March. Construction began in early June with the project sign off is Nov. 29.
In other business, the directors gave approval to a committee working on creating a play area for the younger students at the Penquis Valley Middle School. The group can now pursue fundraising opportunities and work with volunteers on prepping a parcel of land behind the school that was first cleared two and a half decades ago by the National Guard.
"It's pretty dear to our hearts," grade 5-6 social studies teacher Debora Page said. She said four years ago SAD 41 fifth-graders moved from the district elementary schools to Penquis Valley, which lacked any outdoor equipment for them to use at recess. Last year a committee was formed to look into setting up an age-appropriate play area with the assistance of parents, grandparents and other community members to work with Director of Building and Grounds Donnie Richards.
She said currently the students have "a pretty beat up basketball court and a mound of dirt and two old tires, it's pretty sad. They still have fun but I think we can do better."
Page said what is installed depends on how much funds are raised but ideas include a kickball/softball field, basketball court, walking route and benches — as well as security cameras — and the space could be used by the community during non-school hours.
"We have got a lot of ideas for fundraising and a lot of ideas for grant writing," she said. Page said more detailed plans for the space will be brought to the school board at the December meeting.