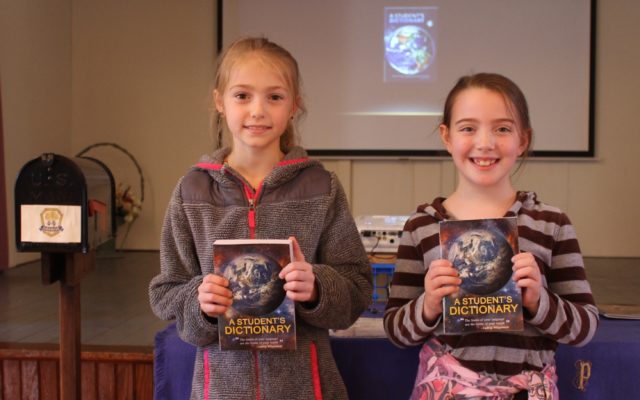 PO-dictionarygirls-42-19
Observer photo/Stuart Hedstrom YOU CAN LOOK IT UP -- SeDoMoCha Elementary third-graders Alexis Arcaro, left, and Ellie Jones show dictionaries given to them and all 75 grade 3 students at the Dover-Foxcroft school by the Valley Grange during a field trip to the Grange Hall in Guilford on October 15. The Valley Grange has now presented nearly 3,000 dictionaries over 18 years to pupils across the region through its Words for Thirds Dictionary Project.
Valley Grange continues to be the definition of generosity
GUILFORD — For close to two decades nearly 3,000 third grade students across the region have each been given a dictionary thanks to the Valley Grange and the organization's Words for Thirds Dictionary Project. The first batch of dictionaries for 2019 were given out on the afternoon of Oct. 15 to approximately 75 students from the four grade 3 classrooms at the SeDoMoCha Elementary School in Dover-Foxcroft as pupils and teachers traveled to the Guilford Grange Hall to receive their books.
Ellie Jones and Alexis Arcaro said they knew the purpose of the field trip was to receive a dictionary as the handing out is a long-running tradition for area students during third grade.
"I'm excited to learn sign language in the book and see what different words mean," Jones said clutching her brand new dictionary after the presentation.
"I'm excited to learn what new words mean and how to use it," Arcaro said.
With the third-graders gathered on the floor and their teachers and a half dozen Valley Grange members looking on, Valley Grange Program Director Walter Boomsma said, "Welcome to Valley Grange. You are at Valley Grange and Valley Grange is kind of like a club. It's been around a long time, 150 years."
He explained the Grange was formed shortly after the end of the Civil War. To help the students learn a bit more about this period in United State history, "Captain Jack Battick" explained he was dressed in the Civil War-era uniform of a U.S. Navy captain.
"When they started they used what we call tools of the Grange and we have four of them," Boomsma said, showing the spud, shepard's hook, pruning hook and the owl and explaining what each farming tool was used for.
"We also have a mailbox," he said. "This kind of mailbox was started by the Grange."
Boomsma said during the 19th century most farmers lived out of town and had difficulty leaving their crops and livestock to travel to get their mail. So the Grange helped implement RFD. Boomsma then asked the students to guess what the acronym stood for and they were able to identify rural, free and delivery one by one.
"On this mailbox the flag is up, which means there is mail," he said. A representative from each class came forward to take out a letter containing "a word I don't think you guys know."
The words agriculture, patron, husbandry and steward were divided among the homerooms, as the four groups of third-graders huddled around their teachers and looked in their brand new dictionaries to see what the definitions are.
"The Grange is Patrons of Husbandry and that means we give support," Boomsma said. "We're helping you, supporting you in growing up. We hope you all will be good stewards and take care of your dictionaries."
Before getting on the bus to head back to SeDoMoCha Jones said, "I liked that we that we got to see what different words meant."
For Arcaro she liked seeing Battick, a resident of Dover-Foxcroft who is a retired history professor, and learning about the Civil War.