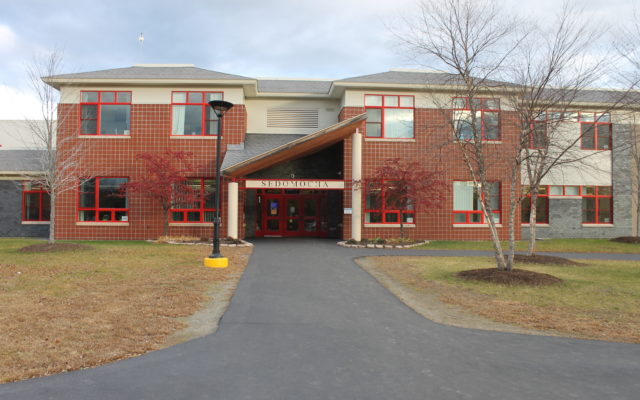 IMG_4585
The SeDoMoCha School in Dover-Foxcroft
SeDoMoCha Elementary families will go ape for One Book, One School
DOVER-FOXCROFT — Once again in the 2019-20 school year SeDoMoCha Elementary School families will have the opportunity to read together as part of a shared reading experience through the 10th annual One Book, One School program. For a month through early October students and family members will read and discuss "The One and Only Ivan" by K.A. Applegate, which tells the story of a silverback gorilla who lives in a cage at the mall, and then be able to attend an ending celebration on Thursday, Oct. 10.
Families were introduced to this year's One Book, One School selection at a program kickoff on Sept. 4 prior to an open house a week into classes. Those who will be reading the book together joined administrators and staff in the multipurpose room to learn more, and they were told their students' teachers have copies of the novels to hand out later in the evening as well as nightly reading logs to complete.
The shared reading experience is intended to increase literacy awareness within the community and to get families reading together more at home, while creating fun and memorable connections to the school community.
"We first wanted to share with you the book students and families are going to be reading together over the next few weeks," Principal Adam Gudroe said before introducing program organizer, grade 3 teacher Diane Stephen.
Stephen first said students could sign up for free cards at the Thompson Free Library, even if they are not residents of Dover-Foxcroft. Last year library policy was amended to open free eligibility to all SeDoMoCha School and Foxcroft Academy pupils. Stephen said Amy Fagan-Cannon of the Thompson Free Library Executive Committee was present to assist with sign-ups after the presentation.
"It's a lot of fun," Stephen said. "In your classroom you will get a packet like this and a book. The purpose of One Book, One School is to get families reading together because reading is so important."
She explained the packets contain the reading logs with a schedule and comprehension questions.
Program participants are invited from 5-7 p.m. on Thursday, Oct. 10. "Come back with us for a celebration of One Book, One School," Stephen said. She said the evening will include a dinner, crafts, games "and a very special show with live animals" hosted by the Wildlife Encounters Ecology Center & Farm School of Barrington, New Hampshire.
The first SeDoMoCha One Book, One School took place in 2011 as students and families read "A Castle in the Attic" by Elizabeth Winthrop and then enjoyed a medieval feast after they finished the novel. A year later "The Indian in the Cupboard" by Lynne Reid Banks was the program selection and the ending evening event featured a Western motif and activities. In 2013 One Book, One School featured E.B. White's "Charlotte's Web" and this novel led up to a night at the fair. In the ensuing year the selection was "The Wizard of Oz" by L. Frank Baum, with a trip to Emerald City concluding the program. In 2015 families all had a golden ticket with Roald Dahl's "Charlie and the Chocolate Factory."
In 2016 the book choice was "The World According to Humphrey" by Betty G. Birney with the ending evening featuring activities based on the book's classroom hamster protagonist. In 2016 One Book, One School featured the junior novelization of the animated film "Finding Dory" as the SeDoMoCha Elementary community then traveled under the sea with ocean-themed activities, and in 2017 families found their way through "Lost on a Mountain in Maine" together with the culminating night taking place outside. One year ago everyone took a trip back in time with Laura Ingalls Wilder's "Little House in the Big Woods."