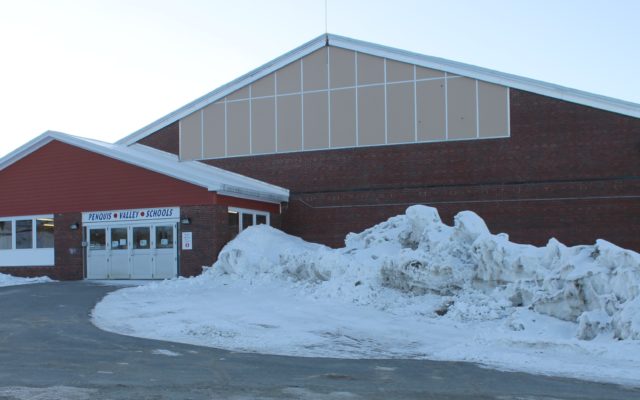 PO-penquisvalley-11-19
The Penquis Valley School in Milo
SAD 41 residents approve $2.4M Penquis Valley facility upgrade
MILO — SAD 41 voters heading to the polls on Thursday, March 14 overwhelmingly approved — via a combined count of 152 to 25 pending verification of voting results from the towns — a referendum for a $2.4 million funding package to carry out a heating system upgrade converting from steam to hot water and energy efficiency project at the Penquis Valley School.
The referendum was approved in each district community: 7-1 in Atkinson, 55-9 in Brownville, 19-5 in LaGrange and 71-10 in Milo.
Last May a $2.3 million project was voted down via a count of 161 to 111 across the four communities. Residents of Brownville, LaGrange, and Milo passed the question 106 to 42, but in Atkinson the referendum was turned down 114 to 5.
Atkinson is scheduled to deorganize and join the Piscataquis County Unorganized Territory (UT) as of July 1. Had the project been approved last year then the community would have been responsible for 10.4 percent of the upgrade debt moving forward. As part of the UT, Atkinson students will head west to RSU 68/Foxcroft Academy in Dover-Foxcroft.
In December the SAD 41 directors approved an amendment to the withdrawal agreement with Atkinson in which the town would not be liable for new debt approved prior to June 30, 2019 in exchange for an agreement by Atkinson that its selectmen would strongly recommend to the community's voters to support approval of the new debt by district voters.
Atkinson traditionally paid about 10.8 percent of costs and this 10.8 percent of the project would be absorbed by the other three towns based upon the amendment to withdrawal agreement. Atkinson will make a one-time payment of $275,000 to SAD 41 prior to July 1 withdrawal.
The Penquis Valley project has three objectives. The first is to update the steam heating system infrastructure that is beyond its useful life, to improve reliability, comfort, indoor air quality and safety. The other objectives are to reduce annual energy and operating costs and reduce future building repair costs.
The gross proposed project cost is $2,414,923, with a little more than $2.1 million for the steam to hot water system conversion, another $190,000 is for LED lighting upgrades and an additional is for $34,700 for building weatherization improvements.
The project would be financed under a 20-year bond through the Maine Municipal Bond Bank. The estimated annual bond cost, fixed for two decades starting with the 2020-21 fiscal year, is $177,694 but there would be various measures in place to reduce the costs.
SAD 41 would have a little more than $19,000 in existing budget savings for energy usage and another $40,000 in operating budget capital contributions. The Honeywell service contract would be reduced by $25,000, the maintenance budget could decrease by $2,500 and for the first year there would be a one-time Efficiency Maine rebate of $29,195.
The first year project cost is $61,953, which would become part of the 2019-20 academic year budget. SAD 41's estimated total net cost, after the various savings measures such as reduced energy expenditures and a reduction in the Honeywell contract, over 20 years would be $744,143. The annual portion of the $744,143 to be paid by the district would vary year by year.
With the referendum approved, the loan and contract with Honeywell would both be executed on Wednesday, March 27. Construction would start June 7 with substantial completion done by Sept. 27 and the project sign off on Nov. 29.
During a March 14 school board meeting, a question asked if there was a plan B should the referendum fail.
"We'll keep going with the band-aids, it's going to pass," Director of Building and Grounds Donnie Richards said. "If it doesn't then our service contract with Honeywell's going to go up because we have a lot to take care of."
In other business, Superintendent Michael Wright discussed early projections for next year's SAD 41 budget.
He said the district is set to receive nearly $150,000 more from the state in 2019-20 for an Essential Programs & Services (EPS) figure of about $5,877,800. Wright said the local required amount needed to receive the EPS funds is down by about $238,000 to approximately $1,347,000.
"The Essentials Programs & Services doesn't cover everything," Wright said. He said at last year's annual district budget meeting citizens approved a little more than $733,000 in local additional monies for the 2018-19 budget, "the amount the district chooses to raise above and beyond what the state gives you."
The superintendent said while the state subsidy is up from the current year, the local contribution is down and the difference would need to made up somewhere to have a budget comparable to what is in place. The 2018-19 SAD 41 spending plan is just under $9.1 million.
"We have a $275,000 impact payment from Atkinson," Wright said about one possible funding source. "Our fund balance to start this fiscal year was a little over half a million dollars."
"The good news is we have a pretty good fund balance, better than some years," he added.
Despite Atkinson exiting SAD 41, the local required contributions for the other towns would be down between $11-$40,000 each for 2019-20. The early projections are about $435,500 for Brownville, nearly $246,000 for LaGrange and approximately $665,700 for Milo.
"But that gap has to be made somewhere," Wright said about the local additional monies and the three respective shares.
"What I have been doing so far is meeting with principals about what their perceived needs are for next year and soon they will be coming to you to explain what their needs are," he said. "Starting up in the next few weeks we will have some budget meetings."
Another project for Penquis Valley involves a sprinkler system and elevator. In 2017 SAD 41 citizens approved an approximate $474,000 loan from Maine's school revolving renovation fund. Under the program the state covers 70 percent of the costs, with the district paying back the remainder over five years at zero percent interest (30 percent would be a little more than $142,000 or $28,000-plus annually over a half decade).
Wright said one bid came in for each, with the contractor being able to install the elevation in the requested timeframe and within budget. He said the sprinkler proposal is over budget and not within the timeframe.
"The one bid came in at $480,000 and they can't do the time period we need them to do which is this summer," he said. "I was disappointed we didn't come in with a company that came in within the budget and the time that we had."
SAD 41 officials took no action on either project and will talk with Honeywell, which has serviced SAD 41 facilities for multiple decades, to make a decision at a future meeting.