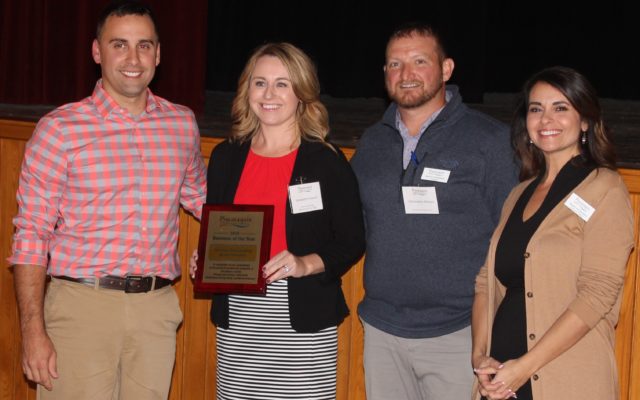 PO-gordon-43-18
Observer photo/Stuart Hedstrom CHAMBER BUSINESS OF THE YEAR -- Gordon Contracting of Sangerville was honored as the 2018 Piscataquis Chamber of Commerce Business of the Year during the organization's annual meeting on Oct. 18 at The Commons at Central Hall in Dover-Foxcroft. From left are Gordon Contracting Owner/President Brian Howard, his wife Samantha Howard, Chamber President Chris McGary, and Executive Director Denise Buzzelli.
Gordon Contracting honored as Piscataquis Chamber of Commerce Business of the Year
DOVER-FOXCROFT — In recognition of its many projects big and small across the region, the state, and beyond and numerous ways of giving back to the community, Gordon Contracting of Sangerville was selected as the 2018 Piscaaquis Chamber of Commerce Business of the Year. The honor was formally bestowed to Owner/President Brian Howard, his wife Samantha Howard (who handles human resources for the company), and Gordon Contracting employees during the Chamber's annual meeting on Oct. 18 at The Commons Event Center at The Commons at Central Hall.
After recognition from the offices of U.S. Rep. Bruce Poliquin, R-Maine, U.S. Sens. Susan Collins, R-Maine, and Angus King, I-Maine, the region's delegation to Augusta presented a Legislative Sentiment to Gordon Contracting.
Rep. Norm Higgins, I-Dover-Foxcroft said Gordon Contracting has worked on large-scale endeavors including the multi-million dollar Derby Railyard in Milo, in partnership with the Central Maine and Quebec Railway, "but sometimes it's the little projects that catch your eye. If you've driven by the Dover-Foxcroft Congregational Church here time after time, you may have noticed this summer the brand new double-wide ramp that goes into the connector of the church."
Higgins said despite being a very busy company, Gordon Contracting still took the time to build a small project such as the ramp, meeting the price, schedule, and all the needs of the church.
Rep. Paul Stearns, R-Guilford said he first met Howard when the business owner was a fifth-grader in his physical education class in the early 1990s. "I blew the whistle and this young fellow lined up and immediately and I said 'he is a sharp cookie with a lot of energy' and then we played a cerebral game like throw the ball at each other's head and he was always extremely competitive but always a good sport.
"Later on as superintendent of schools Brian called our office, didn't ask to speak to me just very quietly told the ladies in the office if there's any student that needs a jacket, any clothing, any needs at all, get it for them and send me the bill. He's that kind of guy, it's that kind of company."
"We sometimes award people awards so we can bring recognition and honor to them, and tonight I think you bring honor to the award we are giving you," Sen. Paul Davis, R-Sangerville said. Davis said the Howards are his neighbors and he visited the Derby Railyard several times and was always impressed with the work done.
Following the presentation of a plaque signifying Gordon Contracting as the 2018 Piscaaquis Chamber of Commerce Business of the Year by Chamber President Chris McGary and Executive Director Denise Buzzelli, Howard stepped to the podium.
"I would like to thank you all for coming, I'm overwhelmed by the support," Howard said, also thanking the chamber and Buzzelli. "An organization isn't one man or a woman, it's a team and I can honestly tell you that after 19 years of self employment we have the best team I have ever had."
Howard then thanked the Gordon Contracting employees, naming each and telling the audience how they all excel at their jobs. Howard said this past year he lost his "Nan" and father-in-law, he explained how instrumental they both were in influencing him, and then he thanked his family.
"As some of you may have read in Denise's write-up, we made a commitment five years ago to donate 10 percent of our profits to charity," Howard said. "This year, thanks to my team, we were able to donate over $136,000 to local area organizations, causes, people, churches, and schools.
"Tonight I will be making our final donation for the year, fulfilling our goal for 2018. To complete our goal, I have asked some members of the local YMCA to be present."
Howard then asked Piscataquis Regional YMCA Director of Operations Janna Wasel to come to the front of the event center.
"Jana has done a great job at the Y and she's been a great asset," he said. "Last year we rebuilt the pool for the Y and did some cosmetic work for the foyer, and we all did our services at cost to the Y. They have done a great job paying us back and they have gotten the balance back to just under $25,000 and I really appreciate that. Tonight I want to let you know that debt is paid in full."
Several other PRYMCA employees joined Wasel up front to thank Howard for the generosity, as he was given one of several standing ovations during the evening.
"Thanks again to all of you for such a humbling honor, I hope to continue to do this work and help the community," Howard said. "By hiring local companies like Gordon Contracting you are making a decision to support everyone in the community."