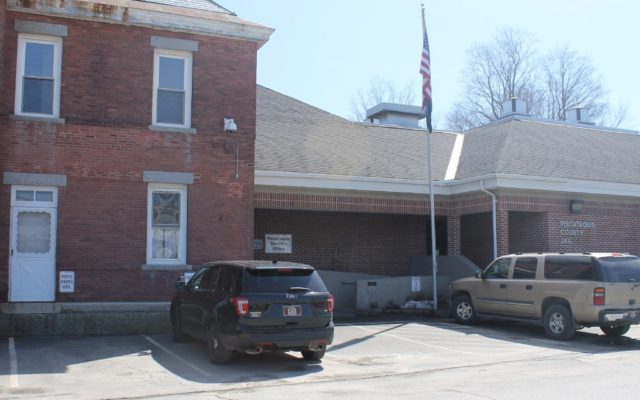 AX017_033D_9
The Piscataquis County Sheriff's Office in Dover-Foxcroft
Commissioners approve upgrade to sheriff's department radio system
DOVER-FOXCROFT — Dispatchers with the Piscataquis County Sheriff's Office are currently using an antiquated radio system, with components dating to the 1980s. Dispatch Sgt. Gary Grant has been working for several years to upgrade the telecommunications division of the department through grants and other funding sources, but in order to complete the project more money is needed.
The specifics are to be determined, but the Piscataquis County Commissioners passed a motion to proceed with an upgrade during an Aug. 21 meeting.
"About three years ago I got the position of sergeant of dispatch," Grant told county officials, saying one project he took on was upgrading the three decades old radio equipment. "I have gotten about $72,000 through grants and (the Piscataquis County Emergency Management Agency), it does not come through the county budget at all. I have actually come to the end of what I can do through grants."
Grant said about $139,000 would be needed to complete the radio system upgrade. He said currently information from department antennas is captured in the basement and this data travels up to the dispatch center.
"If you think of a copper wire vs. a computer, it's night and day," Grant said, with a new system expected to fit the department needs for many years to come. "The information you receive in the control room is weak."
"There have been situations where firefighters requested mutual aid and we didn't hear them," Grant said. He said one such situation took place only a few miles away from the sheriff's office down Route 7 toward Dexter, in which a call came in and three staff members could not hear the message in the dispatch room.
"It was a huge safety issue," Grant said.
He said the $139,000 upgrade cost could be done with a one-time purchase or at an approximate lease rate of $2,900 per month for five years. The per month figure equals about $175,000 over a half decade. The total telecommunications budget is around $600,000
"It's doing a minimal job we need it to do," he said about the current radio system. "We are in a situation where we need to do something and it's going to be unfortunate for taxpayers, I realize that."
"With that scenario you gave us, do you think it would be taken care of?," Commissioners Chair James White asked.
Grant answered in the affirmative. He said there is a new $20,000 repeater and antenna is in Charleston thanks to the Libra Foundation and there is also a new tower in Monson. Grant said $35,000 from the Stephen and Tabitha King Foundation provided new workstations in the dispatch center.
"Radio is really the last holdover from the 1980s we have in there," he said.
Grant said the sheriff's department has worked with Whitten's 2-Way Service, Inc. of Brewer for more than 20 years, and would most likely work with the company on the upgrade after also inquiring with two other outfits.
"Any piece of equipment that is 30 years old really should be looked at being replaced," Whitten's 2-Way Service, Inc. President John Kingsbury said. He said the upgrade could take about five days to complete.
Kingsbury said there would be no downtime during the work, "We would back you up in parallel, dispatch centers can't do down."
Grant said currently when Whitten's 2-Way Service, Inc. staff work on the telecommunications system, they need a Tandy with Windows 95 as this is the only computer that can be used on the antiquated system.
County Manager Tom Lizotte said he has letters of support from both of the county's hospitals and many police and fire departments. Lizotte said Dover-Foxcroft Police Chief Ryan Reardon wrote a comparison of using the sheriff's office radio system to riding a donkey in the Kentucky Derby.
"The reason I am here today is I want to look each of you in the eye and say I tried,'' Grant said. "It is a hard decision but something has to be done."
"I would hate to have a constituent call me and say they could not get through to the sheriff's department, especially in an emergency," Commissioner Jim Annis said.
Lizotte said the option of buying or leasing will be discussed during the upcoming budget process. "To me updating the system is not nice to have, it's a must have. It's a public safety issue."
"I agree we need it, it's a matter of how to pay for it," Commissioner Wayne Erkkinen said, before the commissioners passed their motion of support.
"I would say let's look at our options on financing and our options with our own county budget," White said, mentioning the possibility of using funds from capital accounts.
Lizotte said he would present financial information on the radio system upgrades at a future meeting.
In other business, the county manager gave an update on the county and organized territory spending plans.
"We hope to bring that initial draft budget together in early September and start the process soon after," he said.
Lizotte asked the commissioners to check with the budget advisory committee members to see if they are willing to take part again in 2018.