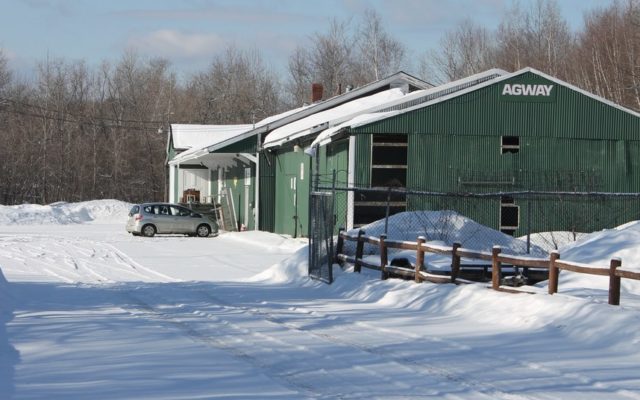 Foxcroft Agway
Observer file photo/Stuart Hedstrom PISCATAQUIS REGIONAL FOOD CENTER -- The former Foxcroft Agway location on North Street in Dover-Foxcroft is now the home of the the Piscataquis Regional Food Center. Plans are for the center to partner with the Good Shepherd Food Bank to distribute items to food pantries across the region and assist farmers in getting their crops into the marketplace.
Bill and Joan Alfond Foundation awards $200K to fight hunger across the region
DOVER-FOXCROFT — The Bill and Joan Alfond Foundation has awarded Good Shepherd Food Bank, Maine's largest hunger-relief organization, a $200,000 grant to fund strategies for eliminating food insecurity in Piscataquis County and central Maine, including Dexter.
"We are grateful for the Bill and Joan Alfond Foundation's commitment to ending hunger," said Kristen Miale, president of Good Shepherd Food Bank. "Maine's food insecurity rate has climbed to seventh in the nation and is the highest in New England. The Dexter and Piscataquis County regions experience a particularly high rate of food insecurity, with nearly 18 percent of residents struggling with hunger. With the Foundation's support, we'll work with our regional partners to combat this problem."
A central strategy of the grant is establishing infrastructure for the Piscataquis Regional Food Center (PRFC), a new nonprofit organization in Dover-Foxcroft and partner of Good Shepherd Food Bank (GSFB). With the support of GSFB and other partners, PRFC is retrofitting a 5,000-square foot property in Dover-Foxcroft into a short-term food storage and distribution center, which will serve the needs of food-insecure Mainers, regional food pantries, and small farms in Dexter and Piscataquis County region towns, including but not limited to Milo, Brownville, Sangerville, Guilford, and Greenville.
"The Dover-Foxcroft Area Food Cupboard offers twice-monthly distributions of food, serving an average of 115 families per month. We primarily serve families in Dover-Foxcroft, Sebec, Sangerville, Atkinson, Garland, and Bowerbank, but we welcome anyone who is in need of food," said Karen King, operations manager of the DFAFC. "The PRFC project will help Good Shepherd Food Bank, DFAFC, and other ending-hunger partners increase and improve access to more nutritious food for our region, which is greatly needed."
"Charles A. Dean Memorial Hospital in Greenville is currently partnering with Good Shepherd Food Bank on its Community Health and Hunger Program by screening patients for food insecurity, providing emergency food boxes and, when appropriate, referring patients to food pantries and other ending-hunger partners in the region to access the nutritious food they need to thrive and maintain their health," said Meg Ryder, director of practice management. "Having regular access to nourishing food is critically important for improving the health and well-being of our patients."
Hometown Health Center, including its offices in Dexter and Dover-Foxcroft, is also partnering to end hunger in the region. "Research shows that higher food insecurity is associated with a higher probability of having chronic diseases and health problems, making access to nourishing food critically important," said Robin Winslow, CEO of Hometown Health Center. "We are very excited to be a part of the PRFC project that will help reduce food insecurity in our community because we all need to collaborate and work together to make this a reality."
Whitney Gould-Cookson, clinical dietitian at Mayo Regional Hospital, concurs about the benefit of the project. "We are thrilled that the PRFC project will help improve access to healthy food for our patients in our region," said Gould-Cookson. Mayo Regional Hospital participates in the Food Bank's Community Health and Hunger Program to identify food insecure patients and connect them to food resources to help patients achieve and maintain a healthy life.
The PRFC will also serve as a regional "food hub" for small farms to aggregate their produce for distribution and sale in local, state, and New England markets. The hub will include a certified community kitchen, which can be used for light processing and for services such as cooking demonstrations, nutrition education classes, and community meals. "Green spaces" at the center will include small demonstration gardens and outdoor seating. The facility will have a transformative effect on combating food insecurity in the greater Piscataquis region while also stimulating the area's agricultural economy.
"We have experienced overwhelming community support for the PRFC facility," says Erin Callaway, PRFC's executive director. "In order to meet the needs of our food-insecure population, we need to increase access to more food for residents in the greater Piscataquis region. Further, storage capacity, particularly for perishable goods, is highly desired by regional small farmers. We look forward to building a facility that will provide food and community resources for our neighbors while helping local farmers grow their businesses."
"Ridge View Community School in Dexter serves approximately 100 families per month with 450 meals through its school pantry, and we currently benefit from an existing Bill and Joan Alfond Foundation grant through Good Shepherd Food Bank," says Crystal Greaves, the school nurse. "This partnership has allowed us to provide healthier foods including meat, dairy, and produce to our families. Our students need nourishing food so that they can learn, thrive, and grow, and we rely on partnerships with the Food Bank and grocery stores, as well as the kindness and generosity of community members, to make our program a reality. I am excited to hear about these new efforts to increase access to food — especially fresh, local food — for our region."
The grant funds will also be used by Good Shepherd Food Bank to establish a nutrition education coordinator position to facilitate Cooking Matters classes in the Piscataquis region, including classes that could take place at the PRFC. The Cooking Matters program provides free, hands-on cooking and nutrition instruction to low-income families and individuals throughout the entire state.
"By establishing the Piscataquis Regional Food Center, as well as optimizing the impact of Nutrition Education, funding from the Bill and Joan Alfond Foundation will play a vital role in helping us overcome food insecurity in Dexter and the Piscataquis County region," says Miale.