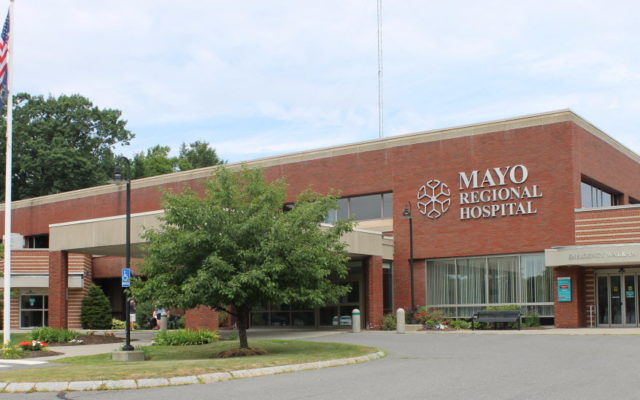 AX246_0D82_9
Northern Light Mayo Hospital in Dover-Foxcroft
Mayo Regional Hospital initiates new electronic health records system
DOVER-FOXCROFT — Mayo Regional Hospital has selected Cerner, a global leader in health care technology, to implement a new integrated electronic health record (HER) and revenue cycle solutions across it acute and ambulatory facilities. This agreement provides the hospital with sophisticated health care technology that will support Mayo doctors, nurses and staff as they work to streamline operations and improve patient care.
"At Mayo, we focus the knowledge, skills and resources of our doctors and staff to forge a strong and integrated community health system that serves the people of our region," said Marie Vienneau, CEO and president of Mayo Regional Hospital. "We chose to work with Cerner because they are committed to this vision of health care, with experience in supporting community health care organizations to improve care for their patients. We are looking forward to improving the quality of care, supported by having one patient, one record," added Vienneau.
Mayo Regional Hospital will transition to the Cerner Millennium, a health care IT platform designed to support an individual's care journey — from the doctor's office to the hospital and outpatient clinics- –with consistent patient engagement. The Cerner Millennium system will provide Mayo staff with a digital record of their patients' health history. Cerner Millennium will also support improved interoperability and communication between Mayo and other health care providers in the region.
"As a critical access hospital in rural Maine, Mayo's move to a single integrated HER will facilitate the exchange of health information with other health care systems and providers in the state to create a more seamless patient experience," said Zane Burke, president of Cerner. "Through our solutions, a patient's critical health and financial information will be in one place and will support Mayo in their effort to provide a better approach toward improving the health and well-being of their community."
With Cerner's Clinically Driven Revenue Cycle solutions, Mayo clinicians will be able to view clinical and financial data in one patient record. In addition, Mayo Regional Hospital will benefit from enhanced documentation that can improve reimbursement and limit claims errors.
"As the first CommunityWorks hospital in the state of Maine, Cerner is thrilled to support Mayo Regional Hospital as it provides improved health services to promote the wellness of this community," said Mitchell Clark, president of CommunityWorks, and senior vice president of Cerner. "Current and future patients will continue to be encouraged to take an active role in their own health and care through Mayo's improved health services."