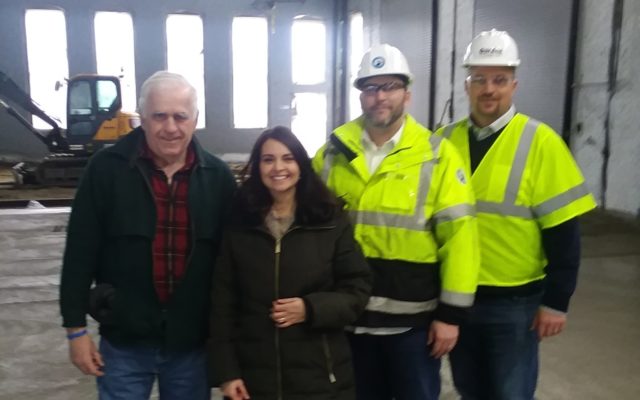 PO-davisderby-10-18 FEATURED
Contributed photo DERBY SHOP TOUR -- Sen. Paul Davis, R-Sangerville, left, recently visited the Derby Shop in Milo with Piscataquis Chamber of Commerce Executive Director Denise Buzzelli. The two are pictured with Chad Mowery, second from right, of Central Maine and Quebec Railway and Jon Seavey of Gordon Construction.
Central Maine & Quebec Railway and Gordon Contracting partner to resurrect Derby
MILO — Somewhere, tucked away in the southeast corner of Piscataquis County and nestled into the town of Milo, is Derby. Prior to the early 1900s, Derby was known as Milo Junction, because it was a junction point for the Bangor and Aroostook trains.
According to the Milo Historical Society the original station, which was not much to speak about consisting only of a water tank, a coal shed and a dismal place to wait for trains, had been destroyed by fire, and then rebuilt by B&A Railroad (BAR). The rebirth of the rail yards, built to the specifications of the New York, New Haven & Hartford Railroad in Massachusetts, would make Derby the second largest in all of New England, bringing with it a revival felt throughout the town and region. Hundreds of new jobs, new homes being built in the area surrounding the railroad, and an incredible boost to the local economy. Then, prior to 2000, Iron Road Railways, the holding company for BAR, claimed bankruptcy, and the future of the BAR seemed uncertain until the Montreal, Maine and Atlantic Railway (MMA) purchased its assets, which included Derby. Once the dust settled, it was full steam ahead.
Then in July 2013, a runaway MMA train carrying petroleum crude oil exploded in Quebec, killing 47 people. Within two weeks of the disaster, MMA laid off 60 workers, many from the company's repair yard at Derby. Soon after, bankruptcy proceedings began. Just as the rebirth of the rail yard had contributed so wonderfully to the economy and quality of life in Milo decades earlier, the bankruptcy had a devastating impact on the families of those who lost their jobs. Local business owners, repairmen, parts dealers, and restaurant owners, just to name a few, felt the effects immediately. Derby's workers had been some of Milo's businesses' best customers – customers that would no longer walk through their doors. Milo, Brownville, and the surrounding communities would certainly feel the weight of it, but just as it had in the past Derby was about to be given yet another chance.
As activity at Derby appeared to come to a halt, Central Maine & Quebec Railway (CMQ) purchased assets of the bankrupt MMA. Though the purchase did not include the Derby facility, an agreement was made with the MMA trustee to allow CMQ to occupy the property, which they continued to use as a mechanical facility, starting with 13 employees, and adding five more over the last year — many of whom live in the town of Milo and surrounding areas.
Then sometime in 2015, MMA trustees contacted the town of Milo with a proposition to purchase the Derby property for $1, transferring ownership of the 95-plus acre property to the town from the bankrupt railroad company. Though the town had been looking into the property for some time, there were environmental concerns and questions about future use and liability. In June 2016, Milo residents voted to accept the conveyance, and authorized the selectmen to proceed with any grant applications required for the purpose of cleaning up the property, and to accept awarded grant dollars. During this process, the town of Milo entered into an agreement with CMQ, allowing the company to remain at Derby and continue operation, which turned out to be a pivotal decision for Derby, the town of Milo, and the region.
As Milo pursued federal clean-up dollars, CMQ Railway began construction in November to rehabilitate the former machine shop at Derby, a 25,000 square-foot monstrosity, investing its own capital, nearly $7 million since construction began. The project continues to move in phases, as EPA clean-up dollars come in, other areas of the property will be tackled, and CMQ will remove and remediate the buildings that cannot be repaired and reused, while rebuilding what can be salvaged to grow the business. Long term, CMQ plans to purchase the property from the town.
Any person who has stood in the old machine shop building over the past several years would remember it for its missing and broken windows, crumbling walls, and missing bay doors. Even in that condition, one would have to be blind to not be in awe of its sheer size. In just a few short months, CMQ, in partnership with Gordon Contracting of Sangerville, have already accomplished more than one might expect in one full year's time.
"I have stood in this building before. It feels surreal to stand here now, watching it come back to life, there's excitement and hope for what the result of all of this will be, what it will mean to our region, " said Executive Director Denise Buzzelli of the Piscataquis Chamber of Commerce.
"The rehabilitation that has already taken place here is beyond belief; the vision for it and the ability to bring it to fruition is truly impressive," she said during a recent tour of the building with Sen. Paul Davis, R-Sangerville, Jon Seavey of Gordon Contracting and Chad Mowery of CMQ. "I have the utmost respect for GC and CMQ and the way this project has been executed so far. One great example is how they heat the building, using recycled oil from the locomotives, and how they plan to use and reuse water to wash the tank cars, sending it back through a state-of-the-art filtration system, returning water back into the town which will be purer than the way it came in. There's no cutting corners here … just good quality, well thought-out work that is as environmentally responsible as it can possibly be; truly amazing".
Once complete, the building will provide full tank-car cleaning and certified repair services with a fully-trained and certified staff. Employees will be equipped with the tooling to repair, replace, and qualify all tank-car valves. CMQ will provide multiple options for full repairs, cleaning, end of lease inspections, and storage capabilities.
In addition, a world-class customer service group will offer fleet management and tracking options. As CMQ continues to invest in its infrastructure and in the Derby mechanical facility, full-time, long-term employment opportunities will grow, with four to six employees added immediately for this service line, and the potential of more to follow.
Though the project is not yet complete, the economic impact has already been felt. As a local company, Gordon Contracting understands the importance of sourcing all project materials and manpower locally whenever possible. "With a project of this size, when the product is provided by local companies, when the sub-contractors and employees are locals, everyone benefits, and that's what it's all about," Seavey said.
This way of thinking is not the only reason Gordon Contracting has become the largest and one of the most respected general contractors in Piscataquis County, employing over 30 workers. Just a glance at the website, specifically the mission and values, makes it evident this company is truly invested in the region, and purposefully cognizant of the economic impact each opportunity to work in our region brings. What sets them apart further is their commitment to serve 'by hiring local', to serve 'by faith', which to them means putting their best work forward 'regardless of the cost to the company', and to serve 'by giving', the website states: "we coach, teach, and mentor through community churches, organizations, and nonprofits … we give our time to our neighbors and lend a hand whenever a hand is needed", their website states, "we commit a minimum of 10 percent of company profits to local charities each year… our faith and our work have proven to provide us with long-lasting relationships that stand the test of time long after the projects are complete."
Seeing the testimonials from other contractors, corporate businesses and government agencies provides even more evidence that this company practices what they preach. When asked about their experience working with Gordon Contracting, CMQ explained, "Gordon Contracting has been great to work with. Brian and his entire team are professionals of the highest standard. The entire project has been completed ahead of schedule to date and the quality of work has been second to none. Brian has not only managed his sub-contractors, but the subcontractors we are using to complete other parts of the project. I would recommend Brian and his team to anyone with a complicated project that they want completed right. We will look to use Gordon Contracting for all of our future projects".
CMQ has a target completion date of May, at which time a grand opening at the Derby site is planned, giving community members and business owners an opportunity to witness the incredible transformation that is taking place in this little corner of Milo, as the history of Derby is being re-written, once again.
Contributed photo
DERBY SHOP TOUR — Sen. Paul Davis, R-Sangerville, left, recently visited the Derby Shop in Milo with Piscataquis Chamber of Commerce Executive Director Denise Buzzelli. The two are pictured with Chad Mowery, second from right, of Central Maine and Quebec Railway and Jon Seavey of Gordon Contracting.