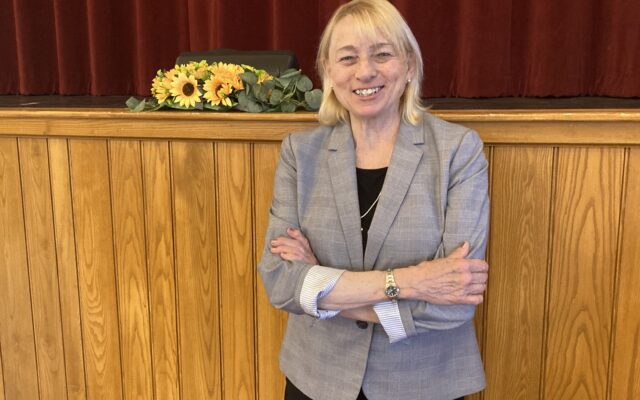 Janet-Mills-051122
Observer photo/Valerie Royzman GOVERNOR'S VISIT – Gov. Janet Mills in Dover-Foxcroft.
Gov. Mills declares Nov. 24 as 'Maine Grown Christmas Tree Day'
AUGUSTA — The Maine Department of Agriculture, Conservation and Forestry announced that Gov. Janet Mills has proclaimed Friday, Nov. 24 as "Maine Grown Christmas Tree Day" in recognition of the contributions and economic impact of Maine's Christmas Tree industry.
The production and sale of fresh Maine Christmas trees and wreath products is estimated to create more than $18 million in direct economic impact each year and provide jobs for nearly 800 Maine people. The Governor's proclamation recognizes the contributions of the more than 100 family farms that make up the non-profit Maine Christmas Tree Association, a cornerstone of Christmas and Solstice celebrations since 1962.
"No Christmas is complete without a Maine-grown Christmas Tree. As Maine people kick off the holiday season this weekend, I encourage them to support our local family farms for all their Christmas Tree and wreath needs," said Mills. "I thank the Maine Christmas Tree Association and its member family farms for their hard work and dedication to make Christmastime in Maine beautiful each and every year."
"At a time of year when many bring joy to their homes with beautiful Maine-grown Christmas trees and wreaths, it's a great reminder of how much the work of the agriculture community in Maine enhances our lives and makes special occasions all the more special," said DACF Commissioner Amanda Beal.
"This proclamation is a perfectly timed reminder for MCTA members," said MCTA President Ryan Liberty. "We thank Governor Mills for supporting MCTA's enduring spirit and the craftsmanship showcased by the state's Christmas tree farms, businesses, and makers."
A list of choose and cut farms, wreaths and retail products for sale, and wholesale distributors across the state can be found on the MCTA website at www.mainechristmastree.com.
In 2021, the Governor started an annual tradition of showcasing award-winning, Maine-grown Christmas Trees from the Fryeburg Fair during the holiday season at the Blaine House. Mills is expected to welcome the People's Choice Christmas Tree, as chosen by fairgoers, and the Grand Champion Christmas Tree, as chosen by judges, to the Blaine House later this month.
Mills' proclamation, declaring Friday, Nov. 24 as "Maine Grown Christmas Tree Day," can be read here at https://www.maine.gov/governor/mills/official_documents/proclamations/2023-11-maine-grown-christmas-tree-day-november-24.