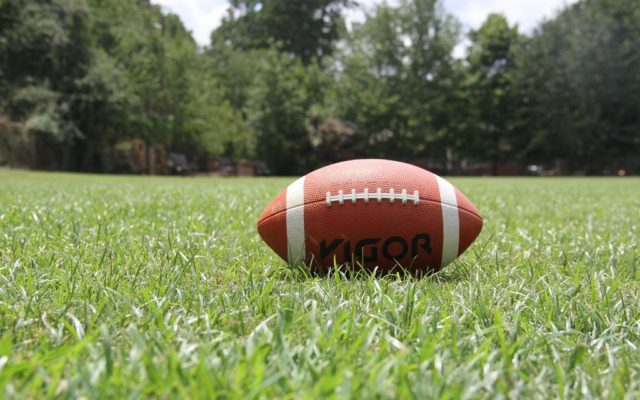 Wells football shocks undefeated Foxcroft, steals Class D title
By Sam Canfield, Bangor Daily News Staff
LEWISTON — The Foxcroft Academy Ponies (10-1) lost grip of their three-peat bid late Saturday afternoon, Nov. 18 as the underdog Wells Warriors (8-3) walked it off in unthinkable fashion, 22-21.
Down 21-14 and facing fourth and goal from the three, senior Wells quarterback Brooks Fox found senior tailback Connor Whitten in the right corner of the end zone on back-to-back plays — first for six points, and then for two for the win — with just 19 seconds remaining.
After torching the Ponies on the ground all drive long, Whitten and junior tailback Eli Potter had suddenly been stuffed three times in a row at the goal line, setting up the do or die play for Wells.
"One thing I know is Wells doesn't doubt Wells — the Warriors are warriors," 24-year head coach Tim Roche said. "We'd been running the ball a lot, but Brooks throws a good ball, and we thought we saw something. Then we saw it again."
Wells' decision to go for two — then successfully convert on it — was just one of several twists of fate that the Ponies and Warriors experienced on Saturday.
Down 21-0 halfway through the third quarter, a third consecutive state title game appeared to be firmly in Foxcroft's grasp. Picking off Fox on three separate tip drills in the first half, the Ponies had turned every single solid Wells drive into a Foxcroft touchdown, and were poised to score again when they recovered an unforced Wells fumble at midfield.
"We kept telling ourselves that we were the better team, and we're beating ourselves right now," Fox said. "Let's go, next play. Two claps, and shrug it off."
Backed down to their own 14, the Warriors made their first clutch play of the night, stopping the fearsome Gage Beaudry on fourth down and swinging the momentum back in their favor. One bomb to junior Riley Murphy later, Wells was in the red zone for the first time all game, and Whitten took the opportunity to make it a 21-6 ball game.
But the clock was ticking, and Wells' defense would have to make another clutch play.
A few minutes later, Foxcroft was back in the Wells red zone, threatening to make it a three-score game again. In another ridiculous turn of events, Beaudry had his third touchdown of the night called back, and then junior Cody Haynes made a diving interception — a tip drill — of Foxcroft's Wyatt Rayfield in the end zone.
Playing with more and more life every snap, Wells marched 80 yards downfield, and Potter punched it in to make it 21-12. Down nine, the Warriors succeeded on what would be their first of two do-or-die 2-point conversions, cutting the deficit to 21-14.
But the clock was ticking, and Wells would have to get the ball back once again — which they did, in unthinkable fashion.
Having marched the Ponies down to Wells' 13-yard line, first-team All-Conference quarterback Rayfield suddenly fumbled a handoff, which the Warriors recovered.
Six minutes later, the Warriors took their only lead of the game.
"I said to the kids, 'Do you want to win or go for the tie?'" Roche recalled postgame. "They said, 'Let's go for the win, coach.'"