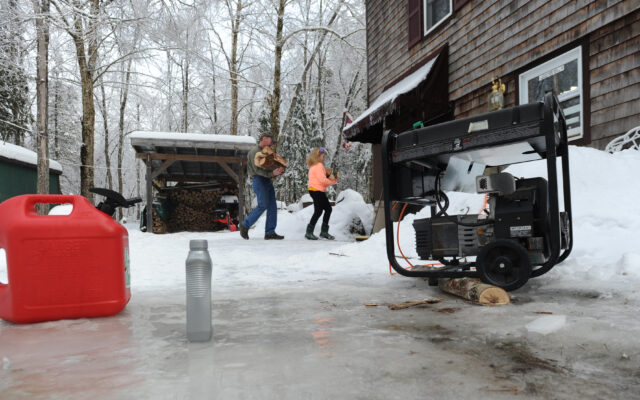 ice121813 1 KB
Bangor Daily News file photo A home generator is a great source of electricity when the power goes out. But if not used properly, it can be dangerous to people and property.
Winter preparations for your home should include generator safety
By Julia Bayly, Bangor Daily News Staff
The middle of a deep winter power outage is not the time to learn how to safely operate a home generator.
Improperly installed or operated generators can produce toxic exhaust, electric shock, burns and structural fires. Waiting until the last minute can leave you unaware of avoidable hazards that can lead to property damage, personal injury and even death.
To prevent any of that, The Maine Emergency Management Agency recommends following strict safety procedures when installing and using a portable or standalone generator when the power goes out.
Beware of toxic fumes
According to MEMA, the biggest risk posed by generators is carbon monoxide poisoning. Most portable generators run on gasoline and produce exhaust fumes which can be fatal. That's why you should never start or use a generator indoors — that includes garages or sheds attached to the house because fumes can easily spread.
Opening doors or windows for ventilation won't help as deadly levels of carbon monoxide can still build up and stay around for hours after the generator is turned off.
It might be tempting to put your generator close to the house for convenience, but too close runs the risk of those fumes creeping inside. It should be set up at least 15 feet away from doors, windows or vents and the exhaust outlet should be facing away from the home.
Every home should already have a battery or plug-in carbon monoxide detector and this is a good time of year to make sure it is operating properly.
If at any time while the generator is running or in the hours after you shut it down you start to feel dizzy, get some fresh air.
Don't get shocked
The whole point of a generator is to produce a source of electricity for your home when the power goes out. So there is the very real risk of getting a jolting shock or even electrocution while using one.
To avoid a nasty surprise, always connect the generator to whatever appliances in the home you select using a heavy-duty extension cord designed to be used outdoors. Check the wattage of the appliance — it's usually on a door, in the owner's manual or online — and match it with an extension cord that exceeds the combined wattage of the appliances you are powering with the generator.
Inspect the extension cord to make sure it is not cut, torn or crimped anywhere and that the plug at the end has all three prongs fully intact.
Never plug your generator directly into a wall outlet. Not only do you risk blowing a circuit, it can "backfeed" or allow electricity to flow into the power grid and puts utility and power company workers at risk for electrocution.
Get organized now
Look around now and determine where you want to store your generator and fuel when it's not in use. The one place that is off limits to both is inside your house.
You can safely store them in your garage or an outbuilding as long as it's not near any fuel-burning appliance like a propane or natural gas fueled hot water heater.
Fuel for the generator should be kept in containers designed to hold gas and should be clearly labeled with the contents.
Make sure your generator is operating smoothly with a test run outdoors.
At the start of the season, you should also change the oil in the generator's engine and make sure to check the level of the oil every time after you use it.
Finally, make sure the gas tank on the generator is full and never add gas while it's running. The fuel can spill onto the hot components and catch fire.