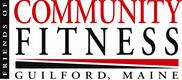 1c1bb78d33f27c6ece2d96ceff9b2239
Friends of Community Fitness in Guilford
Community Fitness receives grant from the Weyerhaeuser Giving Fund to support children's STEM & sensory education room
GUILFORD — Friends of Community Fitness has received a $4,200 grant from the Weyerhaeuser Giving Fund to support its new STEM & sensory education room for children.
Britney Gallagher, executive director of Community Fitness, said the funds will be used to furnish the room with toys and supplies that stimulate children's minds and creativity. The new room will open Jan. 2, 2024 starting with a morning program from 8-10 a.m. Space will be limited and reservations are required. Call 207-876-4813 now to reserve your weekdays in the new year.
"This new room will allow parents, grandparents and caretakers to bring children into a place where they know they will be educationally enriched while the adults use the facility or take a class for their own mental and physical health," Gallagher said.
In both rural and urban settings, the Weyerhaeuser Giving Fund supports hundreds of important organizations and programs in the communities where they operate with funding, time, expertise, and resources. Weyerhaeuser made its first charitable donation in 1903 and has provided more than $260 million in grants through its formal giving program, which was established in 1948.
Friends of Community Fitness in Guilford is a nonprofit fitness and community center. We promote a healthy lifestyle through providing various forms of physical exercise, social, and educational opportunities for people of all ages and financial means. Weekly we offer over 35 free programs to members ranging from toga, tabata, USA boxing, tae kwon do, pilates, SilverSneakers, bootcamp, ballroom dancing, and many more. Our new adult ballet class will begin in the new year.
Weyerhaeuser Company, one of the world's largest private owners of timberlands, began operations in 1900. We own or control approximately 11 million acres of timberlands in the U.S. and manage additional timberlands under long-term licenses in Canada. We manage these timberlands on a sustainable basis in compliance with internationally recognized forestry standards. We are also one of the largest manufacturers of wood products in North America. Our company is a real estate investment trust. In 2022, we generated $10.2 billion in net sales and employed approximately 9,200 people who serve customers worldwide. Our common stock trades on the New York Stock Exchange under the symbol WY. Learn more at www.weyerhaeuser.com.