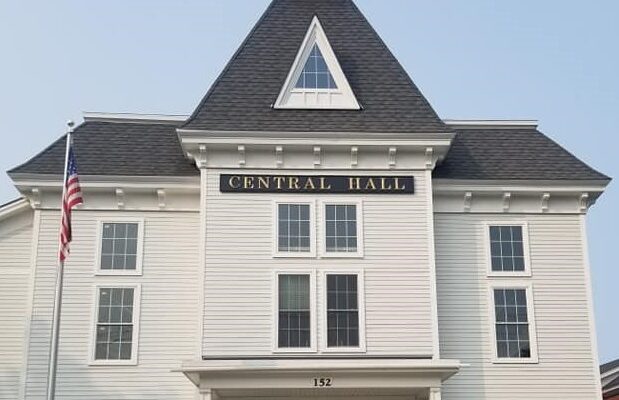 CHC sign (2)
The Commons at Central Hall in Dover-Foxcroft.
Upcoming events at Central Hall Commons
DOVER-FOXCROFT — Central Hall Commons is excited to share all of the fantastic events and activities this fall. From tai chi to trivia, meditation to game days, and coffee talks and community conversations, there is something everyone can enjoy. Subscribe to our monthly newsletter to stay in the loop or visit our website to learn more. To register, or for more class details, please email us at: operations@centralhallcommons.org or call 207-343-3018.
The Mitten (and Hat) Tree! The Maine Highlands Council for the Arts and the Central Hall Commons are sponsoring a Mitten and Hat Tree beginning Friday, Nov. 24. Already, a lovely tall tree stands in the lobby of the Central Hall Commons, donated by members of Calvary Church.
All through the month of November and December, the public is invited to stop by and donate handmade, new, or like-new hats, mittens and scarves and hang them on the tree. Beginning on Buy-Nothing Days (Nov. 24-25) all are welcome to take whatever they need for themselves, their children or neighbors. The intent is to provide warmth to those who may lack the basic necessities to keep themselves or their families warm. The tree will remain in place throughout the cold months, or until all of the donations have found homes. The public is also welcome to come see the tree at any time, beginning with the Fall Folk Festival on Saturday, Nov. 18 from noon to 6 p.m. Let's help keep our community warm this winter.
Come one, come all. Join us for our Fall Folk Festival on Nov. 18. There will be many artisans and crafters, music, lots of music, and food — chili, chowder and baked goods. The requested donation is $7 per person and $10 per family. No one turned away. For more information contact arts@centralhallcommons.org.
Avoid the crowds and costs of Black Friday! The third annual "Buy Nothing Days" at Central Hall Commons will take place from 10 a.m. to 4 p.m. on Nov. 24-25. Come as you are, share what you have. Bring art and craft supplies, gently used toys and games, gift-worthy clothing and housewares, a plate of goodies, or just yourself. All are welcome! Don't shop, share! Celebrate creativity and abundance in our community on Buy Nothing Days! 
Central Hall Commons aspires to bring people together to celebrate and serve the community through programs, events, and the arts. Visit us online at www.centralhallcommons.org.