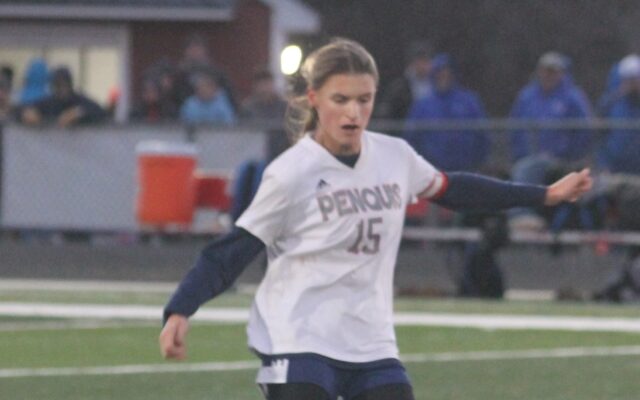 PO-sppvcconklin-46-23 – Copy
Observer photo/Stuart Hedstrom PLAYER OF THE YEAR — Penquis senior Addison Conklin is the Penobscot Valley Conference Player of the Year for girls 8-player soccer.
All-conference soccer recognition
Players from all five area high schools received postseason recognition from the Penobscot Valley Conference.
The boys PVC Class C All-Conference First Team includes Pau Argilaga and Fernando Gil Ortiz of Foxcroft Academy.
The Second Team includes Foxcroft's Javier Samsone and Peyton Wellman.
Ashton Ade of Foxcroft received honorable mention recognition.
Argilaga is the PVC Class C Player of the Year.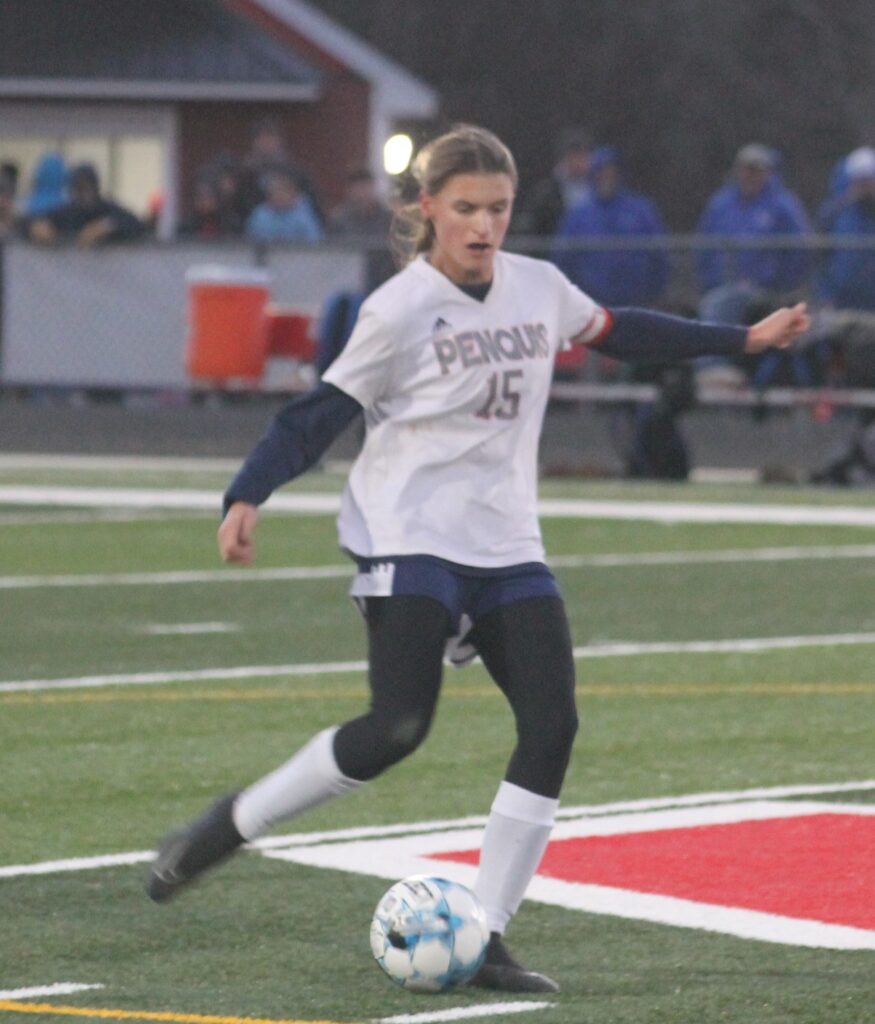 Named to the girls PVC Class C First Team is Abby Corson of Dexter Regional High School and Samantha Ossenfort of Foxcroft. 
The Second Team includes Hannah Dean and Cally Gudroe of Dexter.
Foxcroft's Jasmine Hall and Alexia Poire were named to the Third Team.
Amara Perfect of Foxcroft received honorable mention recognition.
The boys Class D First Team includes Damion Drake of Penquis Valley High School and Brady Gaw of Piscataquis Community High School.
The Second Team includes Scott Chadbourne of PCHS and Caiden Fowles of Penquis.
For the boys 8-player all-conference team, the First Team includes Brendan Berg of Dexter and Greenville High School's Liam Mason, Ethan Pratt, and Ocean Turner.
Greenville's Logan Adrian was an honorable mention pick.
Mason and Mason McDunnah of Schenck/Stearns were the co-players of the year.
For girls 8-player, Penquis' Violet Chai and Addison were both named to the First Team as was Brookelynn Hunt and Hope Hunt of PCHS and Greenville's Alayna McMahon.
Honorable mention players include Greenville's Sofia Caiazzo and Lakely St. Jean and Brooklyn Decker of Penquis.
Conklin is the Player of the Year.
Chris Downing of Penquis is the Coach of the Year.
All-Academic selections are Dylan Talbot, Cian Galligan, Aiden Langlais, Cally Gudroe, Hannah, Dean, Shelby Dyson, Macey Deering, and Mazie Peach of Dexter; Ashton Ade, Marceli Cerak, Olivia Gage, and Amara Perfect of Foxcroft; Ethan Pratt, Parker Gallagher, Jayden Boone, and Sofia Caiazzo of Greenville; Scott Chadbourne and Ben Higgins of PCHS; and Damion Drake, Austin Gallant, Hannah Legere, Destiny Sibert, and Layal Chai of Penquis.
Spirit of the Game selections are Dexter: Brenden Berg and Claire Fogler; Foxcroft: Josh Knapp and Amara Perfect; Greenville Ethan Pratt; PCHS: Karson Tibbetts and Hope Hunt; and Penquis: Nikolai Galipeau and Rylee Heal.