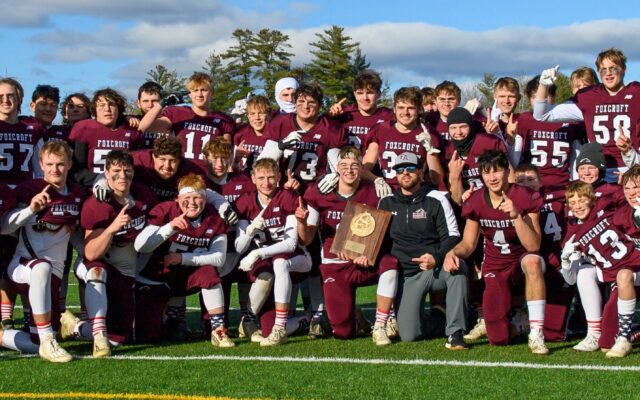 400111159_791050286365915_8724028024272443214_n
Photo courtesy of Eric Ogden Photography BACK TO STATES — Foxcroft Academy football defeated John Bapst 29-8 to win the Class D North championship on Nov. 11 at Hampden Academy. The Ponies will face Class D South champion Wells High School for the gold ball on Saturday in Lewiston as Foxcroft aims to win the program's third consecutive Class D championship. Foxcroft and Wells met in the 2017 and 2018 Class D finales.
Foxcroft tops John Bapst for third straight D North crown
By Ernie Clark
HAMPDEN — The 14 seniors on the Foxcroft Academy football team — already the owners of two state championship trophies — know the road to a gold ball is never without challenges.
So when second-seeded John Bapst Memorial High School of Bangor — which lost to the undefeated Ponies by 48 points in their season opener more than two months ago — refused to go away in their rematch at Hampden Academy on Saturday, Nov. 11, head coach Danny White's club didn't panic and eventually pulled away for a 29-8 victory to capture the Class D North title.
Foxcroft (10-0) will attempt to capture a third straight state title for the first time in school history next Saturday, Nov. 18 at Lewiston High School against South champion Wells, a 35-6 winner over Winthrop/Monmouth/Hall-Dale on Friday night, Nov. 10.

"We're going to enjoy this, but it's time to move on," said Foxcroft senior quarterback Wyatt Rayfield after the Ponies won a regional crown for the fifth time in the last six football seasons. "We're not done yet."
Foxcroft, which had outscored its opposition 468-33 through its first nine victories, led just 7-0 at halftime of the Big 11 Conference Class D final, the lone touchdown coming on a 5-yard run by Finn Holmes just 1:56 into the contest. That came two plays after Silas Topalski returned a pass interception 24 yards to the John Bapst 18 on the Crusaders' first possession of the game.
When John Bapst was forced to punt on its next possession and the kick traveled just six yards to give Foxcroft possession at midfield, there were some thoughts that this postseason matchup might become similar to the Ponies' 54-6 opening-night rout.
But that didn't materialize, as John Bapst was able to match Foxcroft defensively for most of the contest. Foxcroft gradually took control after intermission despite initially being stopped on downs at the John Bapst 9 after receiving the second half kickoff.
But a three-and-out by John Bapst followed by a 12-yard punt gave the Ponies great field position again, and senior Gage Beaudry capped off a four-play drive by scoring on a 4-yard run with 5:36 left in the third quarter. Senior lineman/fullback Hunter McSorley then rushed for the two-point conversion run to make it 15-0.
"Props to John Bapst for sure, they played hard but those short fields definitely helped and our offense in the second half was able to do what we do and we were eventually able to pull away," Rayfield said.
McSorley recovered an errant John Bapst pitch near midfield on the Crusaders' next possession, and Beaudry scored his second touchdown one play later on a 39-yard run and then added the two-point conversion run as the Ponies suddenly built a 23-0 cushion with 1:34 left in the third quarter.
"In the regional final game you expect every team to give it their all," said Beaudry, who finished the day with 129 yards on 22 carries to surpass 1,100 rushing yards for the season. "We had a tough time moving the ball in the first half, but in the second half we knew what we needed to do and we did it."
But John Bapst wasn't done, as on the first play after the ensuing kickoff senior Nathan Butler outwrestled a Foxcroft defender for a pass down the right sideline from junior quarterback Aiden Ouellette and raced 62 yards to the end zone to get the Crusaders on the scoreboard.
Senior Logun McMahon then threw an option pass to Butler for the two-point conversion, and John Bapst was still within two possessions at 23-8 with still 1:13 left in the period.
But Foxcroft's defense rose up to shut out the Crusaders the rest of the way, and McSorley added an insurance touchdown on a 2-yard run to cap off a 56-yard scoring drive with 4:03 left in the game.
The Ponies' defense limited John Bapst to 161 total yards and had two interceptions and a fumble recovery.
"We really focused on our defense a lot this week and we all came as one. We were all there for each other," FA senior defensive end Devin Henderson said.
John Bapst's defense held Foxcroft to a season-low in points and 258 total yards, an effort much different that the earlier meeting.
"We did some things that the kids believed in in terms of physicality that maybe we weren't ready for the first time," Crusaders' coach Dan O'Connell said. "Then when we had some success especially on defense … they really started to believe they could do it and I was proud of them for hanging in the way they did and competing for four quarters."