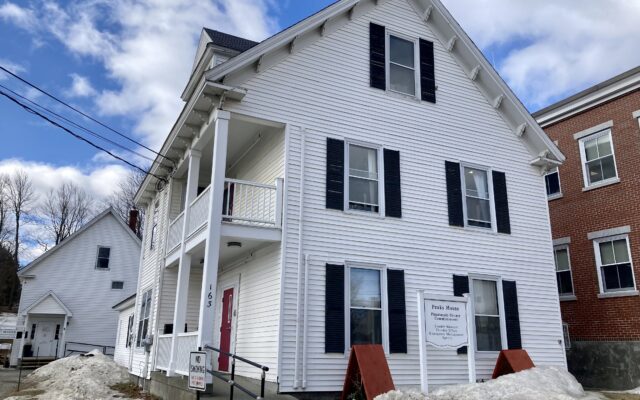 Peaks-House-032222
Observer photo/Valerie Royzman The Peaks House in Dover-Foxcroft.
Commissioners looking at bids for dispatch center location
DOVER-FOXCROFT — Twice last year the Piscataquis County Commissioners put out to bid a project to relocate the dispatch center from cramped conditions in the Piscatquis County Jail in Dover-Foxcroft into the administrative unit of the sheriff's office in Guilford. The decision was made to attract more affordable contractors and in December 2022 the commissioners opted to try again in the fall of 2023 to see if material prices would come down.
During a meeting on Tuesday morning, the commissioners opened three project bids but opted to not make a decision to award the project until potentially the next meeting on Tuesday, Nov. 21. In the meantime more information on the three contractors will be gathered to help make for a more informed decision.
The bids came in at $668,944 from Ganneston Construction, $763,750 from Sheridan Construction, and $876,215 Dunbar & Brawn Construction..
When asked, Old Town-based project architect Vicki Leavitt said she has worked with all three contractors previously and she said all are reputable.
Commissioner Paul Davis said he would like to have some more information on each firm, such as references, in order to make a more informed decision.
In May 2022 county officials were told the project would require repair work on a portion of the building's exterior that will cost several thousand dollars extra. Water damage to the mortar on the exterior of the sheriff's office could add $26,000-$30,000 to the total cost.
Leavitt noticed issues with the brickwork during her survey of the building. There was concern about bolting into the brick, but a mason assessed the building and thought it won't be an issue.
In other business, County Manager Mike Williams said the budget committee had its last regular meeting the week prior.
"They have made some changes and I'm still in the process of calling a couple of department heads to discuss it with them," Williams said. He said he will be providing the commissioners with the most up-to-date financial figures.
Staff Writer Valerie Royzman contributed to this story.