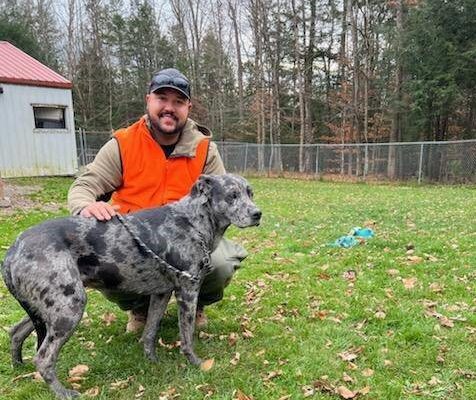 Pua-captured
Photo courtesy of Russell Craft MISSING DOG CAUGHT — Pua, a Great Dane and German shepherd mix who has been missing since June, was caught Saturday, Nov. 4, in Corinna. The dog is pictured with Russell Craft, an animal control officer serving the towns of Corinna, Palmyra, Plymouth, Pittsfield, and Clinton.
A dog named Pua is caught after 5 months on the run in Maine
A dedicated animal control officer, a group of out-of-state hunters and a trail of steak has led to the capture of Pua, a dog who captivated a small Maine town when he went missing in June.
Pua, named after the cuddly pig in the Disney animated film "Moana," is a Great Dane and German shepherd mix. He is black and gray, 3 years old, and was running wild up until Saturday, when he was caught at a camp in Corinna.
Pua ran from his new owner the day he was adopted and taken to his new home in the Piscataquis County town of Dover-Foxcroft. He was caught two weeks later and escaped again after just a few hours. Since then, he has likely roamed hundreds of miles during his tri-county adventure, making stops in Penobscot, Piscataquis, and Somerset counties.
A Facebook page dedicated to sightings of the dog has helped townspeople track his whereabouts, which initially included the local McDonald's and town garage, but more recently were the woods behind Walmart in Palmyra and Grove Street in Newport, near Sebasticook Lake.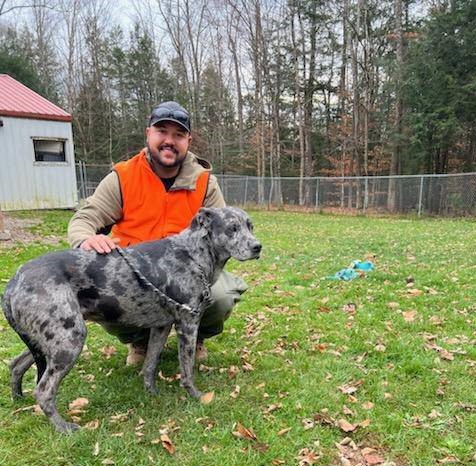 Something about the chronicles of Pua, perhaps his largeness, swift nature and how long he has managed to survive in rural Maine, enthralled Dover-Foxcroft — and now, those in the surrounding region. People rallied around the dog, and with winter approaching, their worries escalated in recent weeks.
Now that Pua has been caught, it appears that a happy ending is in order for the dog, but it could take weeks or months to prepare him for adoption.
Pua is being cared for by the Somerset County Humane Society, which is providing him love, food and a warm place to sleep, said Mikayla Sproul, the shelter manager. Despite people's assumptions that Pua would be feral after months on the run, he has shown no signs of aggression and has acclimated well, she said.
"He is not fearful of our canine team at the shelter," she said Monday, noting that Pua does have slight anxiety, which is expected during major change for an animal. "He is affectionate and vocal, and he is beautiful."
A few area animal control officers have attempted to capture Pua, but Russell Craft was finally triumphant after he set up cameras and a trail of steak scraps leading to a large trap at a camp off St. Albans Road in Corinna.
A man living in the area and a group of out-of-state hunters called Bangor's dispatch center to report sightings of a large black and gray dog hanging around the camp, he said. Craft set a trap in the area Friday night, and he received a notification about 2:30 a.m. Saturday that the dog was inside.
Craft works as a full-time animal control officer, whereas many positions in Maine are part-time. He serves the towns of Clinton, Corinna, Palmyra, Pittsfield, and Plymouth.
"The hunters helped me out that morning," Craft said about safely transporting Pua. "They had pick-up trucks to access the rugged terrain out there, which we used to get him into my car. It took a team of us."
Craft took the dog to the humane society, where he was taken to a fenced-in area and set free from the trap. Eventually a collar and leash were put on him, and he was rewarded with chicken, he said.
Craft reached out to Rebecca Maxcy, the Dover-Foxcroft woman who adopted Pua from his previous owner in South Paris, but he hasn't been able to get in touch, he said. Maxcy did not respond to interview requests Monday.
Pua was found with ticks, but he was heavy and looked mostly healthy, said Craft, who suspects it is a result of ripping into trash bags and eating scraps over the months. The hunters noticed the dog was eating the deer carcasses they were harvesting, he said.
Craft first learned about the dog Oct. 20, when the Somerset Communications Center put him in touch with a Dover-Foxcroft resident seeking help. Pua's journey is difficult to sum up because he bounced around the region, he said, but Craft relied on camera footage, enticing foods, sightings reported by the public and interviews to map the dog's whereabouts.
At one point, Craft was getting about 12 calls a day about sightings. He noticed Pua was most active between dusk and dawn, and for a period of time the dog wandered into the woods behind Walmart, possibly because he had a stable food source there, he said.
Many are praising Craft and calling him a champion for catching Pua, who was referred to as something like a folk hero by locals because he seemed impossible to capture.
"You are that dog's hero and he doesn't even know it," one person wrote on the Pua Sightings page.
On a GoFundMe page, Dover-Foxcroft resident Karl Stutzman wrote that Craft is "the Sherlock Holmes of dog catching." Craft was equipped with the knowledge and tools to secure the dog, he said.
Stutzman has kept Facebook followers up to date about efforts to catch Pua in recent weeks.
"I got into the job to help animals — to remove them from bad homes, to address animal cruelty and just to be a voice for them," Craft said. "I just did what had to be done."
Like other dogs at the shelter, Pua spends time in a fenced-in area outside, during which he gets to run and stretch his legs, Sproul said. He walks well on a leash, and he has even begun to perform basic commands, including sitting and laying down, according to reports from canine staff.
In the coming days, Pua will undergo a medical evaluation, during which he will get vaccinations and any other necessary treatments. Sproul could not say how long it would be before he is put up for adoption, but the outcome is looking positive, she said. The shelter does meet-and-greet sessions with potential adopters, which helps it observe an animal's behavior.
"This is definitely a first for the shelter as far as the amount of travel a dog has experienced," she said. "He's a famous dog for sure."
Purpose Pups, a Maine-based dog training business, has offered to work with Pua, Craft said.
Pua is not yet up for adoption, but those interested in giving him a good home can apply on the humane society's website at https://shsanimalshelter.com/.