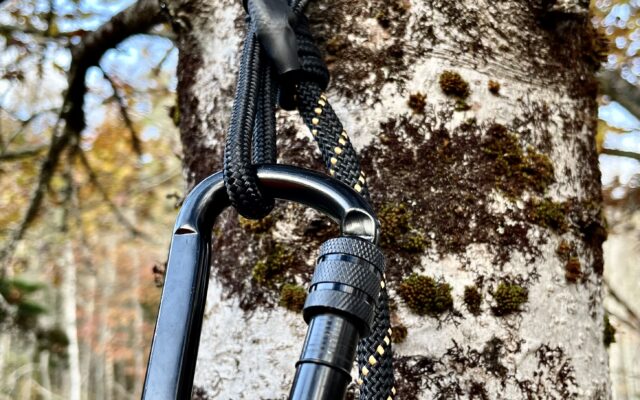 IMG_1336
Photo courtesy of Chris Sargent LINEMAN'S ROPE — This is a lineman's rope, which can be used as a safety tether in a treestand. An alternative is a full-body harness.
I learned my lesson on treestand safety the hard way
By Chris Sargent
The setup was ideal and I was excited to see what the morning would bring after spending the better part of an hour carefully sneaking through damp October darkness.
I had found the area several weeks earlier and hung my favorite stand 15 feet up a pine. It overlooked a series of deer trails leading to and from a bedding area, the edge of which was peppered with scrapes and rubs on cedars as thick as fence posts.
The spot was on fire with activity and several mornings in a row, one of the largest bucks I'd ever seen posed handsomely in front of the trail camera well into daylight.
With a light, chilly breeze blowing directly into my face, the stars had aligned, causing the scene to feel eerily perfect. And then it happened.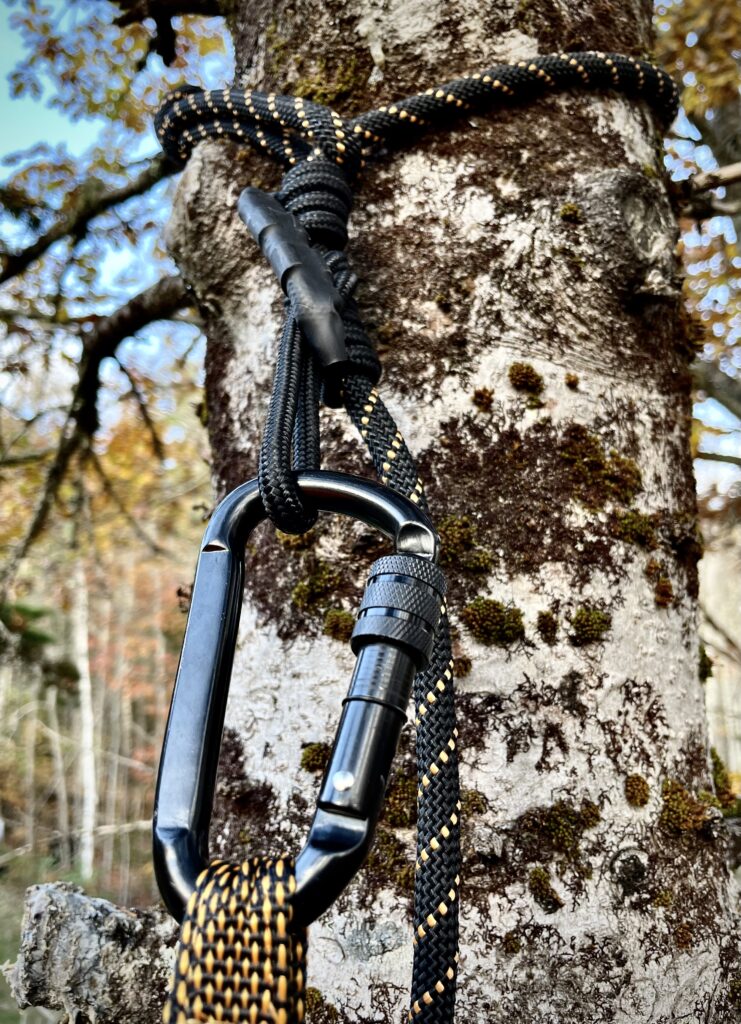 The noise sounded like paper being quickly torn and I immediately started scanning around to locate the source.
Before I could react, all at once the entire left side of the padded seat gave out, taking me with it. I scrambled to grab anything I could to keep myself on the platform and was fortunate to land my left hand securely on the armrest of the stand, preventing what would have been a 15-foot fall to the ground.
Upon inspection, I determined the nylon straps suspending the seat had dry-rotted over the years and were an accident waiting to happen. My failure to check them before the season was complete negligence.
Startled, confused and thankful, I collected myself and took stock of any injuries. Other than a sore left forearm, I was unscathed but much wiser. As I climbed down, I decided maybe those new-fangled treestand harnesses weren't such a bad idea.
The Occupational Safety and Health Administration requires that "fall protection be provided at elevations of four feet in general industry workplaces, five feet in shipyards, six feet in the construction industry and eight feet in longshoring operations."
As tree stands go, most are set much higher than eight feet. They are far more commonly found from 12 to 20 feet high, depending on stand type and configuration. A fall from those heights is likely to result in injury at the very least, but could potentially be fatal.
Accordingly, these days most manufacturers include some sort of safety harness system with their stands, as well as warnings, instructions and encouragement to always wear the harness while using the stand.
After that morning, I started wearing one of the included harnesses that came with a hang-on stand I purchased. It was a full-body harness, which took some getting used to. I used it a fair bit but found it to be flimsy, uncomfortable and frustrating.
The following year, I invested in a much more comfortable and well-made full-body harness from an established, reputable company. I now use the harness while stand hunting in conjunction with a lineman's rope or safe-line depending on the type of stand.
The lineman's rope works great for climbing treestands as well as setting up and taking down hang-on stands and climbing sticks. The safe-line is perfect for ladder stands and hang-on stands left in place for the season.
Admittedly, there was a bit of a learning curve when it came to proper deployment and use of all the gear, but with a little practice in the backyard, it wasn't difficult to become proficient enough to feel comfortable using them in the field.
After a couple weeks that season, it became second nature.
The hunting industry advocates heavily for harnesses to be worn in any treestand and in a perfect world, we all would. But the reality is, a vast majority of hunters choose not to for a variety of reasons.
Yesterday's thoughts on treestand safety were simple; just don't fall out. Until a few years ago, I subscribed to that same line of thinking.
Most of us grew up hunting from 10-foot homemade ladder stands with a simple platform, never giving a single thought to the risks of falling.
Today's treestands are far more advanced. They can be complicated with lots of moving parts and pieces. That makes them extremely portable and allows quick setups at much higher elevations, which provide excellent hunting advantages.
But approaching today's treestands with yesterday's thinking is risky business.
Currently, there is no mandated use of harnesses or safety gear while hunting from treestands and it remains a choice.
Full-body harness systems can be cumbersome, frustrating, annoying, time consuming and uncomfortable. Most days I hate wearing mine, and I suspect there might even be times I choose not to, but that would be wrong of me.
We love to hunt but we also have people that love us. I now live in a world where a young son, another on the way and a loving partner all need me to come home safe. Jeopardizing that for them because of something as trivial as comfort, convenience or laziness just seems selfish.
My close call was the reality check I needed and I'm a better hunter for it.
As for that big buck?
I'm not sure if it was the commotion that morning or not, but to add insult to my almost injury and deservedly so, I never saw him there again.
Be still, be quiet, be patient and have fun, but above all else, be safe this season.