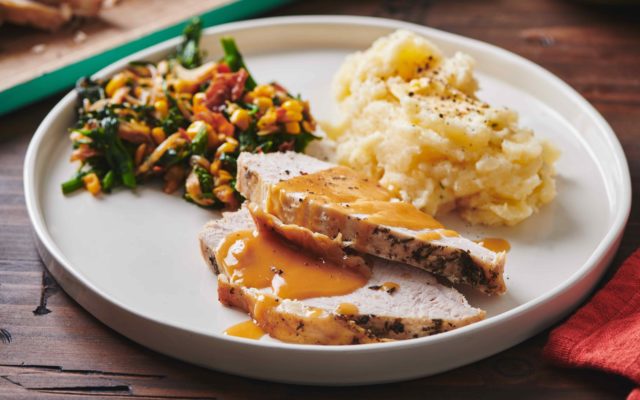 Kitchen Smarts Thanksgiving Hacks
Volunteers, food items sought for free community Thanksgiving dinner
GUILFORD – After a three-year hiatus due to the COVID-19 pandemic, Guilford's free annual Thanksgiving dinner returns for a 17th year. Dinner will be served from 11 a.m. to 1 p.m. on Thursday, Nov. 23 at the Guilford United Methodist Church on the corner of North Main and School streets. Takeout meals are available. Delivered meals and rides to the event are available.
"Guilford United Methodist Church donates their facility to this year event so that all comers can freely enjoy a leisurely meal in friendly surroundings," said organizer Kirsty Pratley. "The church has a beautiful hall which accommodates about 60 people, and a beautiful kitchen, which is why we use it for the dinner."
Pratley said that the dinner is provided by donation from "all over the community, many walks of life, volunteers from all over, all ages."
Over the years, more than 1,100 people have enjoyed the traditional meal of turkey, potatoes, stuffing, gravy, vegetables, rolls, dessert, and beverages, she said.
The meal is free and open to all.
Volunteers are needed to do night-before setup in the dining hall, cook food at home and deliver it to the church, to serve food, to socialize with the guests, and to clean up after the meal. Donations of cooked foods delivered to the church by 10 a.m. are also being sought, as are donations of cash, and food items.
Before COV ID, Pratley said she had a number of repeat volunteers, but she is not certain how many will be available this year, and "we can always use new volunteers to help assemble takeouts and do clean up. We also still need hot cooked food donations. People cook an extra batch of something they like and bring the extra batch to the church in slow cookers. That's why the food is so good – every item is special and individual, prepared by a happy cook. And we don't have any pie donations yet!"
There has been a request to include carrots in the meal this year, she said, and more yellow turnip, a popular menu item that ran out in previous years.
"We also buy some items, like butter, coffee, drinks, paper plates, etcetera, and are still in need of monetary donations toward those items," said Pratley. Any cash left over after each year's event is donated to the local food cupboard. Leftover food is packed up and sent home with the guests.
To donate, volunteer or obtain information about the free Thanksgiving dinner, call Pratley at 207-876-4261.