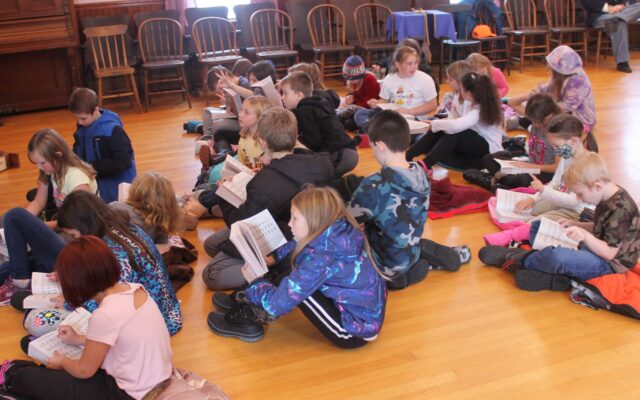 PO-dictionariesread-47-22
Observer file photo/Stuart Hedstrom YOU CAN LOOK IT UP -- Piscataquis Community Elementary School third-graders traveled to the Valley Grange in Guilford last November where each of the 30-plus students was presented with their own dictionary. For more than two decades the Valley Grange has given dictionaries to nearly 4,000 third-graders across the region.
Valley Grange and local schools celebrate Dictionary Day
GUILFORD — A team of Valley Granger members led by Walter Boomsma is delivering over 200 dictionaries to local area schools during the next several weeks. "We have a lot to celebrate," he noted, "despite some of the troubling news, third-graders in the area will have a Dictionary Day that focuses on tools, words, and the importance of learning."
The Grange began its "Words for Thirds" Program in 2004 by giving a dictionary to every third-grader at the then Guilford Primary School. Over the years, the program has expanded to include Piscataquis Community, SeDoMoCha, Brownville, Harmony, and Ridge View elementary schools. Boomsma estimates the Grange has distributed nearly 4,000 dictionaries since, "But it's really not about the numbers. One kid, one dictionary. The stories are many, but each one is personal. A dictionary can make a big difference in a child's life."
Grangers visit schools to make the gift personal and emphasize the importance of people helping each other. Jim Annis, president of the local Grange, rarely misses a presentation, "I love how excited the kids get. These dictionaries are truly empowering and the program has become a rite of passage. We're glad we can continue the tradition."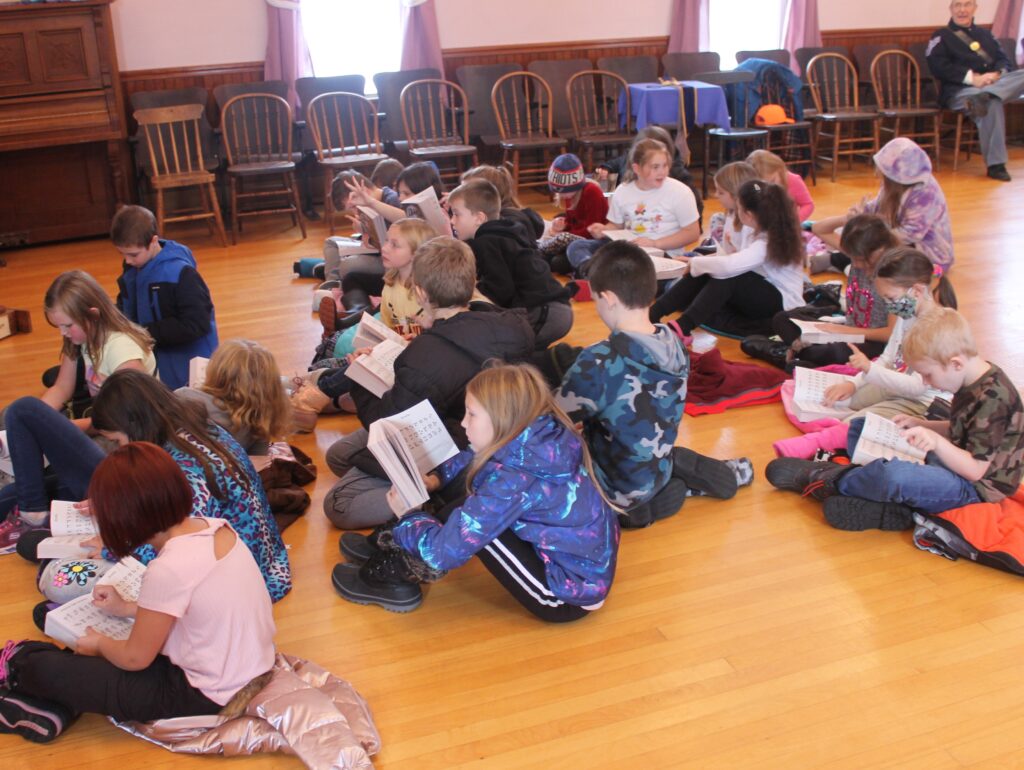 Boomsma noted that these sorts of links and cooperation within the community are exactly what the Grange hopes to facilitate. "We're all about community service," he said. "We're also looking for people who share that passion, whether it's working with the schools and children or seniors or other community organizations." He cites the Grange's Blistered Finger Knitters as an example. "As a result of their efforts, we distributed some knitted hats and mittens along with the dictionaries. Last year we also did a "sock it me" drive so we could include socks. These are usually given to the school nurse for kids who need a little help staying warm."
An added feature this year is a "Musical Celebration of Rural Living" in the form of a concert on Nov. 17 featuring Katherine Rhoda. Program Director Boomsma notes "Katherine will be playing some unique instruments and featuring Grange music from over the years. It's truly a celebration, but also a fundraiser to support our programs." Admission is $15, kids under 12 are free. Additional information is available on the Valley Grange website (http:valleygrange.com) and Facebook page.
The Dictionary Project is based in North Carolina, making low-cost dictionaries available to organizations like the Grange to aid third-grade teachers in their goal to see all their students leave at the end of the year as good writers, active readers, and creative thinkers. Extra dictionaries are always available for new or home-schooled students or students transferring in during the school year. Parents of home- schooled third-graders are urged to call their local school for additional information. For information about the Grange and its many opportunities, call Walter Boomsma at 207-343-1842 or Mary Annis at 207-564-0820 or visit the Valley Grange website (http://valleygrange.com) or Facebook page.