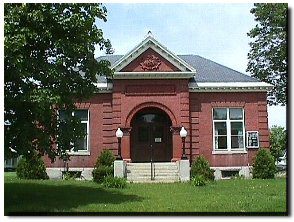 Thompson Free Library
The Thompson Free Library in Dover-Foxcroft
Reimagine November with Thompson Free Library
By Kim Brawn
We often don't recognize reimagining as it happens. We may see it in the rearview mirror. It's a process that nudges or compels us to recreate something. Pop culture fixtures like Madonna and "Star Trek" have been redefining themselves for decades. Even libraries are no longer those static institutions we picture in our minds. They've had to reimagine their roles to meet the moment. But their heart and soul remain. The Thompson Free Library in Dover-Foxcroft may introduce new material but we'll always play our greatest hits.
TFL's Philosophy Circle meets on Friday, Nov. 3 at 3:30 p.m. to discuss "Objective vs. Subjective Truth". A quick search defines "subjective" as based on or influenced by personal feeling, tastes or opinions while "objective" is not influenced by feeling or personal opinions in considering and representing facts. Well, that clears things up. Undoubtedly, the group will reimagine those terms and have a lively conversation that may cross into the same areas as "if a tree falls in a forest but no one hears it, does it make a noise?" All are welcome, prior attendance is not necessary.)
On Thursday, Nov. 9, the cusp of Veterans Day, Dennis Lyford from the Dover-Foxcroft Historical Society visits TFL at 1:30 p.m. to share his video "The Smalltown Heroes" about Piscataquis County troops in World War I, with a discussion to follow. Dennis has compiled an impressive array of period photos and information and melded them together with music to help us revisit that pivotal time in history through the eyes of local soldiers.
Nov. 9 at 6 p.m. TFL's Reading Group convenes to talk about the award-winning bestseller "Circe" by Madeline Miller. People Magazine describes the book like this, "Think a novel based on Greek mythology isn't for you? Just wait. Miller's spell builds slowly, but by the last page you'll be in awe. In prose of dreamlike simplicity, she reimagines the myth of Circe, the sun god's unloved daughter who went on to invent witchcraft and enchant Homer's Odysseus." Copies available at the library.
As a youth services librarian, Michelle Fagan (who celebrated her 10th anniversary at TFL in October) has to reimagine programs all the time to keep her young patrons engaged. If you haven't already checked out her weekly Story Time and playgroup (Fridays at 10 a.m.), please stop by. "This is a good time for kids to come listen to stories, sometimes fingerplays and songs. Afterwards, kids and parents can socialize and spend time in a welcoming environment. We have number and letter literacy games, puzzles, coloring and more. We welcome babies up through elementary age kids," says Michelle.
The library now has two ROOM phone booths. Not the antique relics we used to call people from, but a compact, reimagined workspace that allows for more privacy and less distraction. These spaces will be great for phone calls, virtual meetings, and focused work.
TFL's Director Jon Knepp says, "These were purchased thanks to our Remote Workers' Grant from the Maine State Library. We are continuing to renovate the basement as well and look forward to having that space available. We will be having heat pumps installed downstairs in November to make the basement more comfortable and efficient!"
This month also brings several scheduling changes. The library will be closed Saturday, Nov. 11 for Veterans Day and will close at 5 p.m. on Tuesday, Nov. 21. We will also be closed Thursday to Saturday (Nov. 23-25) for the Thanksgiving holiday.
Books and programs — wildly diverse and comfortably familiar — remain our bread and butter. But to survive and thrive, libraries must provide the most relevant community services and support. Helping people navigate their lives in the 2020s and beyond is a goal worth revisiting and revising. TFL is up to that task — as well as all the fun stuff!
TFL hours: Tuesday and Thursday 9 a.m. to 7 p.m., Wednesday and Friday 9 a.m. to 5 p.m., and Saturday 9 a.m. to 1 p.m. Visit our website: www.thompsonfreelibrary.org, our Facebook page, Instagram @tf_library, or contact us at thompsonfreelibrary@gmail.com or 207-564-3350. All programs are free & open to the public. When possible, we livestream them via Facebook and upload to our YouTube channel.