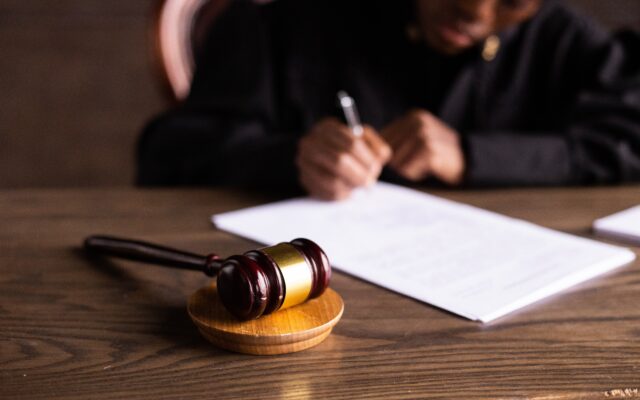 Gavel-Judge-Law-Court-Maine-Bangor-Courthouse-4
Sangerville woman indicted for manslaughter in fatal Piscataquis County crash
By Marie Weidmayer, Bangor Daily News Staff
A Sangerville woman has been indicted for manslaughter after she allegedly crashed her car while driving drunk over the summer, killing her passenger.
Tricia LaBree, 52, was indicted by a grand jury on charges of manslaughter and aggravated criminal operating under the influence, both Class B felonies, in Piscatiquis County Court. The crash killed Lori Jewell, 52, of Winthrop.
LaBree is accused of driving with a blood alcohol content of .18, more than double the legal limit of .08, according to the affidavit. The crash happened around 1 a.m. July 30, on Route 7, near the Black Stream, south of Dover-Foxcroft.
She allegedly lost control of the car, hit a guardrail, left the road and rolled the Mustang three times. The car ended up on its roof, partially submerged in the Black Stream, per the affidavit.
The crash left Jewell trapped in the car. The Dover-Foxcroft Fire Chief tried to rescue Jewell but she was dead, the affidavit said.
Jewell had a beautiful smile and she loved spending time with her family and friends, boat rides, snowmobiling and swimming at Maranacook Lake and Lower Narrows, her obituary said.
Once the crash happened, LaBree said she tried to get Jewell out of the car but could not. She then ran to the nearest house for help.
There were no skid marks in the road, the affidavit stated.
After the crash, LaBree allegedly said, "You should just arrest me now, I'm going to jail," to Dover-Foxcroft police officer Steve Garib. LaBree then told the officer she had been drinking, according to the affidavit.
LaBree was slurring her words and was unsteady on her feet as she talked to Garib. She also said that the car had "wide tires" and she spun out on the road that was wet from recent rain, the affidavit said.
Before the crash, LaBree told police she went to a family gathering around noon in Bingham then to a luau at her brother's house at 4 p.m. She later went home and drank with Jewell before going to Bear's Den Restaurant, Motel & Tavern, where they continued drinking, the affidavit said.
Throughout the day LaBree said she drank about 12 beers and was at a five on a scale out of 10 regarding her level of drunkenness when they left the bar around midnight, the affidavit said.
The Bear's Den bartender told police that she served three beers to LaBree, with the last one at 10:17 p.m. LaBree told the bartender that her brother was going to drive her home, but security camera footage shows LaBree and Jewell getting into her car.
LaBree's brother pulled into the parking lot shortly after she left, the affidavit said.