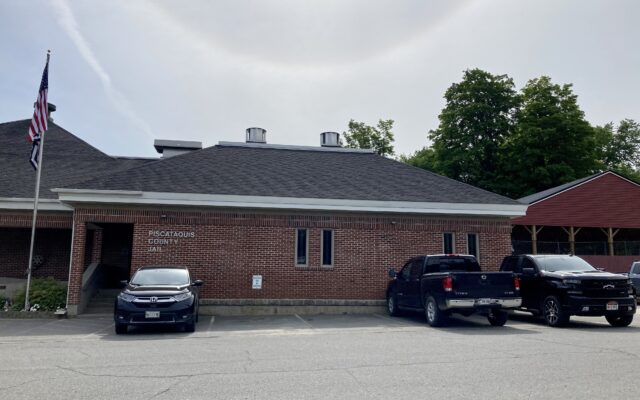 Piscataquis-County-Jail-070522
Observer photo/Valerie Royzman The Piscataquis County Jail in Dover-Foxcroft.
US Marshals asks Piscataquis County to expand jail to house federal inmates
By Stuart Hedstrom, Staff Writer
DOVER-FOXCROFT — The U.S. Marshals Service is asking Piscataquis County to build an addition to its jail to house more federal prisoners, but a number of steps would need to be taken first, including an in-depth analysis of the potential revenues and expenses involved.
Sheriff Bob Young told the county commissioners during a meeting on Tuesday morning that he had been approached by the U.S. Marshals about expanding the jail and that housing federal prisoners can be lucrative. He said the Piscataquis County Jail is a 38-bed facility and currently there are 29 inmates. Twelve are from the area, two are from other counties, and 14 are federal inmates.
Since the early 1990s the jail has boarded federal inmates through the U.S. Marshals Service, and Young said this brings in about $400,000 annually. "It's a significant source of jail income," he said.
Piscataquis County Jail is preferred by the US Marshals Service because of its small size and lack of potential overcrowding-related issues that are more common in larger correctional facilities, Young said.
"We have a very good staff and we treat all inmates with dignity and respect," Young said, when reached for comment on Wednesday. "The marshals like to bring federal prisoners here because they will not have to deal with gangs and fights like you find in larger jails."
A message left with the U.S. Marshals office in Portland Tuesday was not immediately returned.
Young said the Portland-based office of the U.S. Marshals Service would like to house up to 40 inmates in Piscataquis County.
The U.S. Marshals Service has proposed that it spend the money to build a jail addition large enough for 20-30 additional beds, and the majority of those being held in it would be federal inmates.
"We would be looking at housing 35-40 federal inmates on a regular basis," Young said. He said this would bring in an estimated gross revenue of $1.2 million. The jail budget is $1.8 million, but Young said there would need to be more staff hired for the increased inmate count such as those in the jail, others for increased transportation, and a full-time medical person.
"It would really help offset property taxes as far as running the jail," Young said. He said he has explained to the US Marshals Service that additional space is not needed for Piscataquis County inmates.
"They're very much wanting to do this if we're wanting to do this," the sheriff said.
He said the county's responsibility would be to develop a plan. "[The U.S. Marshals Service] will not fund the upfront cost of funding an architect," Young said, with the agency then paying for the construction in full.
The sheriff said a 20- to 30-bed addition would not take up a large footprint of the county campus, potentially going where the current outdoor exercise space is near the corner of Court and Pleasant streets and a replacement exercise area could go elsewhere.
Commissioner Paul Davis said he is skeptical about the concept, and would need to know more information before any financial commitment is given. He wondered why the request is being made when there are empty beds at the Somerset County Jail in Skowhegan and Cumberland County Jail in Portland.
"I think you will have many questions before you sign on to this," Young said, saying the idea may not work out but should be explored.
Young, Chief Deputy Todd Lyford, Jail Administrator Michelle Lacroix, County Manager Mike Williams, and others will look into the preliminary proposal and come back to the commissioners.
In other business, Head of Maintenance Josh York said he had no update on a jail HVAC system upgrade but will bring any new information forward when he has it.
Early this month York said the project will have a slightly reduced $10,000 cost.
In September the commissioners selected ABM Mechanical, Inc. of Bangor to carry out upgrades to the HVAC system at the jail. The firm's bid of approximately $828,000 will be covered with ARPA funds.
In July the county had approximately $2.2 million of its $3.2 million in ARPA funding left. Commissioners had mentioned splitting this money between the HVAC system and a dispatch center remodel.
York had said during a meeting with ABM Mechanical representatives they told him valves had already been updated and these could remain, thus the approximate $10,000 savings.
"Probably the spring's when they'll do the lion's share of the project," York said at the first October commissioners meeting. He said a chiller will not arrive until well into 2024, so some of the work may not be done until the summer or even fall but other parts of the project can be done before this unit arrives.
BDN Weeklies Editor Mike Dowd contributed to this report.