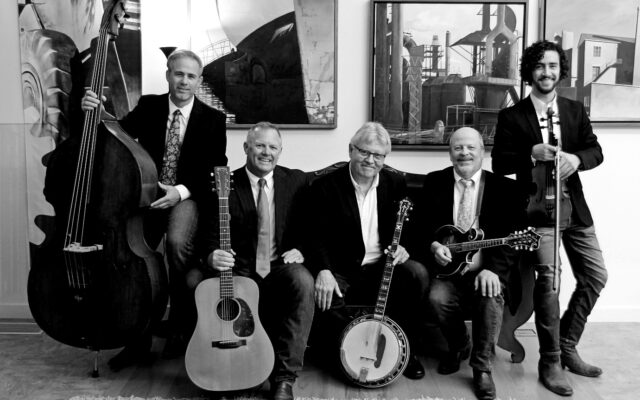 2023 B&W Rock Hearts Band Photo
Rock Hearts (Contributed photo)
Bluegrass Music Association of Maine presents 'Rock Hearts'
DOVER-FOXCROFT — 615 Hideaway Record Label (Tennessee) and Nashville recording artists Rock Hearts will be making their repeat appearance at the Center Theater on Saturday, Oct. 21 after having a sold out show in 2022. The Bluegrass Music Association of Maine is collaborating with the Center Theatre in promoting the show and also with the Mill Café where BMAM will host an afternoon jam from 1-4 p.m. The Café will offer a dinner by reservation starting at 5 p.m.
Formed in 2013, Rock Hearts brings together five seasoned musicians from southern New England who love to sing and pick bluegrass, old country tunes, and seek out newer tunes from other genres to "bluegrass-ify."
Following a well-received debut album in 2022, Starry Southern Nights, which received extensive international airplay and chart activity, the band recently wrapped up their new project in April. The title single "Wanderlust", written by lead singer Alex MacLeod, was recently released on Aug. 19, and has already claimed No. 6 on the AirPlay Direct Top 50 Albums for August and September and No. 1 for APD Bluegrass Singles. The performance will bring back to Maine, Billy Thibodeau, a well-known and long-time former Cambridge resident, who is well known as an incredibly talented singer, songwriter, and instrumentalist.
Rock Hearts have established themselves as a premier bluegrass band that is reaching new fans around the world.
Don't miss their repeat performance in Piscataquis County!
Tickets can be purchased at the door, online at www.centertheatre.org, or call 207-564-8943. Doors open at 6:30 p.m. Shows start at 7 p.m. The Mill Café is located at 5 West Street. Dinner reservations can be made online at www.dfmillcafe.com or call 207-564-7966.
Online ticket sales end one hour before the show begins.
Thank you to our sponsor McKusick Petroleum.