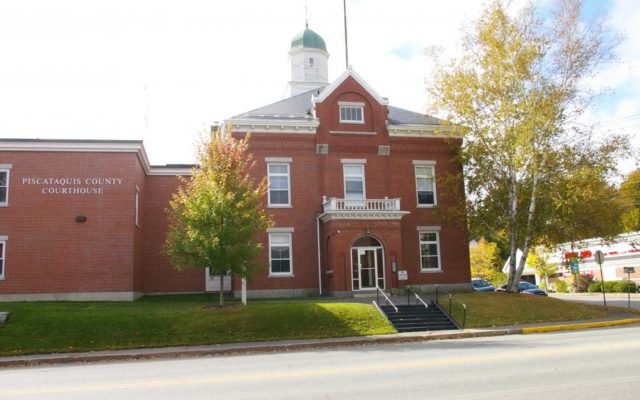 Piscataquis_County courthouse
Commission endorses statewide public defender network for Maine
By Samantha Hogan, The Maine Monitor
An $8.8 million proposal that would create a statewide network of public defender offices received initial support from leaders in charge of Maine's indigent defense system on Oct. 11.
Officials at the Maine Commission on Indigent Legal Services, or MCILS, laid out a plan to seek money in the state's supplemental budget and next biennium budget to hire more than three dozen public defenders.
The seven public defender offices mostly mirror the state's existing prosecutorial districts while keeping public defenders within an hour drive of courthouses.
Maine has faced a critical shortage of available criminal defense lawyers for more than a year. The courts system faces a backlog of hundreds of cases and the number of lawyers contracted with MCILS has declined significantly, The Maine Monitor reported.
Until recently, Maine was the only state in the nation without state public defenders, relying instead on court-appointed lawyers contracted with MCILS.
"I see the way out of this as getting young people and new people from out-of-state in to do this work," said MCILS Executive Director Jim Billings.
The proposal seeks $2.7 million in the current budget to add a public defender office to Aroostook County and another in Bangor to cover Penobscot and Piscataquis counties.
MCILS is in the process of hiring lawyers for the state's first public defender office in Augusta, which is planned to be expanded to cover Kennebec and Somerset counties.
Billings is also seeking a commitment from state lawmakers to add dozens of positions in the next biennium budget to open four public defender offices to cover the remainder of the state. The four offices are anticipated to cost $5.6 million.
Barbara Cardone, a former state lawmaker who served on the state budget committee, warned that the state may not be able to create new government jobs without funding them. (Cardone now works as a spokeswoman for the judicial branch, but she was not speaking on its behalf, she said).
"Even if it is possible, if you don't have funding set aside and you got a position hanging out there with no funding — especially if you're running a deficit or you've got a much lower revenue projection than what was previously thought — it's ripe for being cut," Cardone said.
Current estimates suggest MCILS will save money in most counties by opening full-time public defender offices instead of continuing to rely on contracted private defense lawyers.
The proposed public defender offices are designed to handle approximately 30% of the adult criminal caseload in the area. Each office would employ between three and eight public defenders along with support staff.
The proposed public defender system would include an office for:
• Kennebec and Somerset counties combined – In progress
• Aroostook County – Fiscal year 2024
• Penobscot and Piscataquis counties combined – Fiscal year 2024
• Hancock and Washington counties combined – Fiscal year 2025
• Androscoggin, Franklin and Oxford counties combined – Fiscal year 2025
• Sagadahoc, Lincoln, Knox and Waldo counties combined – Fiscal year 2025
• Cumberland and York counties combined – Fiscal year 2025
The $8.8 million proposal includes some additional paralegals and administrative employees at MCILS's central office in Augusta, and a salary change for the Rural Defender Unit to align with pay at the state's district attorney's and attorney general's offices, according to the plan.
There is growing support among state lawmakers to move away from Maine's court-appointed lawyer system to public defenders.
Rep. Lynne Williams, D-Bar Harbor, who is an attorney, said she will be advocating for a statewide public defender system to replace Maine's court-appointed system next year in the Legislature.
"There's somebody on the other side of the aisle, who is an attorney and who has concerns equal to my concerns, and I would like to work with that person in a bipartisan manner to lobby for a public defender system," Williams said. "We have to at least lay the groundwork."
Williams, 73, experienced the crisis in Maine's indigent defense system first-hand this year when she added her name to MCILS's lists to accept indigent cases. She thought she would be assigned a few cases, and instead she was assigned to 31 cases — in Augusta and Bangor courts — within a few days, she said. While she tried to get removed from those cases, she was assigned 11 more, Williams said.
"The whole system is so terrible and is doing a great disservice to the criminal justice system," Williams said. "It's a mess. It's a mess and we need public defenders, and I believe as long as we have our current governor, we're not going to get them."
"Representative Williams' comment is disappointing and contradicted by the facts," said Scott Ogden, deputy chief of staff for Gov. Janet Mills, noting that the governor has supported funding to add new public defenders and a number of other initiatives.
"In all, this Governor has increased funding for MCILS, including the creation and expansion of public defenders, from approximately $20 million per year to $45 million per year, or nearly $90 million for the biennium in total (an increase of $30 million over the previous biennium)."
Lawmakers face an uphill battle to make changes to the state's indigent defense system. They are entering a short legislative session in January 2024 with a substantial amount of carried over bills and unfinished work.
Williams did not submit a bill in time to be considered during the next legislative session to explicitly reform the state's public defense system. The session will be about building bipartisan consensus that the system needs to change, she said.
At the same time, MCILS is in court with the ACLU of Maine about how to best reform the state's indigent defense system. Superior Court Justice Michaela Murphy rejected the first proposed settlement saying it was not "judicially enforceable" and could "close the courthouse doors" for poor defendants if the state didn't assign a lawyer to represent them in violation of the Sixth Amendment.
"I was glad that (Justice) Michaela Murphy rejected the proposed settlement. It was much to do about nothing. 'Oh we're going to lobby for it,' that's no promise that you're going to get anything," Williams said.
"I think the state will be pushed into making something happen," Williams added.
This story was originally published by The Maine Monitor, a nonprofit and nonpartisan news organization. To get regular coverage from the Monitor, sign up for a free Monitor newsletter here.