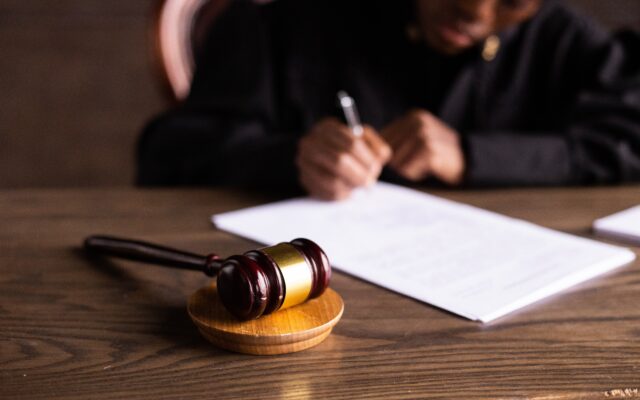 Gavel-Judge-Law-Court-Maine-Bangor-Courthouse-4
Penobscot County corrections officer accused of soliciting sex from inmates
By Marie Weidmayer, Bangor Daily News Staff
A former corrections officer used his position to receive oral sex from two women incarcerated at the Penobscot County Jail, according to court records.
Robert Ireland, a former Penobscot County sheriff's probationary correctional officer, is accused of using his position to receive oral sex from two incarcerated women and trafficking tobacco products into the county jail.
Ireland, 48, of Old Town had his first appearance Monday afternoon from the Piscataquis County Jail. He was arrested Friday for two counts of Class B gross sexual assault and one count of Class E trafficking of tobacco in an adult correctional facility.
He was fired 12 hours after the investigation started, police said previously. The results of the Penobscot County Sheriff's Office investigation are detailed in a four-page report included in court records.
Ireland threatened to harm the incarcerated woman and her family if she did not give him oral sex, according to the records. The woman said she performed oral sex three times on Ireland. There are no video cameras in the block where the woman is housed.
Another incarcerated woman said she received an electronic cigarette from Ireland after performing oral sex on him, according to court documents. The assault happened around 5:30 a.m., the woman told police.
A review of surveillance footage shows Ireland performing cell checks on Aug. 20. Most cell checks took about 30 seconds to one minute. The cell check for this woman took more than four minutes.
The video footage also shows Ireland going into the bathroom for about six minutes before entering her cell, which aligns with what she told police.
Phone calls from jail recorded her organizing an outside person to leave a vape on a white pickup, a couple spots down from an orange Jeep. Ireland drives a white Dodge Ram and video footage shows him going to the truck described by the woman.
The Bangor Daily News does not identify victims of sex crimes unless the victim agrees to be named.
Ireland admitted to bringing the vapes into the jail, as well as leaving notes for women, per court records. He said he knew women used the televisions to charge their vapes.
He denied having any sexual contact with the women. When asked why the incarcerated women should be believed about the vapes but not believed about the sexual assault, Ireland said, "I don't have an answer for you," according to court records.
Ireland completely denies the allegations and is willing to take a polygraph test, his attorney said Monday.
He was given a $5,000 cash bond. He is not allowed to contact six different women as part of his conditions.
Ireland was hired July 10 and started working in the cell block Aug. 6.
He did not enter pleas because the state of Maine must present the felony cases to a grand jury first. A dispositional conference is scheduled for Dec. 12.