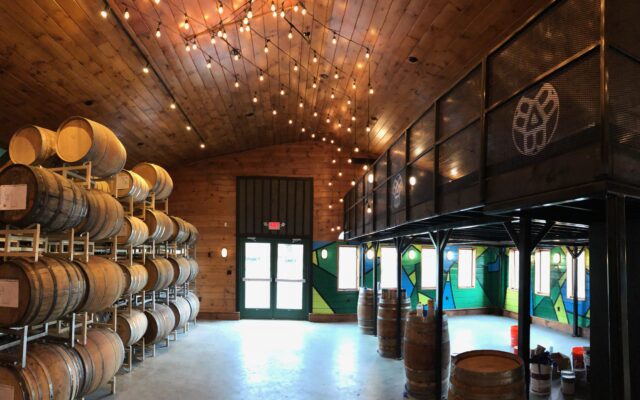 IMG_7280
File photo courtesy of Bissell Brothers
Bissell Brothers Brewing, Three Rivers named Chamber Business of the Year
The Piscataquis Chamber of Commerce is pleased to announce this year's recipient of the Business of the Year award is Bissell Brothers Brewing, Three Rivers.
Annually the Chamber reaches out to all communities within the county via social media, email campaigns, and other media sources, asking for nominations for Business of the Year. Though any business within the county can be nominated, only Chamber members are considered for the final vote.
"There are specific criteria we consider when making the final decision," said Denise Buzzelli, Chamber director, "we look for a Piscataquis-based business in good standing with the Chamber that shows a commitment to growth as a company, one that supports its employees and cares deeply about the communities it serves."
Bissell Brothers was conceived in November 2011 by brothers Noah and Peter Bissell, in response to Noah's homebrewing obsession and Peter's interest and burgeoning experience in entrepreneurship and marketing. Though the brothers, who grew up in Milo, had no experience in commercial brewing or manufacturing of any kind; they saw a gap in the Maine-market, both in the variety of beer, and in the way it was marketed and sold to the public. They would spend the next two years on a crash course of personal and professional development to bring their ideas to fruition. On Dec. 7, 2013, the brewery sold its first kegs of The Substance Ale at The Thirsty Pig, where both brothers had worked during the company's inception,
With the success of their flagship ale, the brewery quickly outgrew the space on Industrial Way in Portland, and moved to a 100-year-old former railcar repair-building in Portland once owned by Central Maine Railroad; there the new Bissell Brothers Brewery and Tap room opened to the public on June 4, 2016. But there was more to come.
Noah's insatiable desire to explore further into mixed fermentation and barrel-aging led the company to perhaps its most dramatic move – the opening of its second production-facility and taproom in the boys' hometown of Milo in 2018. At BBBTR, beers are produced with mixed cultures of yeast and bacteria and aged in foeders and barrels, and customers enjoy a wide variety of canned and draft beverages produced in Portland as well. Now both locations have their own kitchens featuring full menus that spotlight ingredients sourced from local farms. For Milo, Bissell Brothers created a gathering place unlike any other in the area for residents and visitors to enjoy.
The Three Rivers location is operated by eight full-time employees and two part-time employees who are appreciated as an integral part of the Bissell Brothers Team. "Bissell Brothers is a community built around a common love and interest, and through that we have created a passionate and genuine team," said Lisa Kellndorfer, operations director, "we focus highly on quality, not only in the product we make, but in the lives of the people who make it; the wellbeing of our team is the foundation for what we do, and as an employer we understand we have the unwavering responsibility to create a stable, supportive, and culture-driven workplace."
Kellndorfer works closely with Brittany Cunningham, taproom manager, and Joe Robbins, executive chef, to keep BBBTR running with excellence.
The owners' commitment to their employees was one of many reasons BBBTR was nominated and ultimately chosen as the Piscataquis Chamber's Business of the Year. "One of the greatest factors in our choice for business of the year is community engagement and benevolence," Buzzelli said, "we were blown away when we learned more about Bissell Brother's steadfast devotion to Maine, donating close to $300,000 between 2019 and 2022 to Maine-based organizations."
"Opening in Milo was bringing the business home," Noah said, "it's a commitment we made to put our investment and energy back into Piscataquis County; we could have gone anywhere, but there was only one place that was right," he said.
Since 2022, Bissell's Terror at the Trestle event has raised $7,000 for Milo Recreation. Since their move to Milo, BBBTR has partnered with multiple community-driven organizations for Milo's benefit, such as Milo Historical Society, Piscatiquis Regional Food Center, Piscataquis Regional YMCA, Dyers Hope House, Wabanaki Public Health, Sebec Lake Association, Friends of Baxter State Park, Full Plates, Full Potential, the Millinocket school system, and P.E.T.S.
"These are just a few of the organizations we have worked with and to whom we have offered up our space as a gathering place free of charge for many community events and initiatives," Peter said.
Apart from their non-profit support and community engagement, the Bissell Brothers team is also known for their loyalty to Maine food and farm. Many of the beers Noah and his team have created are derived from ingredients grown in Maine; these include thousands of pounds of Maine-grown fruit, and over 1.2 million pounds of Maine grain in the last two years alone. Kitchen offerings are also sourced from local farms and businesses. From a high-level perspective, BBBTR has demonstrated a boundless commitment to our planet in various ways; by utilizing solar, prioritizing efficiency of waste streams and water usage, creating a Green Team, taking a Sustainable Seafood pledge via the Gulf of Maine Research Institute, purchasing power, and much more.
"From the kitchen, to the community, to the state, to the earth – they have demonstrated a commitment and care for everyone around them," said Buzzelli, "this is why we are so proud to have them in Piscataquis County, and this is why we want to celebrate them."
The Business of the Year Celebration will be held at the Central Hall Commons on Thursday, Oct. 19 at 6 p.m. RSVP is required. Dinner tickets can be purchased on the chamber's website or Facebook page until Monday, Oct 16.