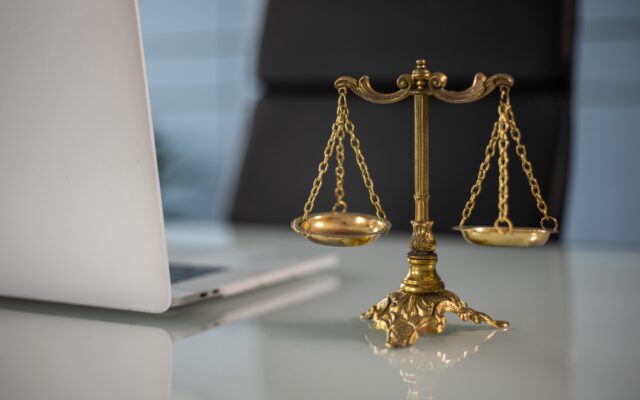 Scales-of-Justice-Judge-Law-Court-Maine-Bangor-Courthouse-1
Penobscot County's criminal case backlog is still one of the highest in Maine
By Marie Weidmayer, Bangor Daily News Staff
The backlog of criminal cases in Penobscot County is slowly easing after a spike caused by COVID-19 — but still remains among the highest in the state when compared with pre-pandemic numbers.
A total of 2,673 cases are pending in Penobscot County, down from 3,466 cases in 2022, data from the State of Maine Judicial Branch show.
However, there are still 64 percent more pending cases than there were in 2019 before the pandemic, and it may take 18 to 24 months to clear the backlog, Penobscot County District Attorney Chris Almy said.
The latest numbers show that while Penobscot County saw one of the biggest case backlogs during the pandemic, the county has been among the best at clearing cases in the last year. Case backlogs force defendants to wait longer for court hearings before a judge, and leave some people in jail or out on bond with conditions that can include curfews and no consumption of alcohol.
Nearly 23 percent of Penobscot County's cases were cleared in the past year. Cumberland County cleared just 1.6 percent of cases, while Somerset County had 9.7 percent more cases in 2023 than 2022.
Piscataquis County cleared a greater percentage of cases than Penobscot County, but it has fewer pending felony cases on the books in 2023 than it had in 2022 and misdemeanor cases should be caught up in about nine months, Almy said.
Misdemeanor cases are the slowest ones to get through the system, in part because there is no incentive for defendants to move the case quickly, Almy said.
A recommendation of jail time typically delays cases 90 to 150 days, or longer, Almy said. If no jail time is recommended the case can resolve at the arraignment or 45 to 60 days later at the first dispositional conference.
The district attorney's office has been asking for shorter or no jail time for minor offenses, Almy said. A shoplifting case or operating under the influence will likely have a recommendation of a large fine and little or no jail.
Changing the recommendation means they still get a conviction and the person is held responsible. Almy said he doesn't love the change but it was necessary.
"If we just do our job and adjust our recommendations, we'll move cases," Almy said.
Pending Penobscot County misdemeanor cases have declined the most, with a 31.8 percent decrease from 2022 to 2023 as of Sept. 8, the data show.
There are slightly more felony cases pending, with 961 as of Sept. 8, compared with 935 in 2022.
Almy isn't dismissing serious cases like violent felonies. He said his office will keep prosecuting those cases and moving them through the system.
"Just because the pandemic is over, doesn't mean that all of the sudden these cases go away," Almy said.
More judges and defense counsel would help move cases quicker, Almy said.
There is a shortage of defense attorneys, especially indigent defense attorneys. The issue harms both rural and metropolitan communities as courts are "hitting bottom" to find lawyers, Superior Court Justice Michaela Murphy said in August.
The lawyers taking cases in Penobscot have a high caseload, which makes it difficult for them to keep up and be knowledgeable about each case, Almy said.
There is an ongoing lawsuit in Maine to change how indigent defense works. The most recent settlement proposal was rejected Sept. 13 by Superior Court Justice Michaela Murphy.
In July, the Maine Legislature approved four additional judges to help address the backlog. The state has not said where the judges will be located, Director of Legal Affairs and Public Relations Barbara Cardone said. Five judicial marshals and 11 more clerks will also be hired.