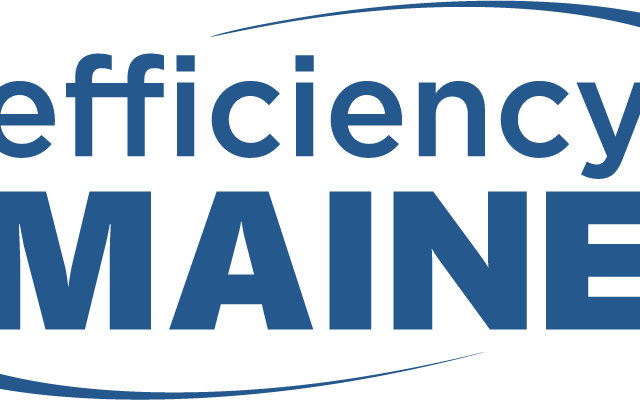 01_EfficiencyMaine_logo_primary
Efficiency Maine recognizes contractors and industrial consumers
Efficiency Maine recognized top-performing contractors that sell, install, and service high-efficiency lighting, heating and cooling systems, refrigeration equipment, electric vehicles, insulation, and other upgrades that are promoted through the quasi-state agency's programs. Efficiency Maine also honored the Industrial Energy Consumer Group with its Philip C. Hastings Award, which recognizes extraordinary commitment to energy efficiency in Maine. The event took place at the Hilton Garden Inn in Freeport.
More than 280 electricians, plumbers, heating system installers, insulation technicians, distributors, manufacturers, business owners, electric vehicle dealers, and other stakeholders, gathered for the awards and attended workshops on Efficiency Maine's initiatives and energy-efficiency trends.
The theme of this year's event centered on the emerging opportunities around "beneficial electrification" in Maine's residential and commercial buildings. Beneficial electrification is achieved where consumers switch from burning fossil fuels to using electricity, such as when switching from an old furnace or boiler to a new heat pump system, delivering the benefits of lower energy bills and pollution reductions.
Workshop sessions at the event reviewed Efficiency Maine's nation-leading progress spurring heat pump adoption and discussed the emerging trend in Maine's homes and commercial buildings to make heat pump systems the primary (not supplemental) source of heating and cooling.
SMRT Architects and Engineers described how they designed the recently completed Portland Commons project at the University of Southern Maine to heat and cool all of the dormitory's 385 residential units and common areas entirely with a variable refrigerant flow heat pump system. The project was made possible in part through a $480,000 incentive from Efficiency Maine. Another case study focused on Efficiency Maine's pilot project to switch out the old furnaces in manufactured homes for new high-efficiency, whole-home heat pump systems. The pilot project has found that the new heat pump systems succeeded in keeping residents warm through last winter's historic cold snap and cost less to operate than the old furnaces. The event also featured a discussion about how to optimize and maximize the efficiency of Maine's electric grid, which explored the role of demand management, energy storage, and grid planning.
With the help of Efficiency Maine's incentives and educational materials, home energy upgrades are delivered by Residential Registered Vendors while energy improvements at commercial and industrial facilities are provided by Efficiency Maine's Qualified Partners. The quasi-state agency's electric vehicle program is supported by 83 participating car dealerships throughout the state, three of which also were recognized as the top sellers of battery electric vehicles and plug-in hybrid electric vehicles.
Efficiency Maine presented 25 contractors, vendors, and dealerships with awards for outstanding performance in selling and servicing energy-efficiency measures using financial incentives offered by the statewide energy efficiency administrator. These companies are among the more than 1,500 trade allies listed on the organization's website that meet Efficiency Maine's requirements to access available incentives.
For outstanding contributions in the category of Residential Programs in 2023, the Trust recognized:
Bell Simons, Waterville
Dave's World, Inc., multiple locations including Dover-Focxroft
Evergreen Home Performance, LLC, Rockland
F.W. Webb Company, multiple locations
Gateway Mechanical, Van Buren
Horizon Homes, Westbrook
Lowe's Companies, Inc., multiple locations
New England Spray Foam Insulation, Newburgh
Royal River Heat Pumps, Freeport
Valley Home Services, Inc., Hermon
Webb Insulation LLC, Houlton
For outstanding contributions in the category of Commercial Programs in 2023, the Trust recognized:
BSP Electric, Inc., Standish
Excel Mechanical, LLC, Brunswick
F.W. Webb Company, multiple locations
Gilman Electric Supply, Auburn
J.H. McPartland & Sons, Houlton
Johnstone Supply, Hampden
Mid-Coast Energy Systems, Inc., Damariscotta
Northeast Heat Pump Services, LLC, Brunswick
Solarlogix, LLC, Belfast
Valley Home Services, Inc., Hermon
Wesco Electrical Supply, Bangor

For outstanding contributions in the category of Electric Vehicle Program in 2023, the Trust recognized:
Lee Toyota of Topsham, Topsham
Pape Chevrolet, South Portland
Rowe Ford Sales, Westbrook
"Maine is lucky to have some of the best contractors in the country when it comes to marketing and installing energy efficient products," said Michael Stoddard, executive director of Efficiency Maine. "We could never have surpassed the goal of installing 100,000 heat pumps in Maine two years ahead of schedule without the dedication of the contractors who were recognized here today and all of their employees and competitors who are out in the field, day in and day out, helping Maine's homes and businesses to become more energy efficient."
The annual Philip C. Hastings Award was presented to the Industrial Energy Consumer Group, an incorporated non-profit trade association of energy-conscious Maine manufacturers involved in the evolution of Maine energy policy. The award recognizes an individual or organization whose exemplary efforts have furthered Maine's goals of achieving maximum energy efficiency. The Hastings Award is named after the original director of state energy conservation programs when they were administered by the Maine Public Utilities Commission and celebrates his legacy by memorializing his extraordinary commitment to and leadership of energy efficiency programs.
For more than 40 years, the IECG has advocated to improve energy policy, strengthen Maine's electric grid, and encourage renewable energy resources to help the environment.
"We are proud to receive this award, as well as funding for some members' past projects," said Robert Dorko, president of the IECG. "As we move into the future, we"ll continue to advocate for Efficiency Maine programs and support their role of encouraging energy solutions that provide reduced costs and environmental improvements for Mainers."
"The Industrial Energy Consumer Group comprises many of Maine's largest manufacturers who have been leaders investing in efficiency upgrades to lower their energy use, reduce carbon emissions, and improve their bottom line," said Stoddard. "Additionally, they have been instrumental in developing and advocating for adoption of state laws, such as establishment of the Regional Greenhouse Gas Initiative and the Beneficial Electrification Policy Act, that have greatly enhanced Efficiency Maine's program offerings, which makes them well deserving of this year's Hastings Award."
The Efficiency Maine Trust (Efficiency Maine) is the independent, quasi-state agency established to plan and implement energy efficiency programs in Maine. Through its suite of nationally recognized programs, Efficiency Maine provides consumer information, marketing support, demonstration pilots, discounts, rebates, loans, and other initiatives to promote high-efficiency equipment and operations that help Maine's homes, businesses, and institutions reduce their energy costs and lower their greenhouse gas emissions. The result is job growth, better grid reliability, improved energy independence, a stronger local economy, and critical progress toward meeting the State's climate change goals. Efficiency Maine is governed by a Board of Trustees with oversight from the Maine Public Utilities Commission. Visit www.efficiencymaine.com for more information.