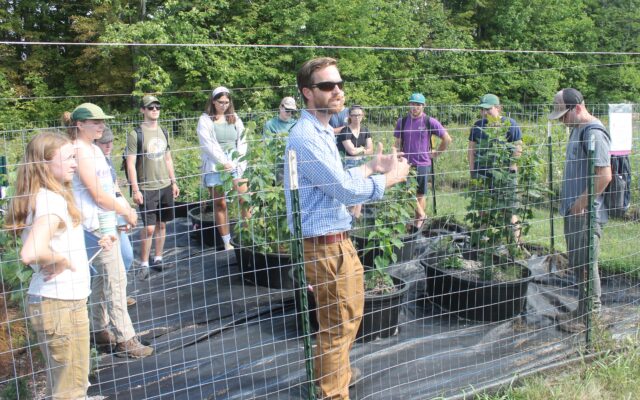 PO-pcswcdtreestudy-37-23
Observer photo/Stuart Hedstrom FOREST MANAGEMENT — University of Maine School of Forest Resources Assistant Professor of Forest Ecosystem Physiology Dr. Jay Wason explains a study on the impact of heat and drought on tree regeneration during a tour at the Piscataquis County Soil and Water Conservation District's Law Farm in Dover-Foxcroft on Sept. 8. Study data will help landowners be able to better manage their forests to cope with these events.
Maine TREE Foundation to honor 2023 Forest Award recipients
Maine Timber Research & Environmental Education Foundation is proud to announce the winners of the 2023 Austin H. Wilkins Forest Stewardship Award and the newly established Sherry Huber Forest Champion Award. These awards honor individuals, landowners, and organizations that have demonstrated outstanding leadership and commitment to the sustainable management of Maine's forest resources. Maine TREE is hosting its first Forest Awards Night to recognize this year's recipients, which will take place on Thursday, Oct. 19, during Forest Products Week at the Morgan Hill Event Center in Hermon.
"Celebrating those who have dedicated their lives to advancing and promoting sustainable forest stewardship practices is essential in inspiring future generations to continue this important work. The contributions of this year's award recipients to the health and sustainability of Maine's forests will undoubtedly have a lasting impact on our forest for generations to come," shared Maine TREE Executive Director Logan Johnson. "Maine TREE's Forest Awards Night is an opportunity to bring our forest-focused community together to recognize the contributions of our friends and colleagues for their efforts to make Maine's forest the best place to live, work, and play."
The Austin H. Wilkins Forest Stewardship Award, given in partnership with the Maine Department of Agriculture, Conservation, and Forestry, is the primary recognition for those who have managed Maine's working forest in an honorable and sustainable manner. This year's Austin Wilkins Award recipient is the University of Maine School of Forest Resources, selected by Maine TREE and the Maine Department of Agriculture, Conservation, and Forestry for their outstanding contribution to the forest products industry and the state of Maine. For over 120 years, they have prepared foresters for careers in the Maine woods, graduating over 5,000 students, and producing numerous leaders who have had successful careers in Forestry, globally. Through research and application, the school has been instrumental in informing land management practices in Maine and has continuously adapted to changing knowledge. For all the School of Forest Resources' years of service to Maine's forests, they are well deserving of this prestigious award. The award will be presented to the School of Forest Resources during the Forest Awards Night on Oct. 19 and during a presentation at a later date at the Blaine House.
Earlier this month the University of Maine School of Forest Resources was honored as the Piscataquis County Soil and Water Conservation District's 2023 Outstanding Conservation Educators of the Year.
Additionally, Maine TREE is honored to present the inaugural Sherry Huber Forest Champion Award to Sarah Medina. Her impressive record as a champion of Maine's Forests is evident through her past roles as a former Maine TREE board member, Project Learning Tree Steering Committee member, and affiliation with countless committees and organizations throughout her career. She has reached and engaged a varied audience, from children to professionals and policymakers, with her leadership over the years. Notably, as the University of Maine's School of Forest Resources' first female graduate and Maine's first female field forester, she has paved the way for others to follow. Sarah was inducted into the Maine Forestry Museum Hall of Fame with three other women in 2021, the first to receive the honor.
Huber was a champion of forest-based education in the state, and her vision and leadership are the legacy Maine TREE Foundation strives to continue. In recognition of Huber's contribution to Maine TREE and Maine's Forest Community, the Board of Directors has created this award to recognize individuals who have demonstrated a commitment to advancing forestry or forest products initiatives that educate students or the general public about Maine's forests.
"A person or group that makes the world a better place, promotes and furthers knowledge, and gives the best of themselves is my definition of success. And when I think of the University of Maine School of Forest Resources and Sarah Medina, they embody success. We are so fortunate to have the school and Sarah as leading the way for forestry advancements in Maine for so many years. My utmost respect and admiration for them both," shared Patty Cormier, Maine Forest Service director.
Maine TREE is proud to recognize the exceptional contributions of these individuals and organizations during its first Forest Awards Night. The event will also recognize the 2023 Outstanding Maine Tree Farmers of the Year, Great Pond Mountain Conservation Trust, and special presentations to others who have accomplished much for the forest in the past year. All are invited to celebrate the accomplishments of the award winners and Maine TREE's community of programs. For more information and to register, please visit mainetree.org/forest-awards-night/.