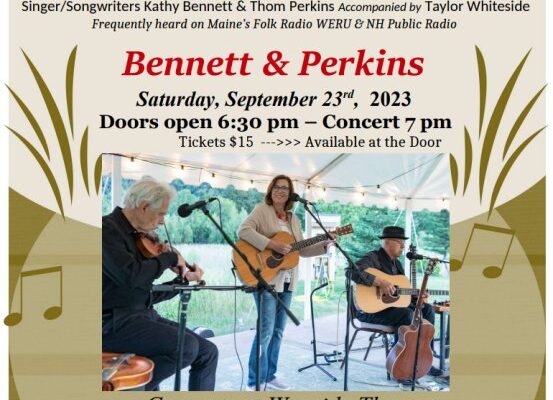 A night of music to remember on the Wayside stage Saturday
DEXTER — What do you get when you combine harmonies, guitars, fiddle, and mandolin on a fall evening in Central Maine? You get excitement at Wayside Grange & Theatre as they host the dynamic folk trio of Bennett & Perkins creating a night of music to remember.
In the intimate environment of the Wayside Theater comes the unique blend of harmonies and guitars of singer/songwriters Kathy Bennett and Thom Perkins accompanied by Taylor Whiteside on mandolin and fiddle. Their music is a regular feature on New Hampshire Public Radio Folk Show and Maine's folk radio standard WERU. Bennett and Perkins have performed on the stages of the Flying Monkey Theater, Medallion Opera House, Acoustic Artisans, The Cold River Radio Show, Ossipee Valley Music Festival, Cambridge's famed Club Passim, Stone Mountain Arts Center, and many others.
Whiteside has been a favorite of New England audiences for many years. He was a member of the  popular Northeast Winds and The Brandywine Singers before developing a reputation as a solo artist and a fine songwriter in his own right. He is a talented musician with an impressive command of many instruments.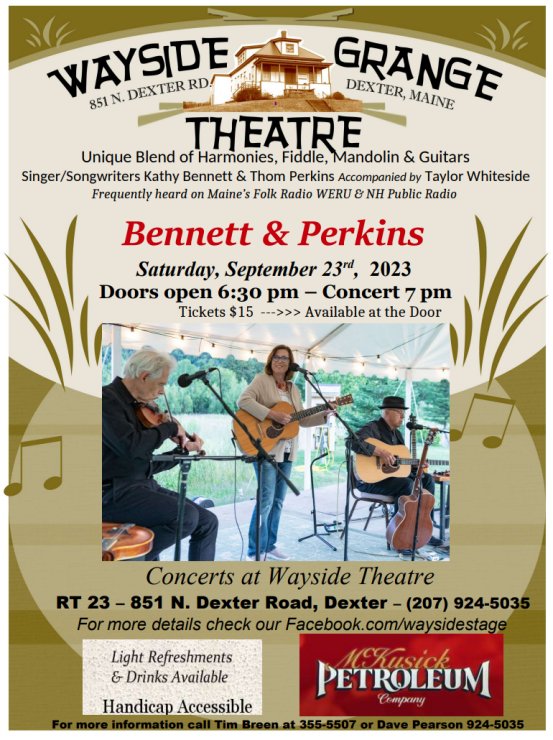 The Wayside Theater presents programs of theater and music in an historic and acoustically perfect setting. The building has served the Dexter community for decades. More information can be found at www.facebook.com/waysidestage.
Bennett & Perkins can be found on the web at www.bennettandperkins.com and on Facebook and YouTube. Their music can be streamed on Pandora – Bennett and Perkins channel, Spotify, and Amazon Prime.
Wayside has received a generous donation from McKusick Petroleum again this year to help bring in these great bands from all over!
Please join us on Saturday Sept. 23 when the doors open at Wayside Grange, 851 North Dexter Road (Route 23) North Dexter at 6:30 p.m. and Bennett & Perkins take the stage at 7 p.m. Tickets are $15 and are available at the door. Light refreshments and drinks will be available in our downstairs dining area.
The next concert will be on Oct. 14 featuring Castlebay.
If you know of a band, theater group, debate club, or social group that are looking for a venue to practice or perform to an audience of 90 or less, or just use the hall for music jams or sound checks please contact Tim Breen at 207-355-5507 and we can try to work something out for them.
Also, if you would like to join Wayside Grange & Theatre and/or volunteer call Tim at 207-355-5507 or Dave at 207-924-5035 and please check out our Facebook page at www.Facebook.com/waysidestage.
Keep watching our Facebook page (www.Facebook.com/waysidestage) for family fun events.