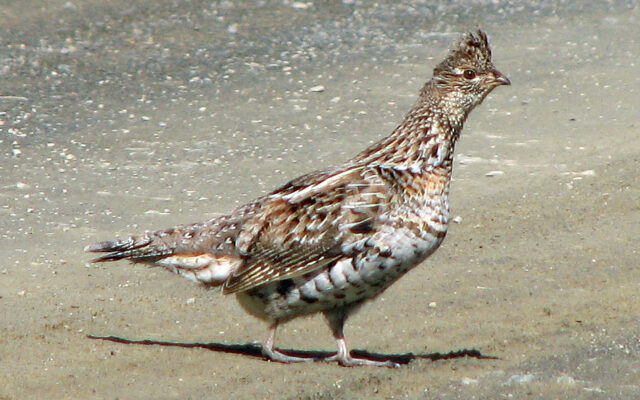 RuffedGrouse022620
File photo courtesy of Bob Duchesne A ruffed grouse
Wet spring likely means a poor fall for ruffed grouse hunters
By Pete Warner, Bangor Daily News Staff
Hunters who want a better chance of hot ruffed grouse action in the fall often head to the North Maine Woods and Aroostook County, where birds are usually more plentiful.
This year, diehard bird hunters may not be treated to the northern Maine grouse action to which they are accustomed.
The rainy spring weather, which is perhaps the greatest short-term threat to grouse populations, appears to have taken a considerable toll on Maine birds this year.
"I talked to the folks that are North Maine Woods biologists and they're not seeing much," said Kelsey Sullivan, game bird biologist for the Maine Department of Inland Fisheries and Wildlife. "I think that in general it's going to be a tough year to find birds in big numbers."
That's not the kind of report shotgun hunters wanted to hear, especially after many of them enjoyed fairly productive grouse hunting — partridge to many Mainers — in recent years.
Of course, regional fluctuations in spring weather could mean that grouse hunting will be much better in some areas.
Sullivan doesn't believe the situation is as bad as what he referred to as the 2005 crash, when grouse populations were decimated and hunters were worried that the population had disappeared.
"I don't know if it's gonna be that bad, but it will be below the typical average," he said, adding that the grouse numbers will probably swing down and then rebound.
Another factor that could keep more birds off the roads and on the ridges is the presence of beechnuts, which is among grouse's favorite foods. Anecdotal reports say the nuts are plentiful this year.
There are a key couple of weeks in the spring when ruffed grouse are trying to incubate eggs and raise their young. If the weather is wet and cold, fewer eggs and young birds survive.
And the same situation also places hens at greater risk.
"When females are on nests for a prolonged period of time with rain, predators can pick up their scent easier. That's a concern for hens on nests," Sullivan said.
Most grouse generally live only one to two years to begin with, so a poor reproduction year can result in at least a temporary downturn in the population. Sullivan explained that the favorable habitat in the North Maine Woods is conducive to helping maintain a solid number of birds.
Sullivan said there isn't a great amount of information about the resident woodcock population, but that a male singing ground survey yielded OK numbers.
Maine also is host to migrating populations of woodcock, which is confined to some brief periods of movement.
The season for ruffed grouse, bobwhite quail and pheasant gets underway on Saturday, Sept. 30. Duck season kicks off on Sept. 25 in the North Zone and Sept. 30 in the South and Central zones.
Already in progress is the season for rails, common snipe and Canada goose (early).