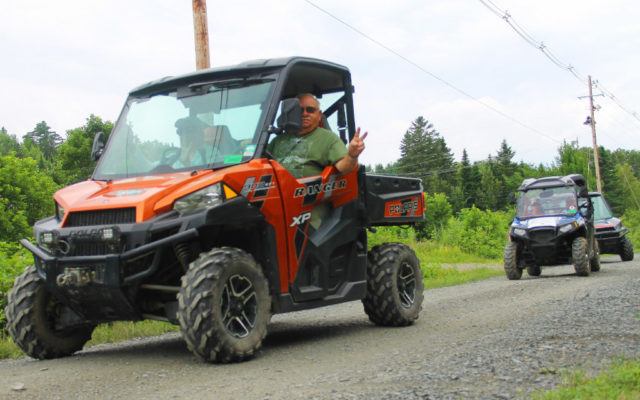 What you should know if ATV trails run through your land in Maine
By Julia Bayly
With thousands of miles of snowmobile and all-terrain vehicle trails in Maine crossing privately owned acres, the potential for friction between landowners and recreational riders is always there.
The last thing snowmobile and ATV enthusiasts want is any conflict escalating to the point that landowners start posting their property off limits. It's not just snowmobiling or ATV riding — Maine's entire outdoor recreation industry relies on landowner relationships and the state's tradition of open land access.
There are more than 18,000 miles of combined snowmobile and ATV trails in the state.
For new landowners or people who want to buy land, the Maine tradition of open access for recreation can come as a bit of a surprise. It can leave them wondering what liability or nuisance issues may arise, and if it's worth it. Outdoor enthusiasts and officials say the pros far outway the cons.
For one thing, landowners are protected by state law.
"Maine has a lot going for it [and] our landowner liability law is one of the best in the country," said Maine Warden Service Col. Kris MacCabe, who works with landowner relations. "It says that unless a landowner is negligent or intentionally does something to cause harm, they are not liable for anything that happens on their land when it comes to outdoor recreation."
That law covers virtually every type of outdoor activity people can do in Maine including snowmobiling, ATV riding, rock climbing, hiking, skiing, snowshoeing, birdwatching, hunting and fishing.
As for any nuisance issues — especially when it comes to recreational vehicle noise or damage done to trails — local clubs and Maine wardens are ready to step in to deal with them. They also want people to know that the people who cause problems are a small minority of the outdoor recreation population.
"The issue most landowners are having is not with the 98 percent of the responsible people using the trails," said John Raymond, president of ATV Maine. "It's the 2 percent that, no matter if it's snowmobiling, ATVs or basketball, that don't follow the rules."
Raymond is well aware that the irresponsible actions of that minority can make a landowner close access to their property, potentially cutting off all access to a larger trail system.
If new or potential landowners are worried about snowmobiles or ATVs crossing their land, MacCabe said the first and best thing to do is contact the local club responsible for maintaining those trails.
"These clubs want to work with landowners and there is almost always a way to work around a problem, even if it means rerouting a trail so it's not a nuisance," MacCabe said. "You can also think about having a trail as an opportunity to enjoy and use without having to maintain it."
Without that kind of cooperation, Raymond said there would be no trails to ride in Maine.
When that communication breaks down or a landowner gets fed up with some repeat offenders, landowners do have legal options other than posting their land off limits
"Our laws are changing," MacCabe said. "We have a new law where people can post land 'closed to off trail riding' that gives the wardens the ability to deal with problems right away."
The law grew out of complaints from owners of agricultural land and from those who had trails on their own land for their own use and were tired of riders leaving the designated snowmobile or ATV trails and damaging their land.
Under the new law, landowners can post any trail running through their property as "closed to off-trail riding." Anyone caught leaving the trail is instantly cited and slapped with a $100 fine.
Before this was the law, MacCabe said the process for penalizing off-trail riders was longer and more complicated.
"This is a great tool for us," he said. "This is now a civil violation."
MacCabe acknowledged it can be difficult to identify any culprits especially since they are often wearing helmets or other face coverings.
The best strategy for anyone having a problem with snowmobile or ATV riders is to snap a photo of the recreational vehicle that ideally includes the registration numbers.
It's also a good idea to talk to the local club members about any concerns.
"Every activity people like to do off their own property relies on landowners," MacCabe said. "We need to come together as a cohesive group and really embrace the new people moving to Maine by showing them the land use traditions we have and enjoy."