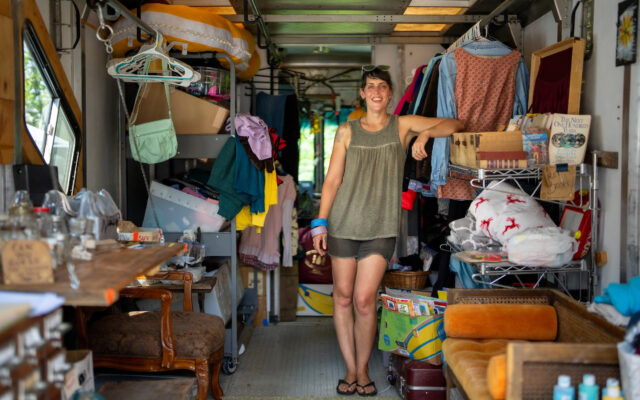 Joy Truck 2
Photos courtesy of the University of Maine. JOY TRUCK — Dover-Foxcroft native Merrilee Schoen is spreading social change through her Joy Truck, which is part of her thesis for a master's in intermedia studies at the University of Maine.
Schoen's Joy Truck spreads joy beyond her UMaine Intermedia MFA thesis
Merrilee Schoen wants to use art to show that social change can be joyous. Through her project called the Joy Truck, which is a central part of her thesis for the master's program in intermedia studies at the University of Maine, Schoen has been exploring what community joy means, and what individuals and artists can do to participate.
A Dover-Foxcroft native, Schoen had a varied background as an artist leading up to her return to Maine at the start of the pandemic in 2019. She worked as a jewelry designer and at various nonprofits after receiving her bachelor's degree in psychology from the State University of New York at New Paltz, and traveled around the country creating artistic works from found objects.
"A lot of the pieces were made of rust or glass or graffiti or wall flakes of graffiti or bones or just things that were found in abandoned places," Schoen says. "I'm still kind of obsessed with the stories of things."
Once she returned to Maine, Schoen dedicated herself to developing an art project that would also provide resources to her community in its time of need. She had a vision for an eye-catching traveling center that not only hosted art classes and workshops in low-income areas, but also distributed free books, clothes and food, as well as vital public health tools like Narcan and fentanyl test strips. She bought an old truck from a neighbor and worked with a previous mentor, Peter Crockett at the nearby Argyle Iron Works, to build out the vehicle and get it road ready for later that year — and so, the Joy Truck was born.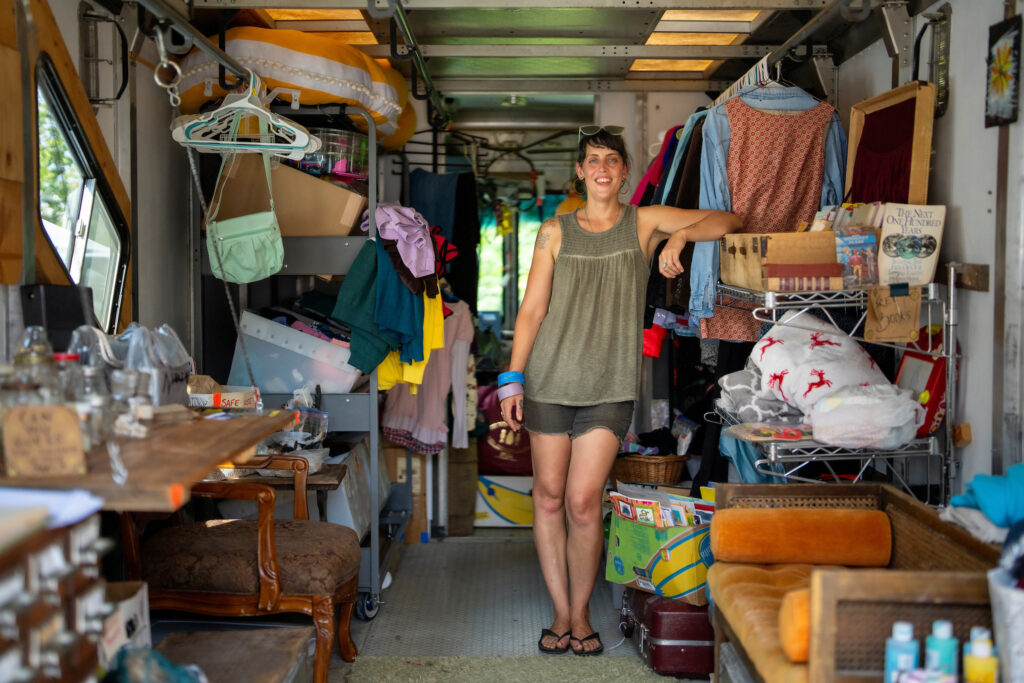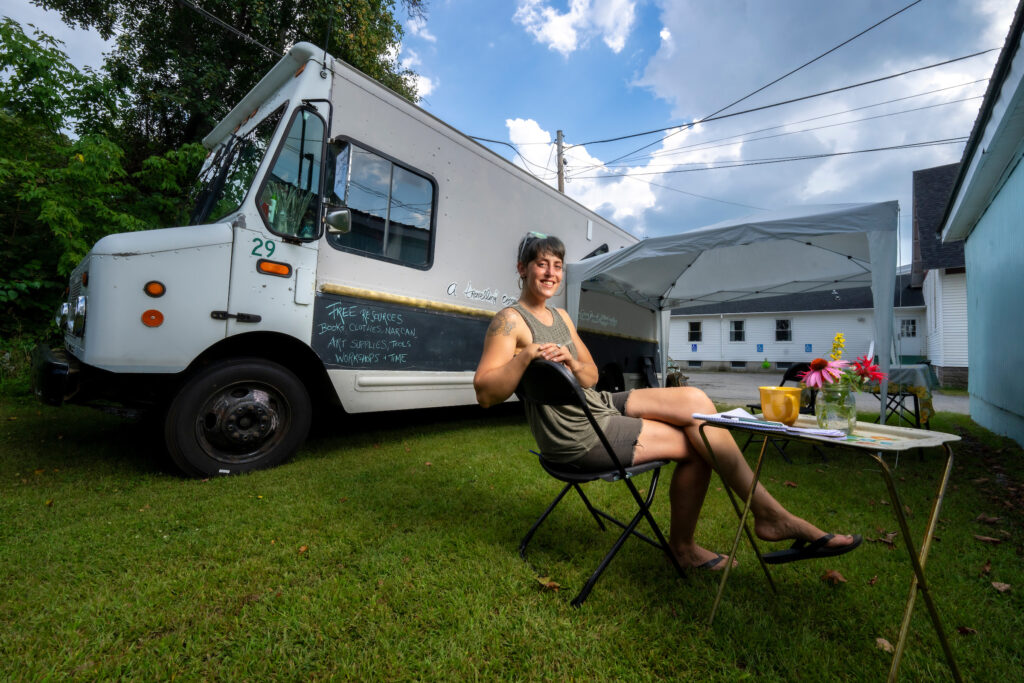 The Joy Truck has traveled to a number of different communities around Piscataquis County, including Milo, Dover-Foxcroft, and Brownville Junction. The sides of the truck are covered in chalkboard for visitors to draw on, and the inside provides a space for kids and adults alike to read, make art or just relax. Schoen also has hosted a number of exhibits and workshops at the Joy Truck in different communities, and says she tries to hire local artists or bring in an expert based on the community needs, whether that may be a mushroom identification workshop or a "teddy bear and other stuffed friends" repair clinic.
As the Joy Truck began its journey, Schoen also continued making her found object art pieces in the studio. She posted one of her pieces on Facebook — a two-dimensional wall piece made of a rusty can and beadwork called "Eternal Roadside Worship at the Tin Can Temple" — that caught the eye of fellow Dover-Foxcroft local Susan Smith, graduate coordinator of the UMaine Intermedia programs. Smith was impressed by Schoen's creativity, and convinced her to check out the Intermedia program.
"I slept on it and thought, 'Well, why not?" Schoen laughs. "It was just kind of the right time. I was in a position in my artistic career where I needed to learn a little bit more and was trying to find mentors. I was looking for that support and so I just jumped in."
Schoen started the MFA program in 2021. Since then, the Joy Truck has not only brought art and resources to rural communities around the state of Maine — it has also become a central part of Schoen's academic work.
Smith says that the Joy Truck is a perfect example of "community-based social art practice," which moves artistic work out of institutions like museums and galleries and into the world.
"From its inception, the intention has been to bring attention to, and perhaps overcome struggles within the community," Smith explains. "Collaborative art can participate in this process by different means. You can choose to raise visibility, promote social integration and strengthen bonds. The Joy Truck accomplishes all of these goals. Merrilee has carefully listened to the needs of the folks living in Piscataquis County, and created a space where the participants are integral to the work, and where the needs are greatest. Joy Truck provides direct evidence of the convergence of multiple creativities. It is this ability for interaction, intersection and expansion that is the objective and the strength of social practice."
Schoen says that the UMaine Intermedia program has helped her contextualize her project within the art field, and to make sure that it continues to be successful by evolving in practice and giving Schoen the "language" to apply for and secure arts-centric grants.
"It's given me a depth and breadth that I don't know if I would have gotten otherwise," Schoen says. "It's added a dimension of how I can speak about the work. It's been awesome."
Since 2021, Schoen has received grants from the Ella Lyman Cabot Trust, the Awesome Without Borders Foundation, the Onion Foundation, New England Grassroots Environment Fund, the Maine Humanities Council as well as recent support from the National Arts Strategies Creative Community Fellowship: New England.
Community partners have already seen the positive impact of the Joy Truck. Schoen interacts frequently with local leaders and community members to make sure she is stocking the Joy Truck with the resources and programming that they need. Tara Smith, executive director of Central Hall Commons in Dover-Foxcroft, which has partnered with Schoen for Joy Truck events, says that Schoen is also "always a pleasure to work with."
"Her kindness and creativity open doors for the people she reaches. Her integrity, presence and ability to meet people where they are at and share a sense of deep acceptance and love is much needed for us all," Smith says.
Schoen has also found ways to integrate UMaine researchers that she has met as a member of the UMaine community. This summer, Schoen invited Liza White and Evan Leonard, both graduate students in the Department of Chemical and Biomedical Engineering, to join the Joy Truck in Milo to do science demonstrations with local kids. White and Leonard presented about biomimicry; refractions and rainbows; and "muscle music," sticking sensors on different muscles that would play music as they were moved different distances away from each other.
"I think we were able to show them what is possible in the field of science and also let them just have fun and be curious, which is what science is all about," White says. "I grew up in Rumford, Maine, and there's not a lot of resources, so it's a personal goal of mine to show these rural communities what is possible. I think the Joy Truck does a really good job with that."
White and Leonard say that they often conduct science outreach at schools around the state, but their experience with the Joy Truck was unique. Without the structures of a school curriculum dictating their workshop, they were able to focus solely on piquing kids' curiosity.
"That also correlates to art and science in many ways; at the end of the day we're still being curious and exploring our interests. We explore the curiosity in a lab and they explore the curiosity in art," White says. "We have definitely talked about going back again next year and maybe expanding to other communities with [Schoen]."
The Joy Truck is a large focus of Schoen's thesis to complete the MFA program, which she plans to do in spring 2024. Her goal for this upcoming season is to implement bimonthly winter meetings in the areas that she often visits to keep the Joy Truck's positive impact going in the winter, when it is no longer safe to drive on the roads.
"I am sensitive to what happens in rural communities when something slightly new comes, lasts a couple of years and leaves," Schoen says. "I want to find out if there is a way to support the concept of mutual aid and art that sustains beyond the people power and beyond the funding resources. There is always going to be change through generations but is there a way to keep momentum through that? That's the hope for this upcoming year."