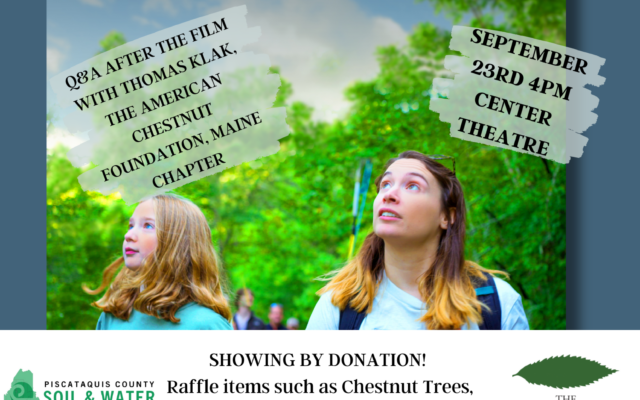 Clear Day Thunder Flyer (1)
PCSWCD hosts 'Clear Day Thunder: Rescuing the American Chestnut'
DOVER-FOXCROFT — On Saturday, Sept. 23 at 4 p.m., the Piscataquis County Soil & Water Conservation District will be hosting the only screening in Maine of the documentary "Clear Day Thunder: Rescuing the American Chestnut" at the Center Theatre. The showing is by donation, with a Q&A following the film with Thomas Klak from The American Chestnut Foundation, Maine Chapter.
"Clear Day Thunder: Rescuing the American Chestnut" tells the story of passionate citizen scientists and researchers working to restore this ecologically and economically important species, during this pivotal moment. The tree that forged a connection with humankind has been embraced in turn by humans who, invigorated by hope, are working tirelessly to revive this magnificent tree — so that it can once again help shape the future. The movie features President Jimmy Carter, Dolly Parton, Chuck Leavell from the Allman Brothers and Rolling Stones, culinary historian and author Michael Twitty, best-selling author Barbara Kinsolver, "Father of Biodiversity" biologist and writer, E.O. Wilson,  and Rex Mann — retired forester and chestnut evangelist. This documentary is underwritten by The American  Chestnut Foundation and sponsored by the James G. K. McClure Educational and Development Fund and New Leaf Paper. The mission of The American Chestnut Foundation is to return the iconic American chestnut tree (Castanea dentata) to its native range.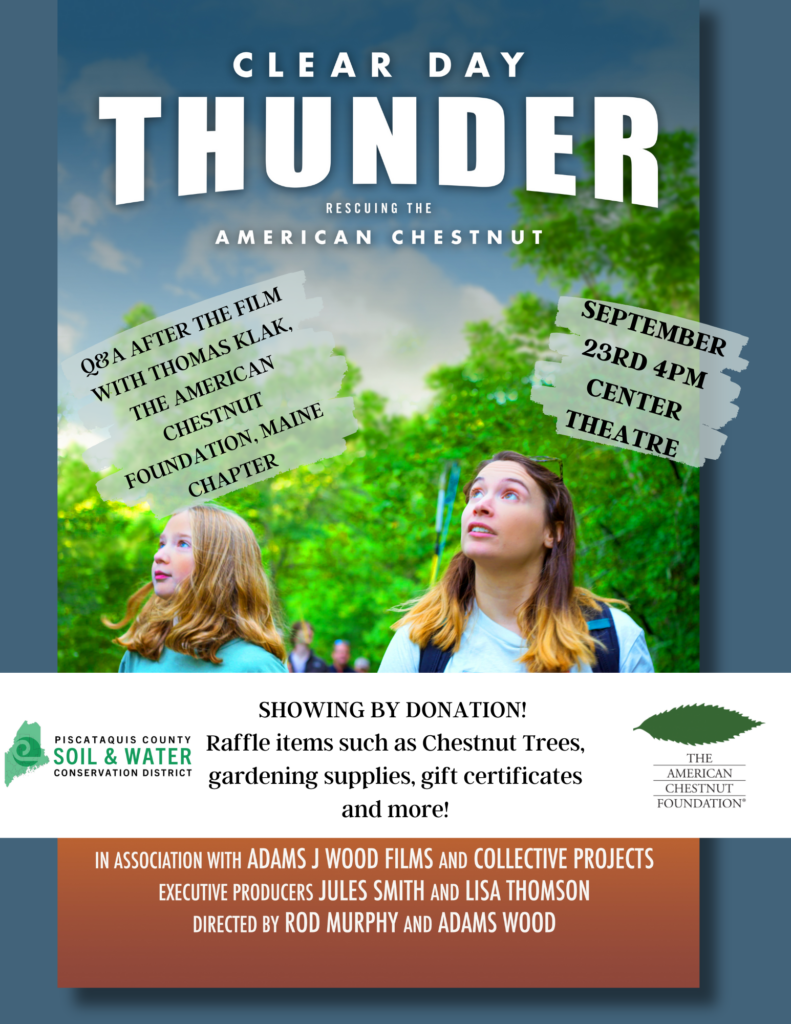 Prior to the screening, there will be exciting raffle items such as Chestnut trees, gardening and tree care supplies, books, gift certificates to local businesses and 50/50 raffle tickets along with refreshments including snacks and beverages at Center Theatres concession stand. All proceeds and support of the film will go toward Piscataquis County Soil & Water Conservation District's conservation educational outreach programming and operational support which helps aid our American Chestnut germplasm plot located at the Law Farm Nature Trails in Dover-Foxcroft. Stick around after the screening to have a chance to talk directly with Klak where folks can have the opportunity to ask questions regarding the restoration efforts and current updates. PCSWCD looks forward to seeing you at this event and thanks Center Theatre, The American Chestnut Foundation and all the partners and businesses that contributed to this effort.
PCSWCD is a quasi-governmental agency that is county and state funded that operates with a 501(c)3 fiscal sponsor. PCSWCD's mission is to build resilient, sustainable farms and forests through education, technical services, demonstration and stewardship.