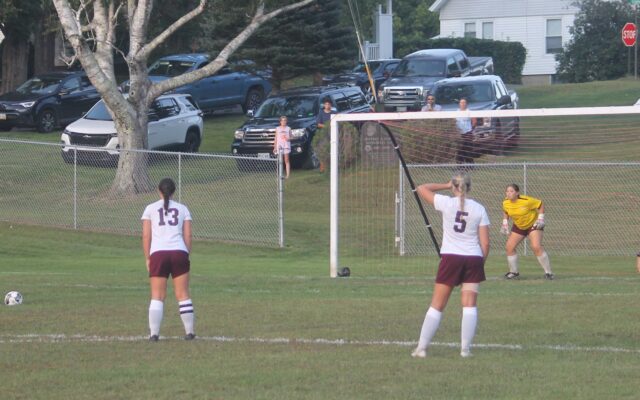 PO-spsocpenaltykick-37-23
Observer photo/Stuart Hedstrom PENALTY KICK — Dexter senior Cally Gudroe sends the ball on a penalty kick late in the second half vs. Foxcroft Academy on Sept. 8. Pony freshman keeper Jasmine Hall made the save, helping the team win 1-0. Looking on is Foxcroft senior Olivia Gage (13) and junior Shae Jankunas (5).
Foxcroft girls win 1-0 at Dexter
By Stuart Hedstrom, Staff Writer
DOVER-FOXCROFT — Foxcroft Academy girls soccer scored the game's lone goal less than eight minutes into play, and held Dexter Regional High School scoreless for all 80 minutes — including a stop on a penalty shot late in the second half — to earn a 1-0 Class C North victory on the afternoon of Friday, Sept. 8.
At the 7:25-mark of the opening half Foxcroft senior Alexia Poire passed to sophomore Lea Schmetzer who was positioned to the left of the Dexter goal. Schmetzer's shot found its mark as the Ponies were on the scoreboard at 1-0.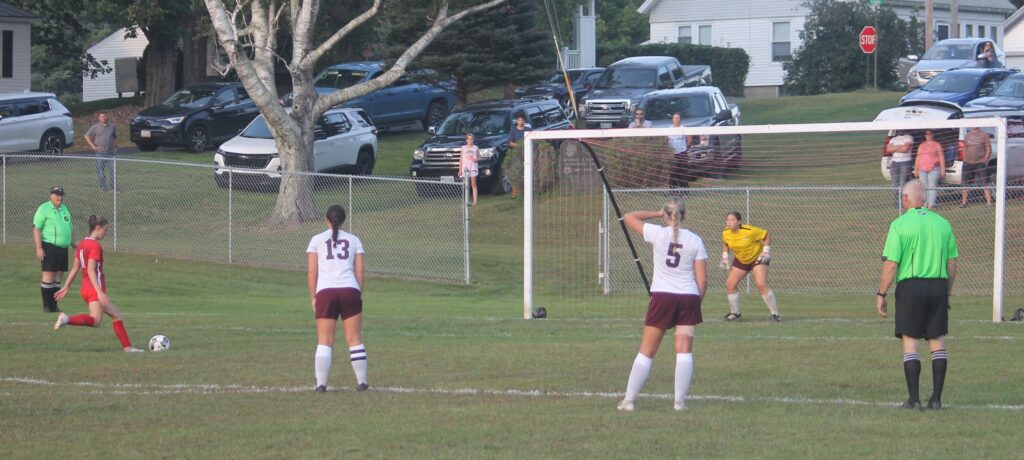 The goal turned out to be all the Ponies (the team which moved down to Class C North from Class B North for 2023 improved to 2-1) needed. Foxcroft freshman keeper Jasmine Hall made a dozen saves on 21 shots with perhaps the biggest coming with less than seven minutes to play.
Late in the second half the Tigers (the squad fell to 1-2 after the defeat in the team's 2023 home opener) were awarded a penalty kick and Dexter senior Cally Gudroe had the opportunity to tie the game. Gudroe booted the ball at the goal and Hall lunged to her right to knock it away with both hands.
Soon after Dexter kicked another shot toward the goal, but Hall leaped to snag the ball out of the air to maintain the 1-0 lead.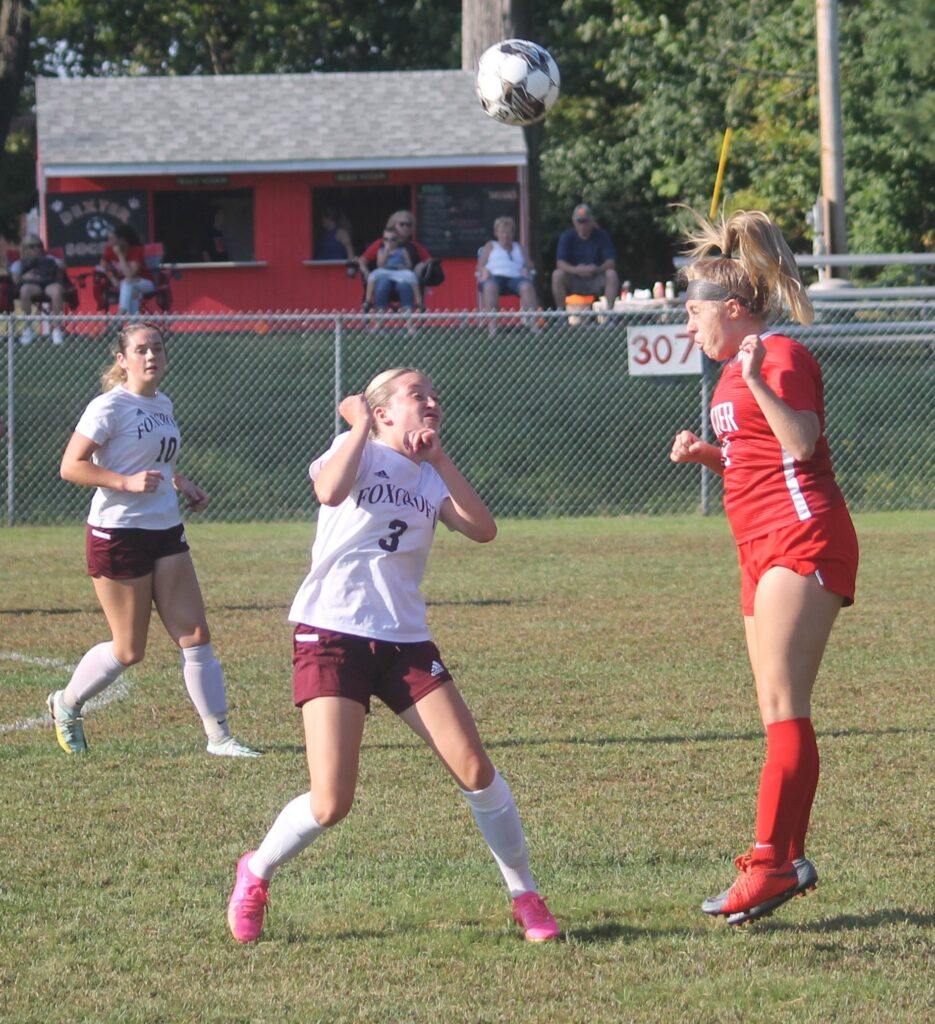 At the opposite end of the field Tiger senior keeper Hannah Dean kept her team in the game with a 19-save effort on 21 total shots, including stopping a dozen shots in the opening half.
A month will pass before the two teams are scheduled to play again. Foxcroft is set to host Dexter at 4 p.m. on Wednesday, Oct. 11. As of now, the Oct. 11 contest will be the Ponies' last regular season home game.
GIRLS SOCCER
Foxcroft 1, Dexter 0
FOX 1 0 — 1
DEX 0 0 — 0
First: F — Schmetzer (Poire)
Saves: Foxcroft — Hall 12, Dexter — Dean 19
Corner kicks: Foxcroft — 2, Dexter — 9
Records: Foxcroft 2-1, Dexter 2-1