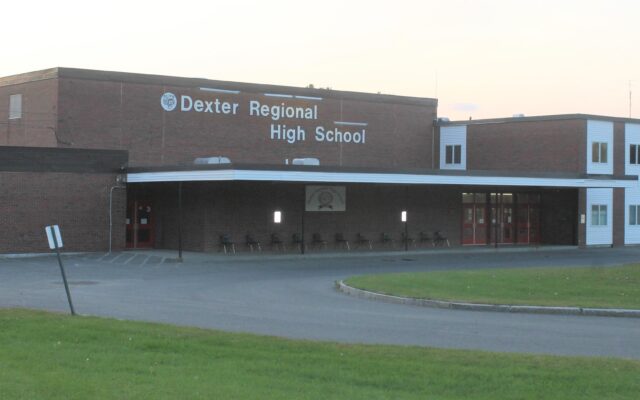 Dexter Regional High School
Observer photo/Valerie Royzman A sign sits at the entrance to Dexter Regional High School in Dexter.
71 schools begin BARR Model implementation to increase student and staff wellbeing, academic achievement
AUGUSTA – As the new school year begins, 71 schools across Maine — including Dexter Regional High School — launched their first year of implementing the BARR (Building Assets, Reducing Risks) model with students and staff. The Maine Department of Education invested $10 million in federal emergency relief funds to provide access to the BARR model for Maine schools. BARR is a research-backed model focused on strengthening relationships, reducing high-risk student behavior, and improving academic achievement.
The Maine DOE made the investment to support educators, students, and schools in recovering from the impact the pandemic has had on wellbeing, engagement with school, and school climate. The BARR model strengthens relationships between educators and between students and educators and utilizes real-time data to support students based on their strengths and connections to school. BARR aligns with the Maine Department of Education's whole student approach focused on ensuring all students are healthy, safe, engaged, supported, challenged, and prepared.
"Camden Hills has always been committed to helping our students transition smoothly into high school, and we are excited to do so in a coordinated and systematic way with the support of the BARR program. Now more than ever, schools need to reinvest in creating a safe and empathetic space for kids to flourish academically, emotionally, and socially. I'm proud to share that our reinvestment includes adding research-based BARR strategies to our dedicated teachers' toolbox," said Camden Hills Regional High School Principal Jen Curtis.
Educators at new BARR model schools spent their summers participating in multi-day trainings with BARR coaches to learn about the model and adapt it to their school cultures. The trainings helped develop stronger ties between educators and between educators, administrators, counseling staff, and other school support staff who will form the school-based BARR teams and work together to support students and one another. They also participated in several interactive, hands-on learning and relationship-building activities that they will be able to lead with their students.
Studies show that the BARR model results in increased student engagement, reduced chronic absenteeism, a 40 percent reduction on average in failure rates after one year of implementation, increased student achievement rates, and a reduction in high-risk student behavior and substance use. BARR reports that the effects are strongest for male students, students of color, students eligible for free or reduced-price lunch, multilingual learners, and students with disabilities. Educators report increased job satisfaction and higher levels of collaboration after implementing BARR.
Fifteen Maine schools previously implemented BARR. Noble High School first implemented BARR with half of its ninth grade class in 2014. By the end of the first semester, BARR students had missed roughly half as many days of school as non-BARR students and the school expanded BARR to include all students. Bucksport High School's graduation rate increased by more than 15 percent after implementing BARR.
Last week, the National Governors Association selected Maine as one of five states to participate in a new initiative launched to bolster the mental health and wellbeing of students and school staff. Through this initiative, the NGA will support the implementation of the BARR model. Maine will receive technical support from the NGA and their national and state partners and engage in peer learning opportunities with the other states chosen for the initiative, New Hampshire, North Carolina, Oregon, and Wyoming.
Find more information on the BARR model here at https://www.maine.gov/doe/BARRschools.
Watch a video featuring current and past BARR model schools in Maine at https://www.youtube.com/watch?v=HmpQpw0cxg4&t=1s.