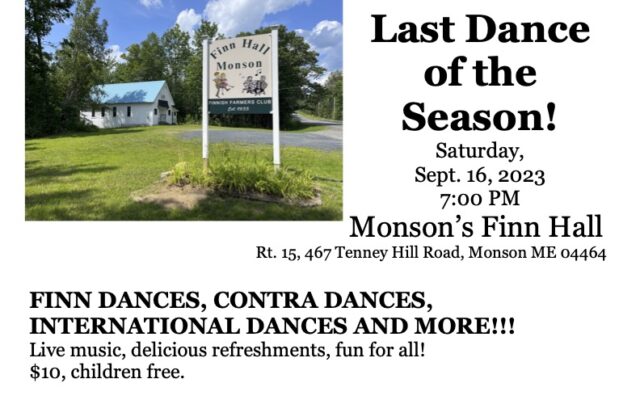 Last dance of the season at Finn Hall
MONSON — The last dance of the 2023 season at Monson's Finn Hall will be a celebration of all the dancing that goes on in that historic building starting at 7 p.m. on Saturday, Sept. 16.
Alexandra Conover Bennett and friends will play delightful music for traditional Finnish dances- schottisches, polkas, waltzes, foxtrots. Allison Aldrich Smith will call some traditional New England Contra dances with members of Some Reel People, the beloved regional contra dance band. Michael Levinsky will lead us in a variety of fun dances from all over the world. No experience necessary — come for the fun, for the music, and the bulla!
All ages welcome. Admission $10, children free. Delicious home-made refreshments will be available.
For more information, call 207-343-0388 or email finnhallmonson@gmail.com.
The Monson Finn Hall is located at 467 Tenney Hill Road (https://www.monsonmaine.org/monson-finnish-farmers-club).