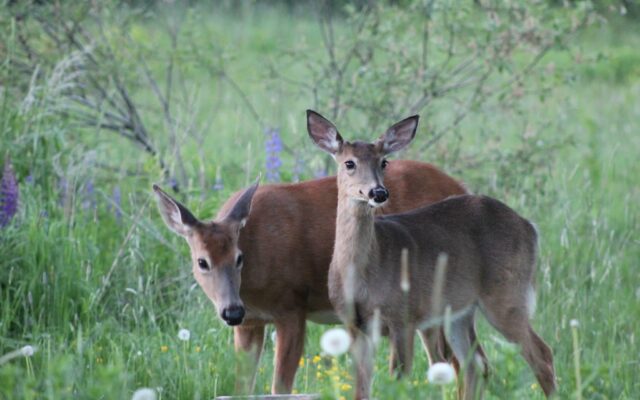 IMG_2089
File photo courtesy of Melissa Huang) PAIR OF DEER – Two whitetail deer stand in a field, alert to potential threats.
Maine's 3-month deer hunting season begins Saturday with expanded archery
By Pete Warner, Bangor Daily News Staff
If you happen to look out the window on Saturday and see someone decked out in camouflage and carrying a bow while walking along a nearby woodline, don't be alarmed.
It's the start of expanded archery season for deer.
While many folks think of deer hunting as an October and November activity, there is opportunity for bow hunters to target white-tails during the expanded archery season, which begins Saturday, Sept. 9, and runs through the end of the muzzleloader season on Saturday, Dec. 9.
Some larger cities and towns in Maine, some of which have an overabundance of deer in and around neighborhoods, don't allow firearms hunting within their boundaries. That's where the expanded archery season comes into play.
Hunters may only use bows and broadhead arrows during the expanded archery season. Crossbows are not permitted.
"The primary purpose is just to provide additional hunting opportunity in areas where hunting opportunity is limited by local discharge ordinances, first and foremost," said Nathan Bieber, deer biologist for the Maine Department of Inland Fisheries and Wildlife. "But we've also included island geography given the challenges associated with getting hunters onto islands."
In 1997, the Legislature gave DIF&W the authority to create a special early archery season, which ran Sept. 6 to 30. Two years later, the season was expanded to begin the first Saturday after Labor Day and to run through the end of the muzzleloader season in mid-December. Those parameters remain in place today.
And harvest opportunities abound during the expanded archery season. Hunters can buy multiple expanded archery antlerless permits for $12 each, along with one expanded archery either-sex permit for $32.
All hunting must take place within one of the expanded archery zones.
That differs from Maine's statewide hunting regulations governing deer hunting during the firearms and regular archery (bows and crossbows) seasons, which allow all hunters to harvest one buck or one antlerless deer. People who hold an antlerless permit can kill an antlerless deer in a designated Wildlife Management District and also harvest a buck anywhere statewide.
Some of the districts where expanded archery hunting is allowed include areas in and around Greater Bangor, Bucksport, Castine, Camden, Waterville, Augusta, Lewiston, Portland and Eliot.
Expanded archery zones often are located in residential areas interspersed with small woodlots. Many of Maine's coastal islands, which can be more difficult to access, also are part of the expanded archery program.
Reducing deer-human conflicts in developed areas is one benefit of the program, Bieber said, and was among the reasons it was started. However, DIF&W does not have any specific goals for removing deer or reducing conflicts in urban settings, so that is more of a side benefit to extra hunting opportunities.
Expanded archery season represents a small portion of Maine's overall deer harvest. From 2012 to 2021, an average of 1,589 deer were taken during the three-month season. That represents less than 6 percent of all deer harvested in Maine.
Hunters are encouraged to obtain landowner permission before hunting in expanded archery areas, especially since the season often involves closer proximity to homes.