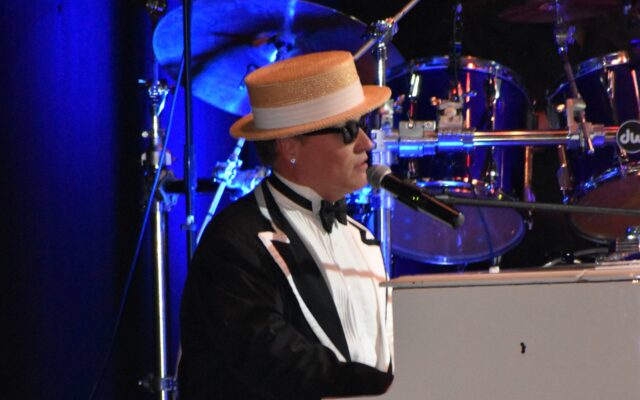 YBR at Piano Black Tie
Contributed photo ELTON JOHN — Gerald Brann performs as Elton John on Sept. 1 at the Greenville Consolidated School. The concert raised funds for the Moosehead Caring for Kids Foundation.
Yellow Brick Road performs for Moosehead Caring for Kids Foundation
GREENVILLE — On Friday, Sept. 1 the Moosehead Caring for Kids Foundation held a fundraising concert event performed by Yellow Brick Road, an Elton John tribute band, and 50/50 raffle at the Greenville High School auditorium. The amazing performance highlighted by Gerald Brann as "Elton John" was complete with lights, sounds, and costume changes lasting for over two hours and included all the favorite songs. Yellow Brick Road performs all over the east coast and we were so fortunate to have them come to Greenville. Both Brann and guitarist Rich Daigle have ties to the Greenville community.
The event was supported by Hammond Lumber Company, Ware-Butler Building Supply, AE Robinson, Weyerhaeuser, Northern Light Health, Jamieson's Market, Sandcastle, LLC, and the grandchildren of Henry and Jeri Gilbert. Thanks to all the concert goers, Greenville High School and Joe Turner, school's band director, along with his students who provided the light and sound, and our very generous community business sponsors who made this event a success raising over $9,000. Jennifer Clark, fundraising chairperson for Moosehead Caring for Kids Foundation, hopes to provide a similar event next year.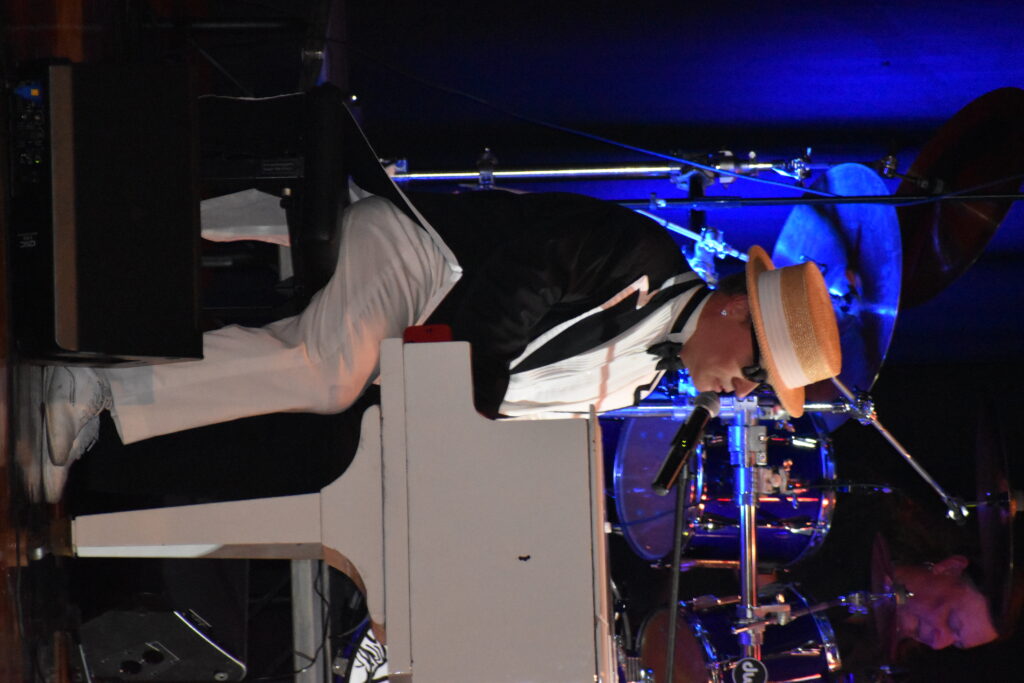 Moosehead Caring for Kids Foundation is a nonprofit 501c3 designated business that began in Greenville in January 2022. The foundation raises funds to support programs for children in the greater Greenville area. This year through a private donation funds were used to support a new summer day program for school-aged children at the Greenville Consolidated School serving over 20 children. The funds allowed for reduced tuition fees as well as participation for all enrolled children in summer recreation programs including swimming, basketball, and art classes. This program will continue through the school year as an afterschool program meeting the needs of nine children with room to expand. Additionally, the foundation is working to get after-school care for the 4-year-old children attending public preschool on campus.
The foundation has also provided financial assistance to Little Schoolhouse Childcare for monthly staff training and for playground fencing/safety mats and outdoor swings. Working in partnership with the town of Greenville and Greenville Consolidated Schools, last year the foundation received a Congressionally Directed Spending Grant for $1,561,000 for the construction of a proposed multi-purpose building which will house a childcare center, public preschool classrooms, and a community recreation center on the school grounds.
Moosehead Caring for Kids Foundation has an all volunteer board of directors and members including Angie Madore, Janet Chasse, Kellie Jewett, Jennifer Clark, Eva Sawtelle, Laurie Davis, and Jeri Gilbert. Please go to our website www.MooseheadCaringforKidsFoundation.org for more information, our mission, or to make a donation. Anyone interested in becoming a member is encouraged to reach out through our contact page or ask any member at one of our community events.
Our next event will be a 50/50 raffle on Saturday, Sept. 9 during Fly-In weekend. There will be an information table about the new building. All proceeds from the raffle will go toward the construction project.